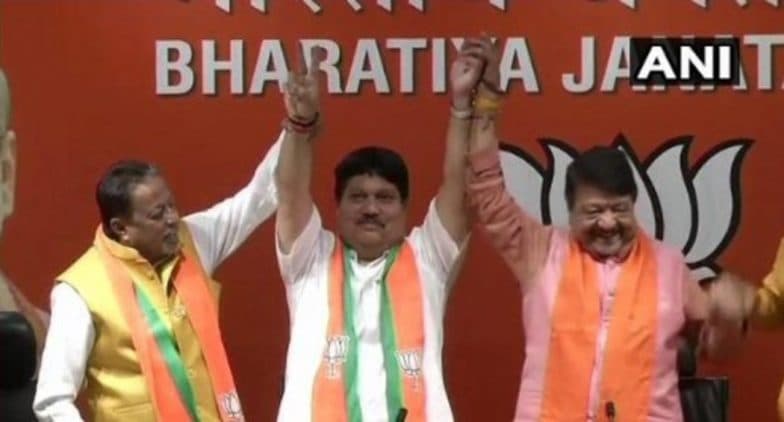 Barrackpore, March 27: West Bengal Bharatiya Janata Party (BJP) leader Arjun Singh, who recently joined the saffron party and was rewarded with Barrackpore parliamentary constituency ticket for Lok Sabha Elections 2019, claimed on Tuesday that around 100 Trinamool Congress leaders are ready to switch over BJP soon. Singh's claim was rejected from TMC leaders who suggested him to see a doctor. West Bengal Lok Sabha Elections 2019 Dates: Constituency-Wise Complete Schedule Of Voting And Results For General Elections.
Singh, the former four-time Trinamool MLA from Bhatpara, speaking to reporters said that around 100 TMC legislators are set to join BJP and are in touch with us. "Around 100 legislators from the ruling party are set to join the BJP. They are in touch with the BJP leaders on a regular basis. Some will join before the elections, the rest after," he said. Barrackpore Lok Sabha Constituency in West Bengal: Candidates, Current MP, Polling Date And Election Results 2019.
Singh's comment received scorn and ridicule from senior Trinamool leader Jyotipriya Mallick. "He (Singh) appears to have lost his mind and should see a doctor. Has a single TMC MLA followed Singh to the BJP yet?" Mallick, Trinamool president of North 24 Parganas, said. After Arjun Singh, TMC Noapara MLA Sunil Singh to Join BJP; Congress's Nepal Mahato to Switch Side Too.
Meanwhile, Singh has been nominated as a BJP candidate from Barrackpore Lok Sabha constituency in West Bengal. He is up against two times sitting member of Parliament (MP) and senior Trinamool leader Dinesh Trivedi.
Apart from Singh, two TMC MP and several other TMC, CPI(M) and Congress leaders have joined BJP and rewarded with party tickets. According to reports, the saffron party is also trying to woo two TMC leaders Sovan Chatterjee and Sabyasachi Dutta into the party.