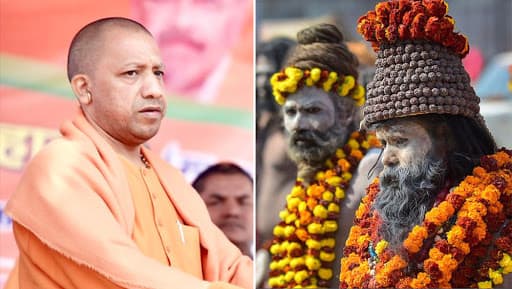 Lucknow, January 21: Barely 100 days before the Lok Sabha elections, Uttar Pradesh Chief Minister Yogi Adityanath on Monday announced pension for destitute people including widows, disabled and 'Hindu saints'. The opposition had called this appeasement move by the saffron leader to woo the Hindu voters in the state.
Announcing the decision of the state government, Adityanath said, as reported by the Times Now, "The State government has decided that it will give pensions to all destitute persons – including women, widows, disabled, etc. – in the state. Also, the state government has decided that all destitute persons to get a pension of Rs 500 per month as compared to Rs 400 earlier." In the announcement, he added that Hindu seers above 60 would also be covered under this pension scheme. BSP, SP Are Coming Together to Save Their 'Existence': UP CM Yogi Adityanath.
The CM informed that for this action, the government would set up special camps across the state till January 30 so that Hindu sheers can enrol for pension under the scheme. The announcement has been made by the CM when millions of Hindu sheers are attending the religious event of Kumbh Mela 2019 in Prayagraj.
Slamming the move of the CM, by calling this appeasement politics, former chief minister and Samajwadi Party chief Akhilesh Yadav took a jibe at the newly launched pension scheme of Yogi Adityanath. He stated, "Pension should also be provided to the artists who play the role of Ram, Sita, Lakshman and even Ravan in Ramlilas."