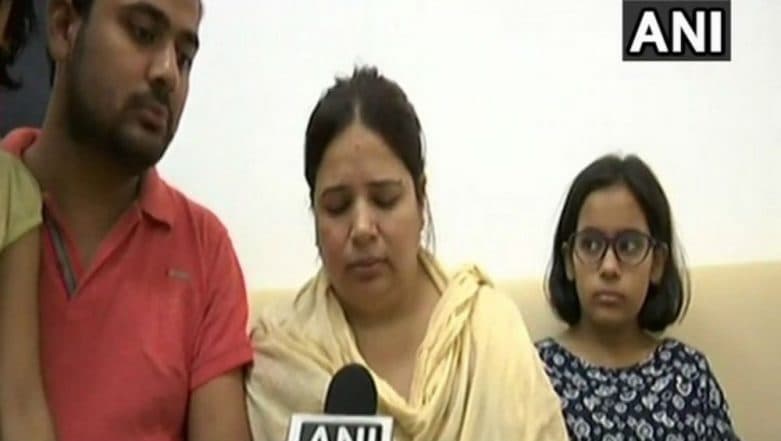 Lucknow, Oct 1: Kalpana Tiwari, wife of Apple executive Vivek Tiwari who was allegedly shot dead by a police constable in Lucknow's Gomti Nagar last week, on Monday said that her faith in the Uttar Pradesh government has strengthened. Her statement came following her meeting with Chief Minister Yogi Adityanath who accepted all her demands. Speaking to ANI, Kalpana said: "He (Adityanath) heard what I had to say and assured help. I had earlier also said that I have faith in our state government and today that faith has strengthened. I was feeling completely lost and thinking what to do. But after this meeting, the Chief Minister has encouraged me. I am grateful to him."
Earlier in the day while speaking to the media, Vivek's wife demanded strict punishment against those responsible for her husband's death. Apple Executive's Killing by UP Cops: Wife of Vivek Tiwari Lodges Fresh FIR Against Accused Constables.
Elaborating on her meeting with the Chief Minister, she said: "I met the Chief Minister today. Those responsible for killing my husband, they should be given strict punishment. He has accepted all my demands such as job for me, education of my children, and family welfare. He has helped me a lot, and has assured the state government's support to me."
Vivek Tiwari was returning home in the early hours of September 29, when he was allegedly shot on his chin by a police constable for refusing to stop his vehicle. However, the cop who has been accused of shooting Tiwari claimed that he fired in self-defence, as Tiwari tried to run his car over him. An investigation was also launched by the Uttar Pradesh Police against the accused under section 302 of the Indian Penal Code (IPC). Apple Employee Vivek Tiwari Murder: CCTV Footage Nails Cop's Lies; Victim's Wife Meets UP CM Yogi Adityanath.