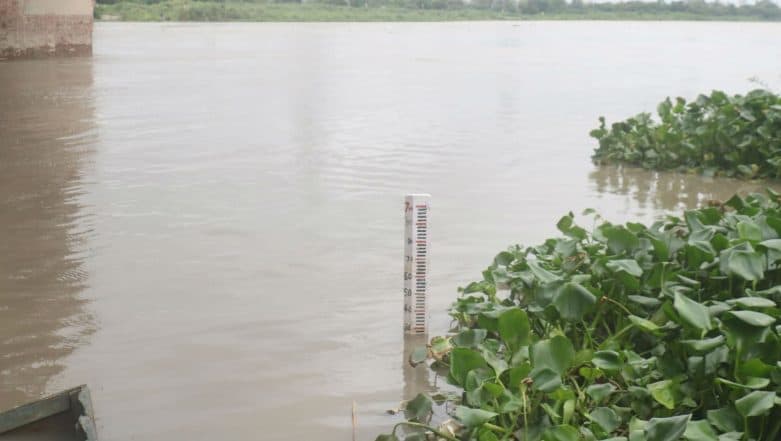 New Delhi, August 19: Families living in the low-lying areas near the Yamuna in national capital are bracing for tough days with the alarming rise in the water level of the river. Authorities in the national capital have started to evacuate families from areas like Gandhi Nagar and Yamuna Bank metro station near Akshardham. The Yamuna on Monday crossed the 'warning mark' of 204.50 meters and was set to breach the 'danger mark' of 205.33 meters in the evening, forcing authorities to ask people living in low-lying areas to evacuate to safer places. Yamuna River Crosses 'Warning Mark', Delhi CM Arvind Kejriwal Call Emergency Meeting.
The Yamuna level started rising near the catchment area on Sunday after water was released from the Hathni Kund Barrage in Haryana's Yamuna Nagar. Most of the families residing on the Yamuna floodplains earn their living by domesticating livestock and the evacuation process has brought challenges for such families and the District Disaster Management Authority.
"We don't know when the water level will come down, and what would stay behind. The land, our house and everything will be lost," said Bindesh Kumar, who lives in a 'kaccha' house on the Yamuna floodplains near Yamuna Bank metro station. These families now fear that they might loss their livestock.
"What will happen to my livestock? They are my only source of living. Even if they are evacuated, who will feed them during these days?" said Dharampal Singh, who was packing his valuables after the disaster management team began the evacuation process.
The authorities have already started to fix temporary camps and arrange food for the families living in these areas. Officials claim that over 60 tents would be pitched near the Yamuna Bank metro station each sufficient to accommodate at least four individuals.
"We have been instructed to pitch at least 60 such tents, and if required the number would be hiked to 70 tents. We have also started evacuating people who live near the Yamuna bank," said one of the officials deployed on the disaster relief project. In view of the rising water level in the Yamuna river in the national capital, the District Magistrate (East) had issued orders to evacuate people and shift them to relief camps or safer locations.
"Whereas the water level in Yamuna is rising due to heavy rains as well as release of water from Hathni Kund Barrage and water level of river Yamuna may likely to rise up 207 metre by 10 a.m. at Old Railway Bridge by tomorrow i.e. August 19, 2019 putting risk to public life and property," read the order by K. Mahesh, District Magistrate (East) on Sunday. The Delhi government said that it was on alert in tandem with the Centre. Yamuna Water Level Crosses Danger Mark in Delhi Post Heavy Rains in Himalayan States, Arvind Kejriwal Calls for Emergency Meeting.
A Delhi government statement said Haryana had released 8.28 lakh cusecs of water from the Hathni Kund barrage. This water was set to reach Delhi "with full force" in the next two days, Kejriwal said, after presiding over a meeting of senior officials. Authorities halted traffic on one of the old bridges that connect Delhi with its eastern wing amid the rising water level.