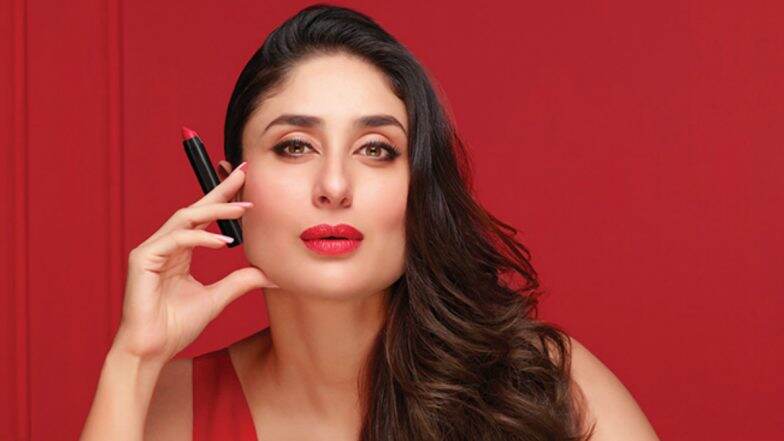 Kareena Kapoor Khan has been ruling Bollywood ever since she made her debut. Being the daughter of Babita and the younger sister of Karisma Kapoor, things were easy for her in B-Town. But she managed to make a name for herself and didn't just remain a star's relative. Her career skyrocketed with the release of Jab We Met, in which she played the jolly character named Geet. People loved her in the film, and things changed from there. Lady in Red! Kareena Kapoor Khan Dazzles on the Cover of This Magazine; See Beautiful Pics of Bollywood Actress.
On the occasion of her 39th birthday, let's all take a look at Kareena Kapoor Khan's makeup and learn some tricks to look like her. Kareena Kapoor Khan Brings the Good Old Blouse-Skirt Attire Back in Style! View Pics.
Heavy Contoured Cheekbones
Kareena Kapoor Khan has some prominent cheekbones that we all envy. She always has heavily contoured cheeks, even though she doesn't need it.
Kareena Kapoor's Contour
View this post on Instagram
How to Get Kareena Kapoor's Contour
Try contouring underneath your foundation to get the most natural yet snatched look. Don't blend the dark cream contour all the way, the way you would blend a contour on top of your foundation. Gently stipple or blend your foundation on top without brushing and rubbing the contour away. Or you can go for traditional contouring with darker powder.
Ultra Nude Lips
Kareena is a total nude lipstick gal. She loves beige toned nudes that make her complexion look washed. Her nude lipsticks aren't even a perfect nude for her. Most of the time they're too light for her.
Kareena Kapoor's Nude Lips
View this post on Instagram
How to Get Kareena Kapoor's Ultra Nude Lips
Get yourself a nude lipstick a shade lighter than your skintone. If you have nude lipsticks, try dabbing some concealer in the centre of your lips and blend outwards. This should give you a pale nude lip look.
Bold Eyeliner and Kajal
Kareena loves her bold and dramatic kajal. Like we've seen in the Lakme ads, she loves to go heavy-handed with her eyeliner. She either has a thick line on her waterline, or her entire eye is rimmed with kajal.
Kareena Kapoor Khan's Eyeliner
View this post on Instagram
How to Get Kareena Kapoor's Bold Eyeliner and Kajal Look
This one is pretty basic. Go as thick or as thin as you like and apply kajal. And voila! Done!