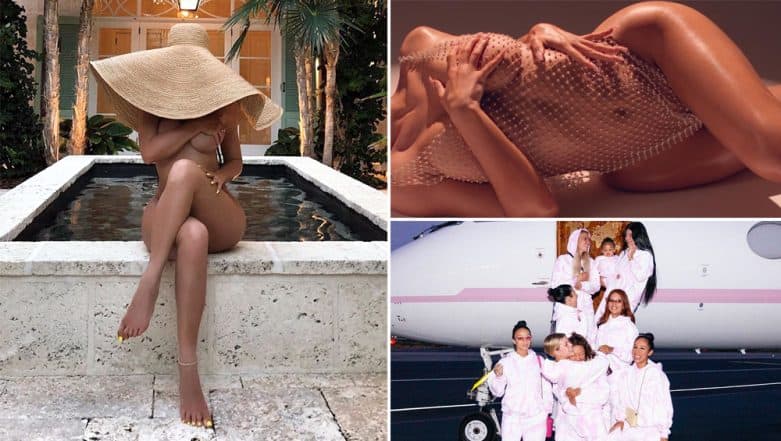 Kylie Jenner takes the Turks and Caicos Islands. Kylie has started her brand trip for Kylie Skin with a bunch of her influencer friends and in the typical beauty brands fashion, has headed to the seashore for celebration. Kylie Jenner is coming out with three more products for Kylie Skin for summer. All three products have coconut oil and as heavenly as that sounds, people have something to say about this launch. It's Kylie, people always have something to say. Kylie Jenner Flaunts Her Perfect Butt in a Video and It Is Now Making the Whole Internet Thirsty! 5 Other Times Kylie's Booty Has Taken Over Instagram.
On July 12, Kylie Jenner uploaded a video on her Instagram, introducing her newest products for Kylie Skin. In her next post, she introduced her three new products for the line. A coconut body scrub, coconut moisturiser and a broad spectrum SPF 30 sunscreen oil. The posts from then on have all been about her brand Kylie Skin. Kylie kickstarted the launch with a brand trip to the Turks and Caicos Islands with few of the biggest models and influencers today. She had a private jet arranged for them which read Kylie Skin with the white and pink theme. She also had her daughter, Stormi with them. Kim Kardashian's Butt Can Now Be Yours With 3D Print!
Kylie Jenner's Introductory Video
View this post on Instagram
Kylie's Private Jet With Her Friends
View this post on Instagram
Kylie in Vacay Mode
View this post on Instagram
The Kardashians are nowhere to be seen in Kylie's pictures, making us wonder where the entire clan is. Kylie posted multiple pictures with her new bestie, Anastasia Karanikolaou. The duo was twinning in multiple pictures and even got coordinating manicures. While she parties with friends on some beach, people had some negative things to say about the launch on Trendmood's Instagram page. People are upset Kylie still hasn't restocked her old products for repurchasing and now she's coming out with new products. Unlike makeup, skin care takes some time to show the effects and people need to repurchase the products to see any results. And now Kylie coming out with new products is infuriating people.