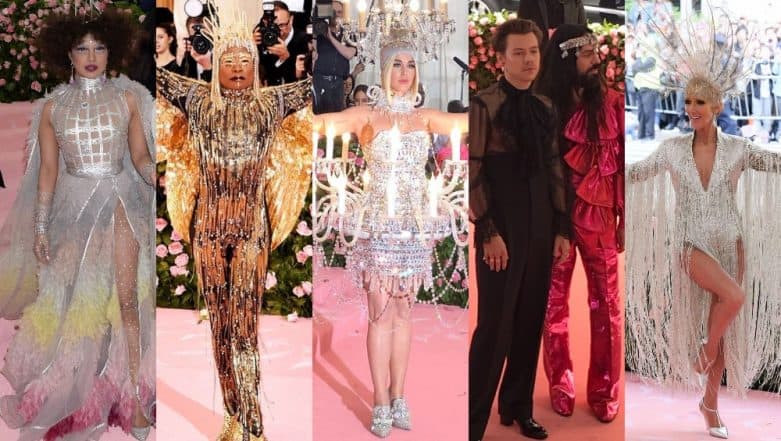 The Met Gala this year celebrated one theme, "Camp: Notes on Fashion". It simply went to go over the overboard and make sure to stand out amid an OTT crowd. Inspired by Susan Sontag's iconic 1964 essay, Notes on "Camp", the essence of the camp is dumbed down to "love of the unnatural: of artifice and exaggeration". To commemorate the same, artists and fashion stalwarts brought out their most outrageousness to the red carpet.
Some of the standout performances were that of Lady Gaga, who practically stripped down from a voluminous gown to black lingerie. Billy Porter got his entourage and decked up in an overbearing golden embellished ensemble. Perhaps he was playing a hawk or some majestic bird (Phoenix, maybe?). We had Katy Perry who sizzled the red carpet and lit herself up in a candle-inspired ensemble. Maybe she was playing Lumiere, the candelabra from Beauty and the Beast. Celine Dion took on a rather angelic note as she wore a metallic shimmer ensemble that gave netizens a "Good Hela" vibe. Priyanka Chopra's eccentricity on the red carpet also won hearts as she got herself some zany perm and glitter on her face.
They're not the only ones who made eyes pop out of the sockets. Jared Leto's creepy head double that he carried in his hand during the Met Gala was an attraction too. As was Ezra Miller's trippy mask with several eyes. Harry Styles too did some epic walk in a black ensemble. You can check out all the looks below!
Lady Gaga 
Priyanka Chopra
Kim Kardashian 
Katy Perry
Billy Porter
Harry Styles 
Jared Leto
Celine Dion
Zendaya
Gigi Hadid
Michael B Jordan 
Ezra Miller 
Bella Hadid
View this post on Instagram
Halsey
View this post on Instagram
Gisele Bundchen
Cardi B 
Kendall and Kylie Jenner 
View this post on Instagram
Kacey Musgraves 
Janelle Monae
Like we mentioned earlier, staying true to the theme of this year's Met Gala, various celebrities brought out the best of their bizarreness. However, there were a few such as Kanye West, Shawn Mendes, to name a few, who didn't live up to the theme. Irrespective, they ensured to make a statement with their simplicity!