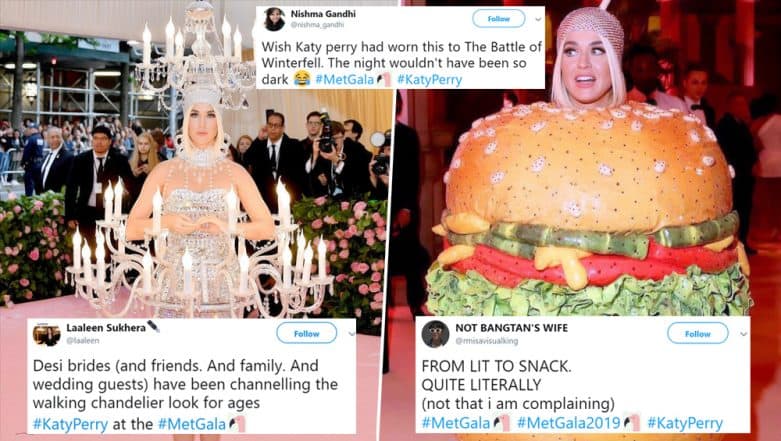 Met Gala appearances are out and we cannot help but fall in love with what Katy Perry wore. Celebs won the Met gala 2019 pink carpet and even after party looks were a treat to the eyes. While Priyanka Chopra, Cardi B, Lady Gaga among others are reigning the headlines today, Katy Perry's sartorial choices for the night have left people with dropped jaws since forever. Upping the drama level, Met gala 2019 has to the most dramatic red carpet moments. The 34-year-old songstress was in an abstract ensemble of the evening while she illuminated the pink carpet dressed as a chandelier and later for the afterparty where usually the celebs mellow down a bit, Katy Perry became nothing else but a Cheese Burger. Yes! She wore a Moschino creation on the Pink Carpet that featured decorative hanging light and candles enough to brighten your life. The after-party saw Katy Perry turn into a burger costume with beef, salad and cheese oozing out. Met Gala 2019 Funny Memes And GIFs: Priyanka Chopra to Cardi B, All the Celebs Who Entered Met Ball Hall of Memes This Year.
Apart from bringing a smile to everybody's face, Katy Perry's avatar was completely meme-worthy. Both her looks churned out many funny and viral memes and jokes that will make your day.
Here are some of the Katy Perry Met Gala 2019 memes and jokes:
Wish Katy perry had worn this to The Battle of Winterfell. The night wouldn't have been so dark 😂 #MetGala #KatyPerry pic.twitter.com/IYoHC62lOC

— Nishma Gandhi (@nishma_gandhi) May 7, 2019
It's all of us
Is it just me or does she look like a wax figure in this pic @katyperry #katyperry pic.twitter.com/4rlbRFhOmT

— Katy Perry (@katyperryxkcs) May 7, 2019
Are you desi enough to get this?
Desi brides (and friends. And family. And wedding guests) have been channelling the walking chandelier look for ages#KatyPerry at the #MetGala pic.twitter.com/IcXwXuHtiZ

— Laaleen Sukhera✒ (@laaleen) May 7, 2019
Literally lit
Round of applause for the most lit 💡 person at the #MetGala, #KatyPerry ⚡️

Follow us @Promo2kV for more! pic.twitter.com/pyZdNJZFMB

— Promo2kViral (@Promo2kV) May 7, 2019
OMG
Omg @katyperry you look astonishing, yeah light of our lives!! #MetaGala #katyperry pic.twitter.com/WHyqTKYH8n

— Nadia Carmina (@dragonflyn) May 6, 2019
Can't breathe
I can't be the only who thought this... #MetGala #KatyPerry pic.twitter.com/GlpEzkngcp

— GRΔCΣLYΠΠ 🦁 (@notgraceland) May 7, 2019
Oh, yeah
@katyperry showing the sun how to shine#MetGala2019#KatyPerry pic.twitter.com/7bCYPbKvJg

— Snorly003 (@snorly003) May 6, 2019
Who did this?
that is so ridiculous😂😂😂 pic.twitter.com/S2FsrHx2OF

— Buckyyyyy (@1013cyl) May 7, 2019
LOL
#MetGala #KatyPerry When you misread camp and you show up as a lamp pic.twitter.com/DtHzKXTGZ4

— NatushLookbook (@NatushLookbook) May 7, 2019
One of the videos of her burger outfit change went viral on Instagram. The video showed Perry stepping into her burger outfit in the toilet.
They surely are
Truth has been unfolded
Katy Perry just killed it at the Met Gala 2019. It is being claimed that the Met Gala 2019 look and the after party look are one of the riskiest attires she donned for a red carpet.