The Navratri festival commenced on October 10 this year and the season of dressing up in the nine festive colours began. Who says the ritual to follow nine distinct colours on each day of Navratri is restricted to women only? Men who are enthusiastic enough, too, follow this traditional trend quite religiously. It's also that time of the year when you take a look at your wardrobe and decide which colourful attire to wear on that particular day. Let our dapper Bollywood actors show you how to style your outfit on dandiya and garba nights. Navratri Colours 2018 List: Get Inspired by Deepika Padukone, Priyanka Chopra and Alia Bhatt to Wear Nine Different Colours on Each Day of the Festival.
Men's styling is never an uphill task. So what if the silhouettes are usual? There's always some scope to experiment. Still curious to know how? Well, in that case, you can take some cues from our Bollywood hunks who perfectly know how to style their ethnic wardrobes. Have a quick look at our suggestions below and understand how do Shah Rukh Khan, Akshay Kumar and Sidharth Malhotra make their colourful outings worthwhile. Navratri Colours 2018 for Nine Days: List of 9 Colours for Each Date to Wear During Sharad Navaratri Festival.
Royal Blue: The Romance King Shah Rukh Khan looks splendid in the colour royal blue pathani and sherwani. Classy and chic at its best.
Yellow:  The oh-so-handsome Varun Dhawan displays swag in white straight pants and Mandarin collar yellow shirt. The outfit is ideal for a day or a night function.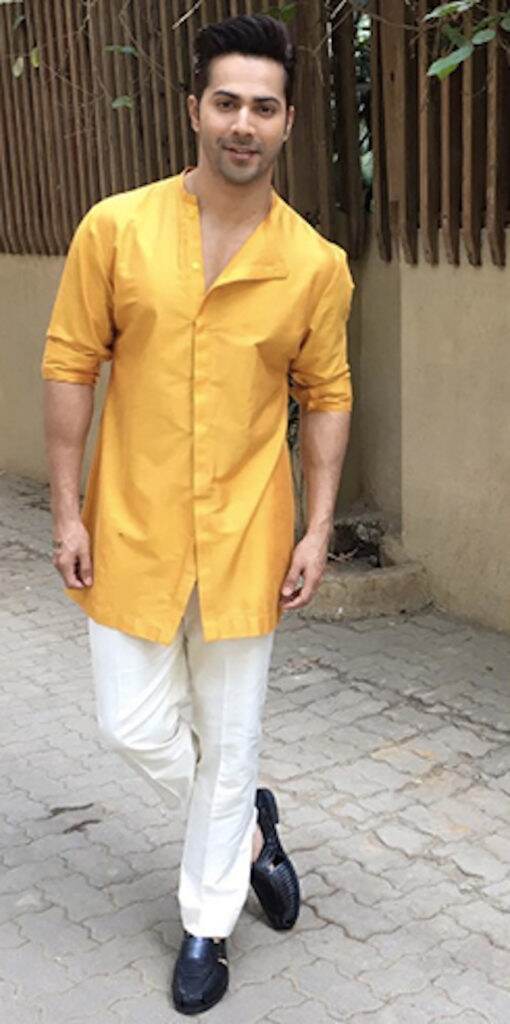 Green: To add a traditional element to your Navratri outfit, boys can wear a printed or simple Indian jacket on paired with a shirt and pants. Akshay Kumar pairs his black kurta with a green jacket, giving his traditional outfit with a modern jacket.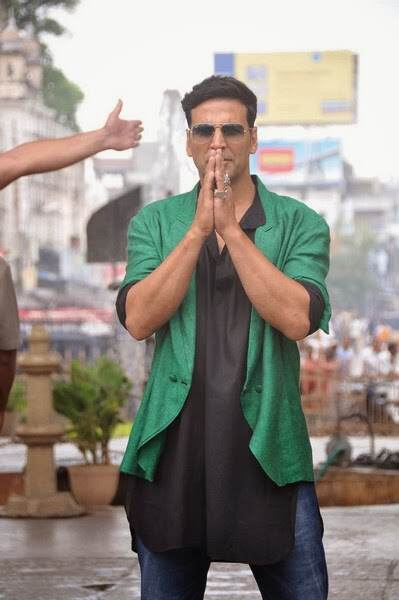 Grey: Grey and black is a classic combination and Arjun Kapoor aces the attire. Arjun looks dapper in the outfit. Boys can style their hair in a sleek hairdo this festive season.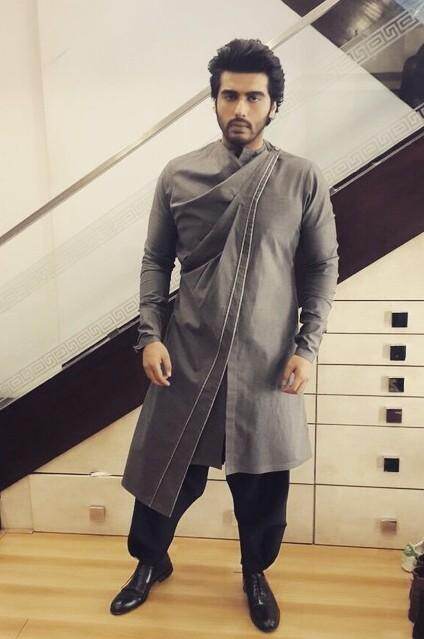 Orange: Kushal Tandon's  long and short orange kurta paired with gold patiala salwar is exuding the perfect festive vibes.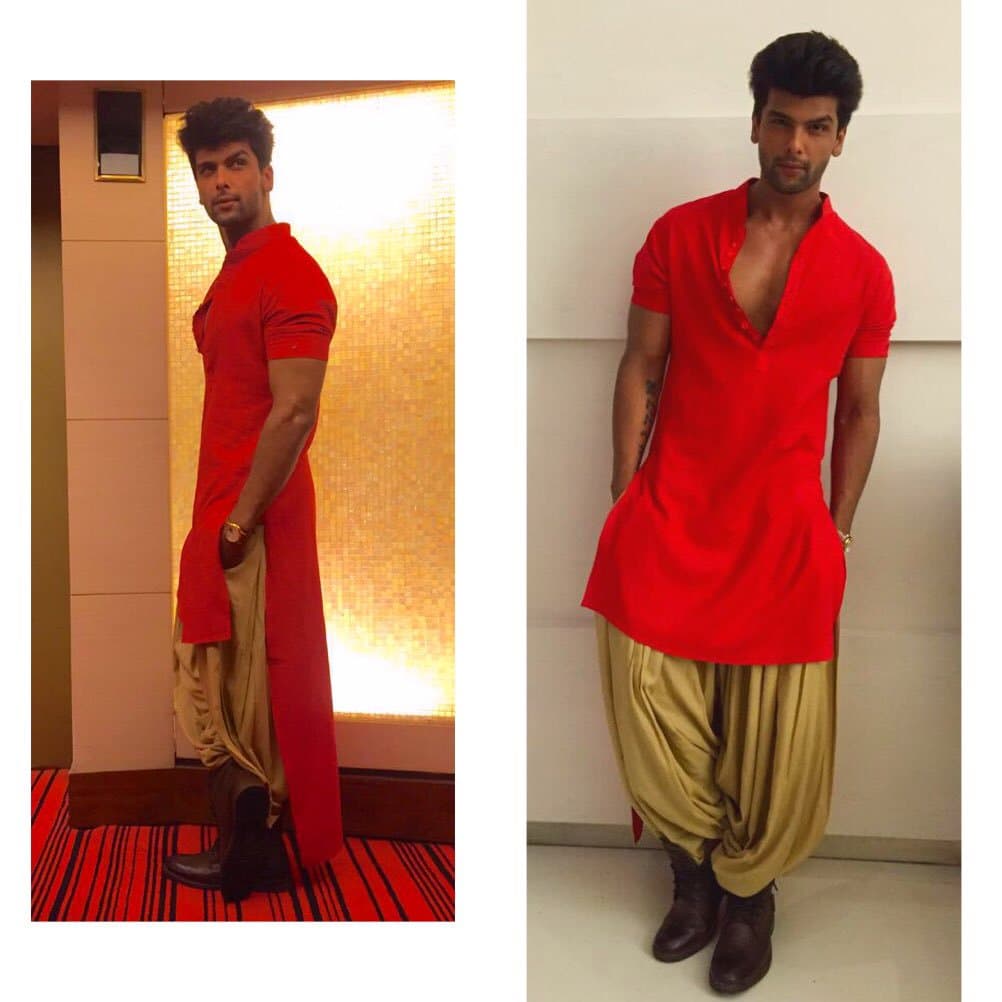 White: Elegance is synonymous with the colour white and it looks stylish for every Indian occasion. Pair your simple chudidar kurta with a self-printed off-white Nehru jacket, just like Shahid Kapoor.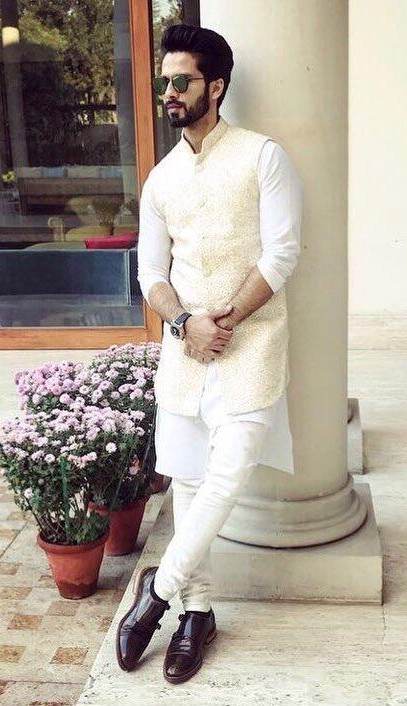 Red: While outfit ideas for men may not be too many, but you can style your attire by pairing it with vibrant colours. Red is ideal for dandiya and garba nights.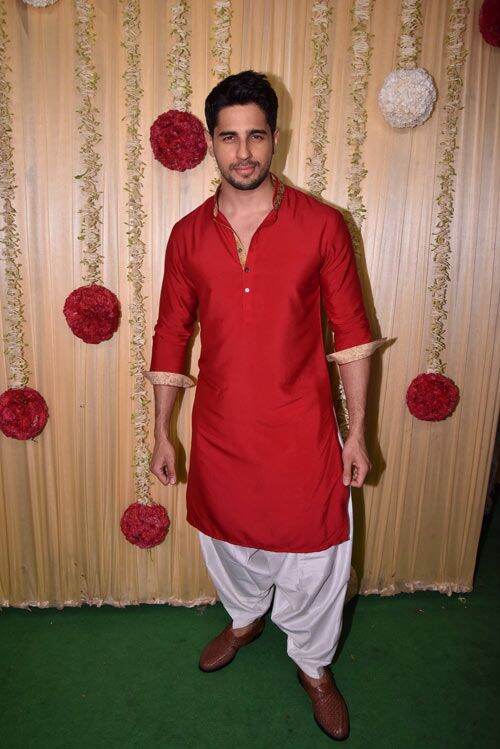 Sky blue: Saif Ali Khan looks like a nawab in this metallic sky blue kurta paired with white chudidar.
Pink: While for some men, pink could be a tricky colour to wear, some really wear it with great style. When it comes to wearing pink in Indian style, baby pink paired with white looks the best. Trust Ranveer Singh to rock any sort of style and colours.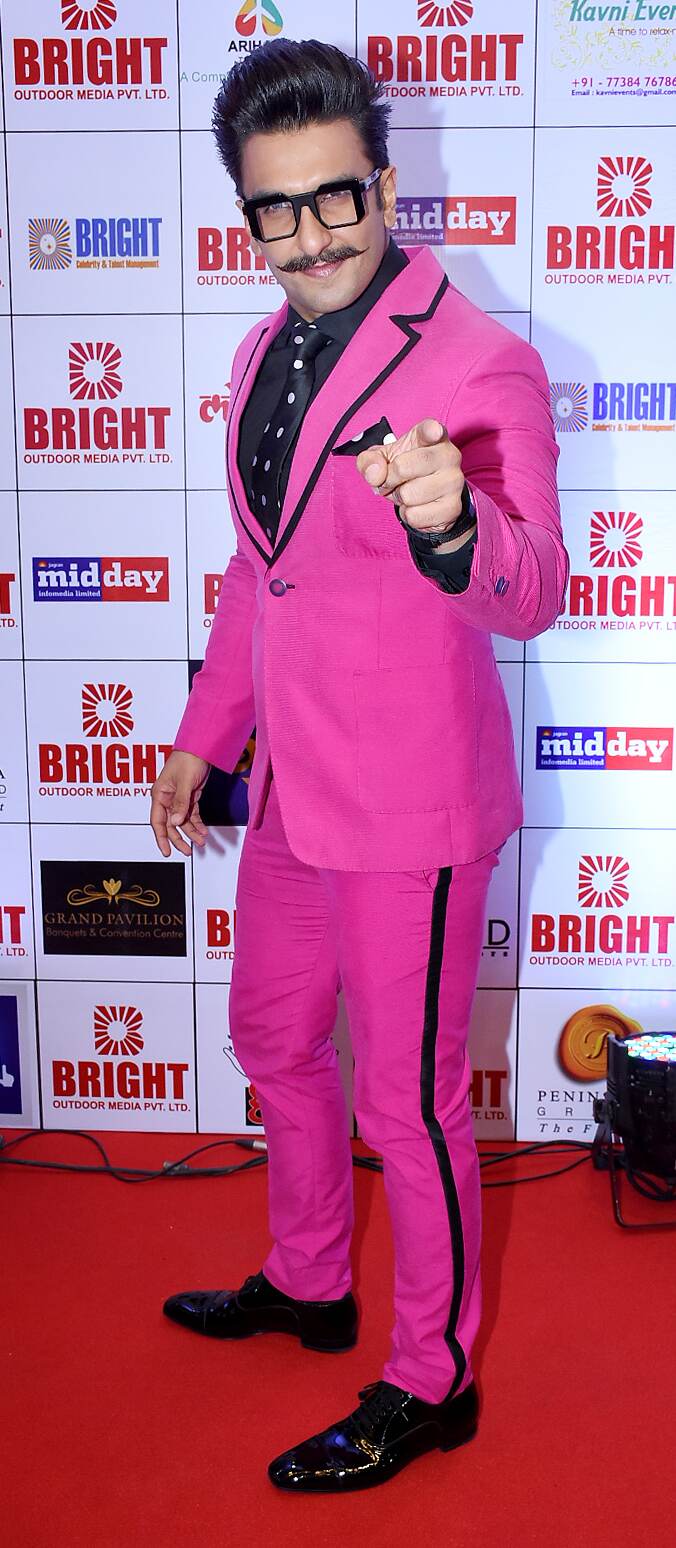 This Navratri boys have several style tips to take from our Bollywood actors. This festival bring out your traditional side to rock the celebrations of Navaratri. And just in case you need some more tips on how to style yourself, we'll keep you updated in the coming days. Happy Navratri 2018!