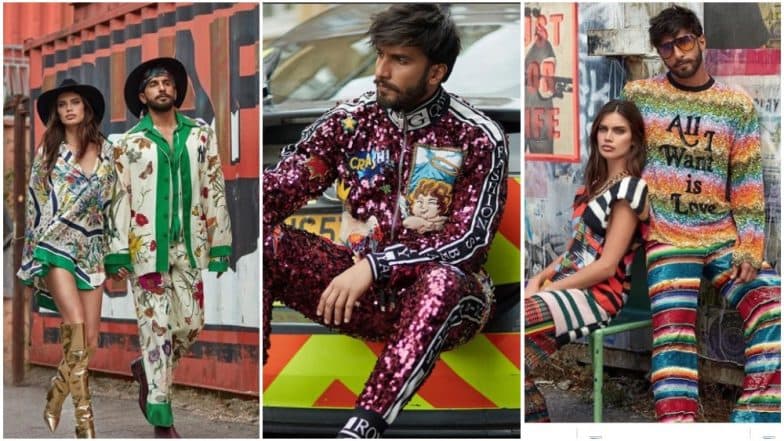 Ranveer Singh is definitely the man of the hour! The actor who's busy juggling between his personal and professional commitments also manages to make time for such stunning photoshoots. Gone are the days when actors would just dress in elegant attires and pose like a mannequin! Today, it's more about what uniqueness you bring to the table. Photoshoots these days are glamorous and pretty expensive affairs. From elaborate wardrobes to exotic locales, there's nothing ordinary in this fashion world anymore. Magazines these days are trying to present the fusion of Indian and western talents. We earlier witnessed Sushant Singh Rajput and Kendall Jenner's chemistry for Vogue's anniversary issue. And now it's time for Ranveer Singh to weave some magic with Portuguese beauty Sara Sampaio. Ranveer Singh With Deepika Padukone or With Sara Sampaio: Which Vogue India Cover Impressed You More? Vote.
The duo's new too hot-to-handle cover is already the talk of the town. And here we present some more pictures that have the potential to make your eyeballs pop out. Ranveer's unspoken chemistry with Sara is the highlight of this entire photoshoot. It justifies their raw personalities and gives you enough reasons to ogle at them. Yea, a photoshoot of this kind was yet to be seen in the Indian glamour world and we are glad for Vogue made it possible. It's outstanding, remarkable, stunning, oh wait,  we can go on and on.....
Check out all their pictures from the recent photoshoot below
This duo! Imagine us as the human embodiment of the smiley with hearts in its eyes! 
If looks could kill! 
The issue that revolves around colours bears a strong resemblance to the actor's personality. He's as lively as these loud colours in real life and his personality is as vivacious as the attires. We are glad they chose RS for this special issue as his crackling chemistry with Sara is able to strike a chord with the viewers. After Sushant and Ranveer, we wait to see which actor justifies Vogue's anniversary edition next year.