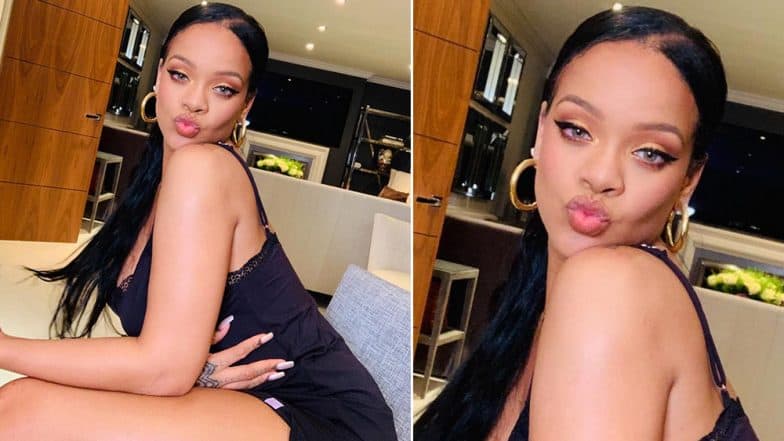 For now, Rihanna has kept her other careers aside and is only focussing on expanding her fashion empire. The owner of Savage x Fenty line has been donning outfits from the brand to create awareness among fans. Needless to say, she has managed to bring quite a striking turnabout for the company. In fact, earlier this year as Forbes released its yearly richest list, they did speak about RiRi and her $600 million empires. She is the world's richest female musician and "work, work, work, work, work, work" seems to be her motto throughout. Rihanna Impresses Fans With Her Curvy Mannequins At The Fenty Pop-Up Store!
Even as you notice her latest Instagram posts, you'll notice that they aren't personal but mainly about RiRi's empire and how she plans to expand it. A lot of her posts have the diva wear astoundingly gorgeous ensembles from her fashion line and give people the feels! Even as she wore this slinky but hot black slip dress with luscious cat eyes and thick golden hoops, yees, she did give us the feels. Calling it a "Limited Edition", Rihanna explained, "#SavageXCLF styles are out now at savagex.com/clf .... I started @claralionelfdn because I believe in people having a chance at a better life through health, education and proactive measures to emergency response. You can donate and contribute to our mission simply by picking up these exclusive @savagexfenty pieces- out now!" Rihanna is Coming to India This Year and It's Time You Start Cheering for RiRi!
The picture brought forth much love for the diva as fans couldn't stop gushing over how pretty she looked in the picture. Many called her gorgeous while some stated that she did make them feel things. Some even expressed their love for the slip dress and responded with hearty eyes emoji. Ever since her fashion line has gone public, Rihanna has been fiercely promoting her brand on social media. Since the brand curates ensembles for curvy women and promotes positive body image, the brand has already received tremendous love from fans.