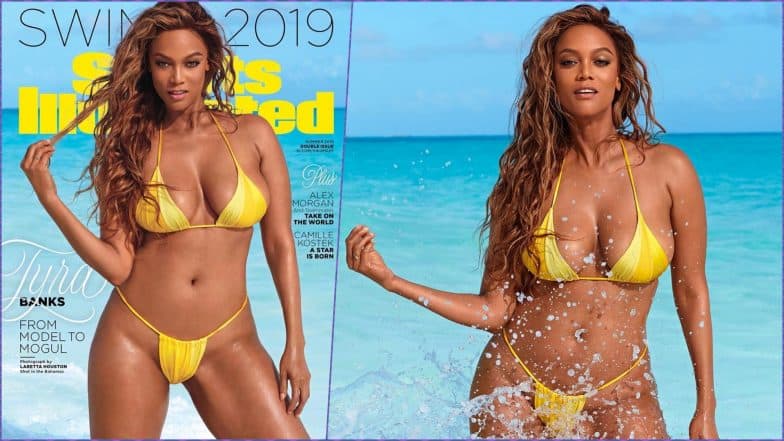 Former model and American television personality Tyra Banks commands attention as she returns as the cover girl of Sports Illustrated Swimsuit. The 45-year-old makes our hearts flutter with her smouldering hot avatar in a teeny-weeny yellow bikini. This is the second solo appearance for Tyra Banks on SI cover, after she became the first African-American model to grace the magazine cover in 1997 (third overall including her magazine debut in 1993). The special SI edition with Tyra is shot in Great Exuma, Bahamas, by Laretta Houston. Hijab-Wearing Model Halima Aden Becomes First to Wear Burkini on Sports Illustrated Swimsuit Issue Cover (View Pic).
Sharing the cover photo on her Instagram handle, Tyra writes, "This is for everybody that has been told that they are not good enough because of their body, their age, their everything. #BanX is here to tell you that you ARE friggin' fierce no matter what anybody says! Drop mic now! @si_swimsuit 2019." It is indeed a mic drop moment for America's Next Top Model presenter who came out of modelling retirement to take the fashion and glam world by storm. Mara Martin Breastfeeds While Walking the 'Sports Illustrated' Swimsuit Catwalk.
Supermodel Tyra Banks Comes Out of Modelling Retirement and HOW!
Speaking to the Sports Illustrated, Tyra says, "There is this stereotype that only a 20-year-old woman in a bikini is hot," before adding further "Like once we reach a certain age, we are no longer desirable. But I want to show that modelling has no age. I'm coming out of retirement to practice what I preach."
"I am telling people that beauty comes in all shapes, sizes and ages" she said in an interview with SI. "I have to put my money where my mouth is. I have to make sure my message is pure." Tyra also revealed that she is changing her modelling name to 'BanX' and that the 'X' in BanX stands for 'X-ing out cookie-cutter beauty'.
2019 Sports Illustrated Swimsuit Issue Cover Stars Revealed
Apart from Tyra, the other two cover stars of this newest edition are model and Instagram star Camille Kostek, 27, the girlfriend of NFL star Rob Gronkowski, and US women soccer star Alex Morgan, 29.