India celebrates Shaheed Bhagat Singh's 11th birth anniversary on Friday. Considered one of the greatest Indian freedom fighters, Bhagat Singh was born on September 28, 1907. We all have grown up listening stories about the braveheart who played a crucial part in the Indian independence movement against the British Raj. India became a free nation after facing the oppression at the hands of British rule for more than two hundred years, and it was the likes of Bhagat Singh who did not think twice before laying their lives for the motherland. Not just his courageous acts during India's struggle for independence but the country remembers the fiery as well as words of wisdom by the great revolutionary. On his birth anniversary, we will take a look at quotes by Bhagat Singh that will fill your heart with patriotism and pride. You can also share these Bhagat Singh quotes, even in Hindi with your friends and ponder over the real meaning of nationalism and patriotism. Bhagat Singh's 111th Birth Anniversary: Twitterati Remember the Legendary Revolutionary, Here Are Few Lesser Known Facts About the Freedom Fighter.
Bhagat Singh's Quote: One should not interpret the word "Revolution" in its literal sense. Various meanings and significance are attributed to this word, according to the interests of those who use or misuse it. For the established agencies of exploitation, it conjures up a feeling of blood stained horror. To the revolutionaries, it is a sacred phrase.
Bhagat Singh's Quote: We become pitiable and ridiculous when we imbibe an unreasoned mysticism in our life without any natural or substantial basis. People like us, who are proud to be revolutionary in every sense, should always be prepared to bear all the difficulties, anxieties, pain and suffering which we invite upon ourselves by the struggles initiated by us and for which we call ourselves revolutionary.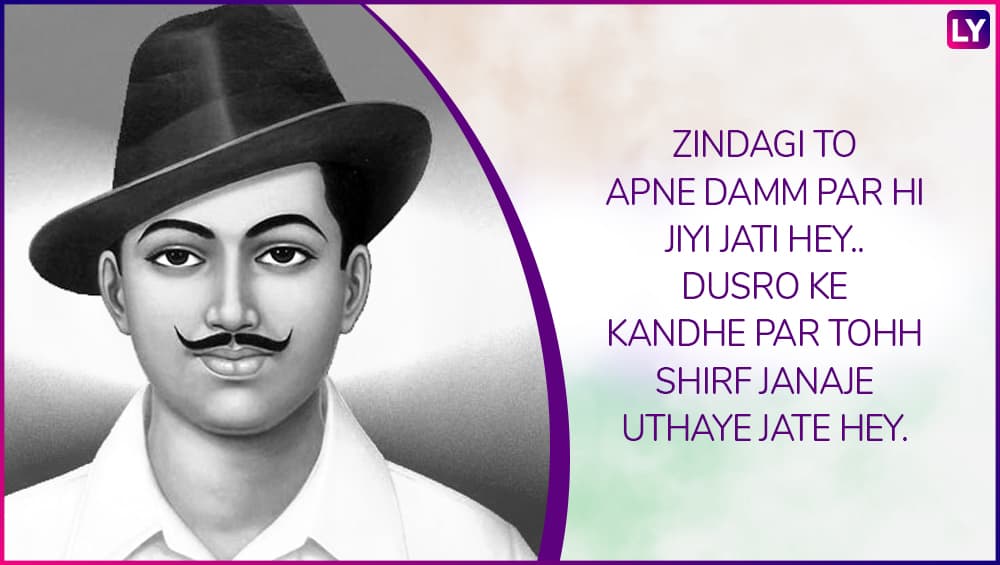 Bhagat Singh's Quote in Hindi: Zindagi to Apne Damm Par Hi Jiyi Jati hey..Dusro K Kandhe Par Tohh Shirf Janaje Uthaye Jate Hey.
Bhagat Singh's Quote in Hindi: इस कदर वाकिफ है मेरी कलम मेरे जज़्बातों से, अगर मैं इश्क़ लिखना भी चाहूँ तो इंक़लाब लिखा जाता है।
Bhagat Singh's Quote in Hindi: Life Is Lived in Your Own Spirit, You Need Others' Help in Funerals Only.
Bhagat Singh's Quote in Hindi: राख का हर एक कण मेरी गर्मी से गतिमान है और मैं एक ऐसा पागल हूं जो जेल में भी आज़ाद है!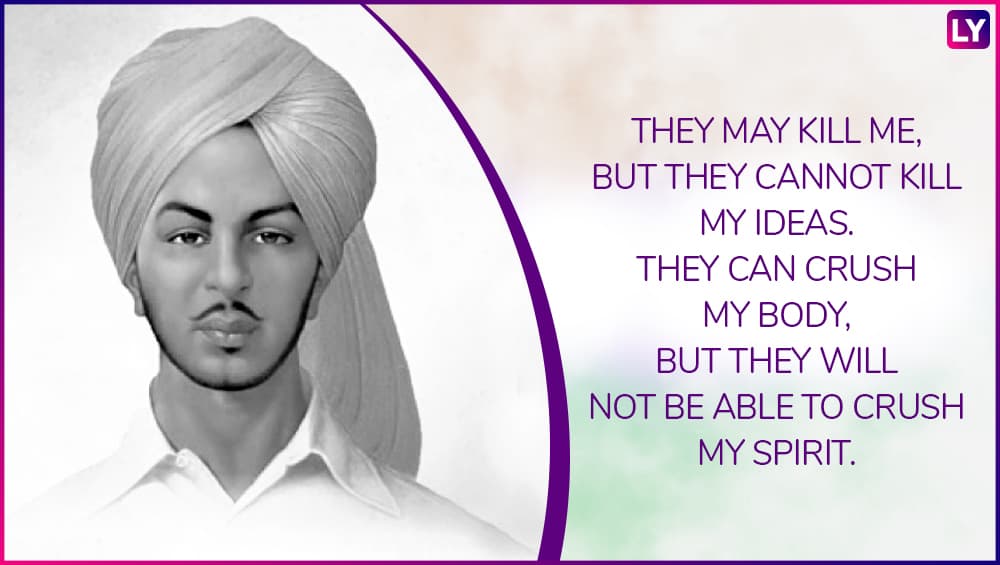 Bhagat Singh's Quote: Every Tiny Molecule of Ash Is in Motion With My Heat I Am Such a Lunatic That I Am Free Even in Jail.
Bhagat Singh's Quote in Hindi: जो व्यक्ति भी विकास के लिए खड़ा है उसे हर एक रूढ़िवादी चीज की आलोचना करनी होगी , उसमे अविश्वास करना होगा तथा उसे चुनौती देनी होगी.
Bhagat Singh's Quote: Any Man Who Stands for Progress Has to Criticize, Disbelieve and Challenge Every Item of the Old Faith.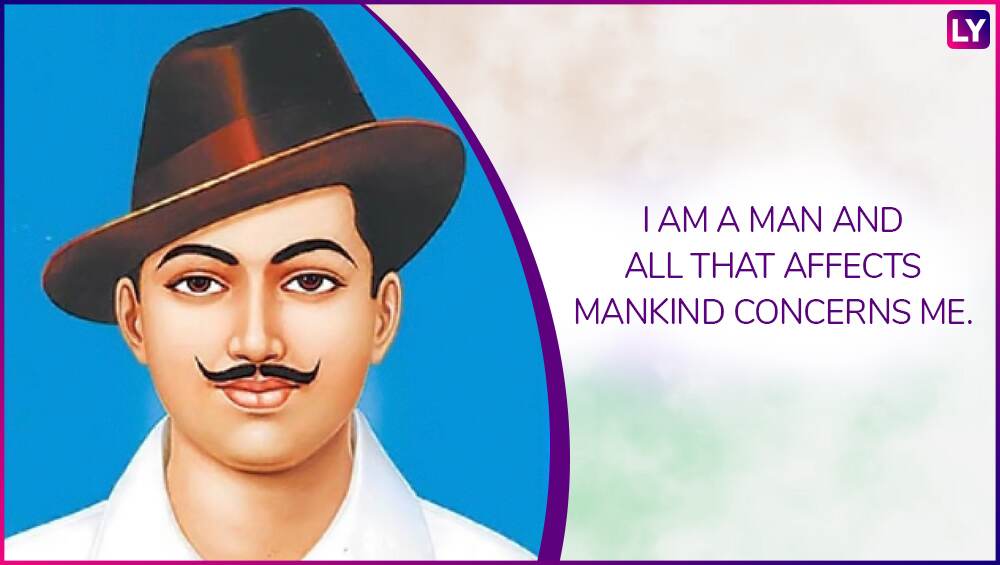 Bhagat Singh's Quote: Bombs and Pistols Do Not Make a Revolution. The Sword of Revolution Is Sharpened on the Whetting-Stone of Ideas.
At the age of 23, Bhagat Singh was sentenced to death for his involvement in fatally shooting British police officer, John Saunders. He along with another freedom fighter Shivaram Rajguru believed Saunders was responsible for the death of Indian leader Lala Lajpat Rai. On 23rd March 1931, Bhagat Singh, Rajguru and Sukhdev Thapar were hanged to death in the Lahore jail.