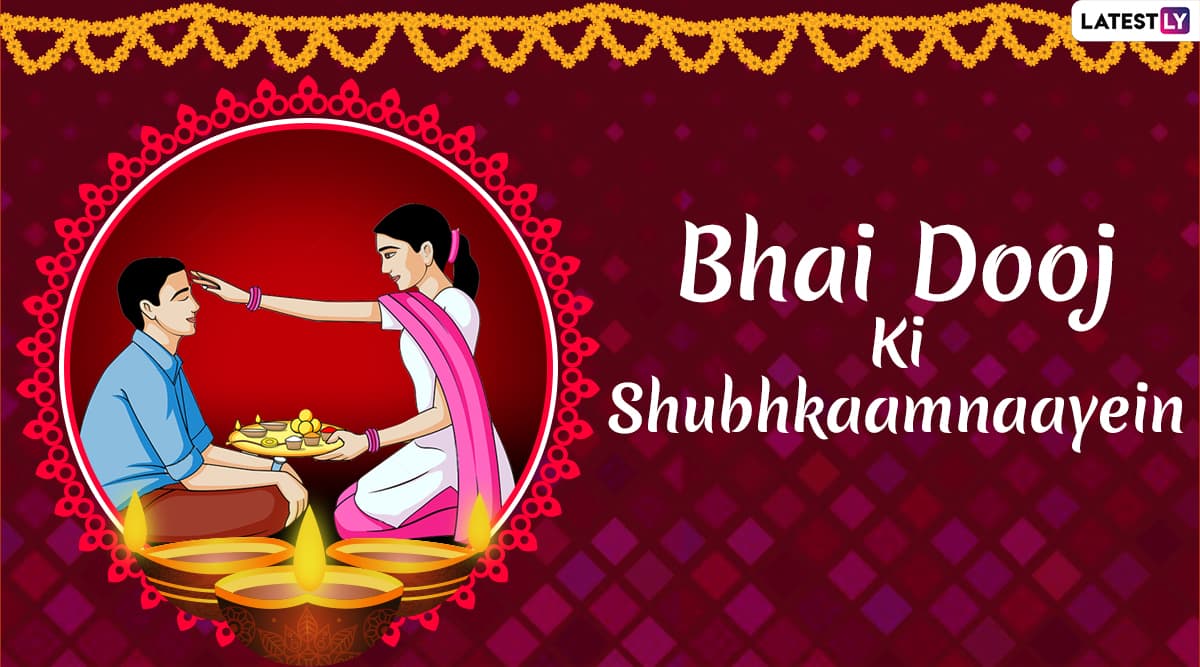 Diwali comes with tonnes of celebrations and rituals in the country. Bhai Dooj is one of the prominent observances, which celebrates the bond between brothers and sisters. Also known as Bhaubeej, Bhai Tika and Bhai Phonta, on this day, women pray for the health, prosperity and long life of their brothers. While it is known by different names and comprises various celebrations, the essence of the festival remains the same. Brothers visit their sisters and shower them with presents on Bhai Dooj. Both brothers and sisters send each other messages wishing Bhai Dooj as a mark of the love and respect for each other. You can send this Bhai Dooj 2019 messages in Hindi to your siblings this festive season. As the occasion approaches, we have compiled a list of WhatsApp Stickers, Facebook Greetings, SMS, quotes, Bhai Dooj GIF Images and messages which you can wish your brother. Bhai Dooj 2019 Gift Ideas for Brothers: Unique Presents to Give to Your Siblings and Cousins on This Special Day. 
Bhai Dooj falls two days after the Diwali every year and Bhai Dooj 2019 will be celebrated on October 29. It falls during the second lunar day of Shukla Paksha in the Vikram Samvat Hindu calendar or of Shalivahan Shaka calendar month of Kartika. The observance often gets compared to Raksha Bandhan as the celebration signifies the strong bond shared by brothers and sisters. Meanwhile, if brothers out there are looking for the perfect gift for sisters, then we have got you covered, check here for best Bhai Dooj gift ideas. While you also tell your sister how much you love her, a beautiful message on the occasion will make her feel special. On Bhai Dooj 2019, here are beautiful messages and greetings to wish your sibling. Bhai Dooj 2019 Date During Diwali Festivities: Significance, Puja Vidhi, Shubh Muhurat And All Other FAQs Answered on The Day to Celebrate The Sister-Brother Bond.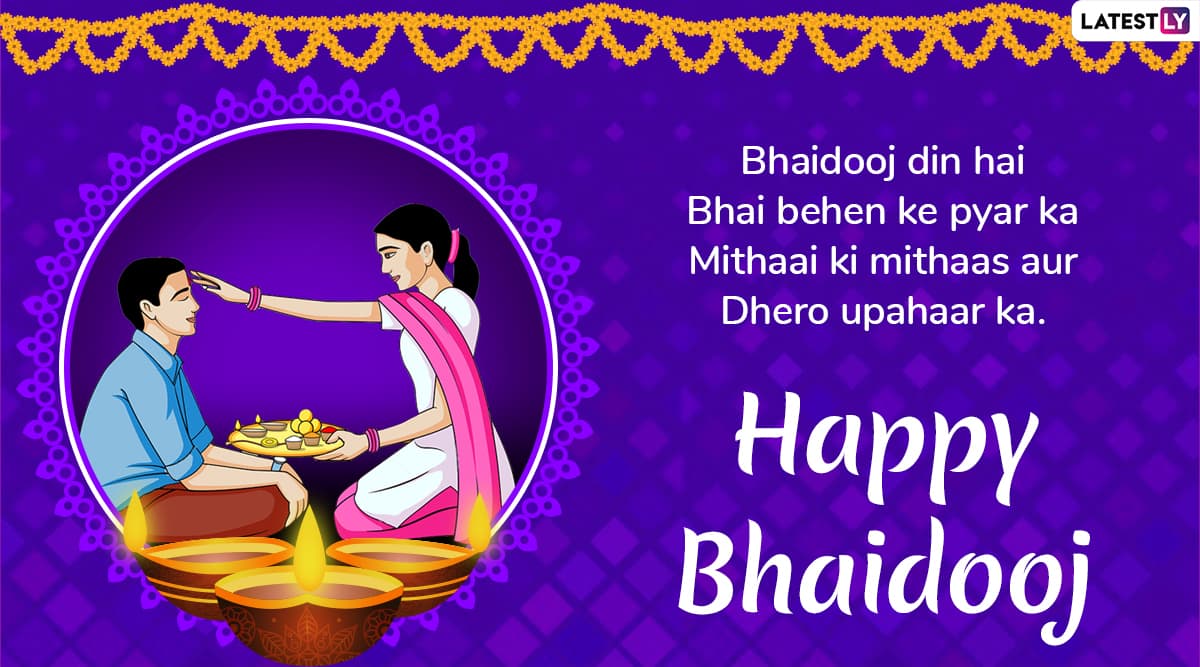 Bhai Dooj WhatsApp Message in Hindi: Bhaidooj din hai, Bhai behen ke pyar ka Mithaai ki mithaas aur Dhero upahaar ka. Happy Bhaidooj.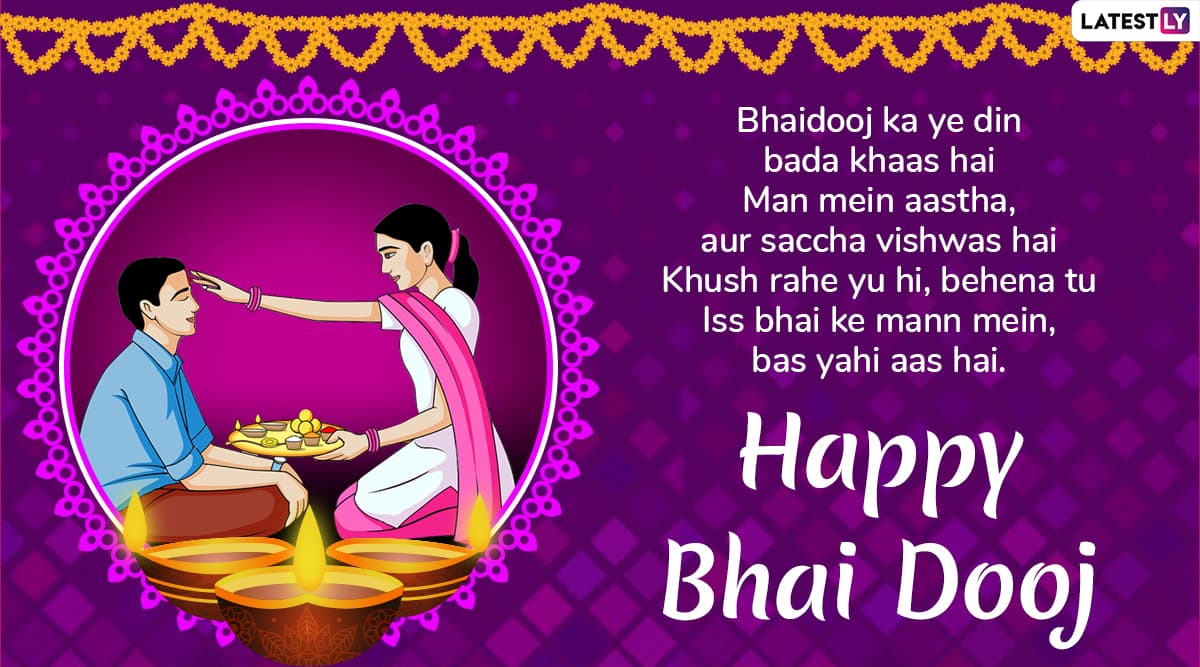 Bhai Dooj WhatsApp Message Reads: Bhaidooj ka ye din bada khaas hai, Man mein aastha, aur saccha vishwas hai, Khush rahe yu hi, behena tu, Iss bhai ke mann mein, bas yahi aas hai. Happy Bhai Dooj.
Happy Bhai Dooj GIF!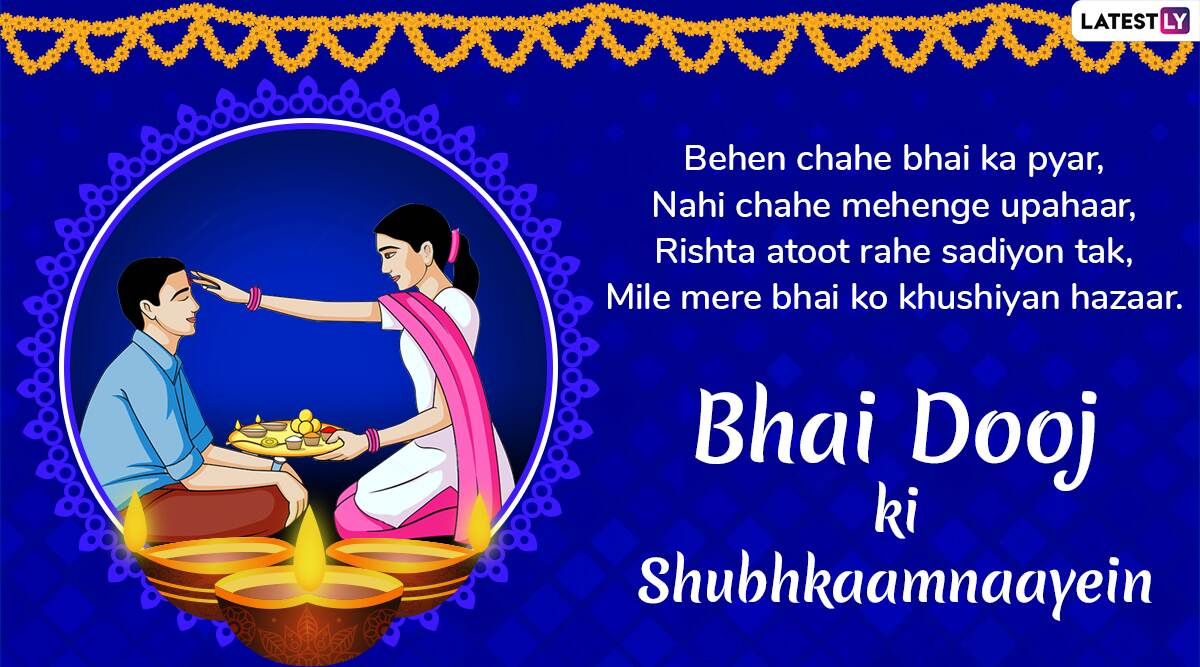 Bhai Dooj WhatsApp Message in Hindi: Behen chahe bhai ka pyar, Nahi chahe mehenge upahaar, Rishta atoot rahe sadiyon tak, Mile mere bhai ko khushiyan hazaar. Bhai Dooj ki Shubhkaamnaayein.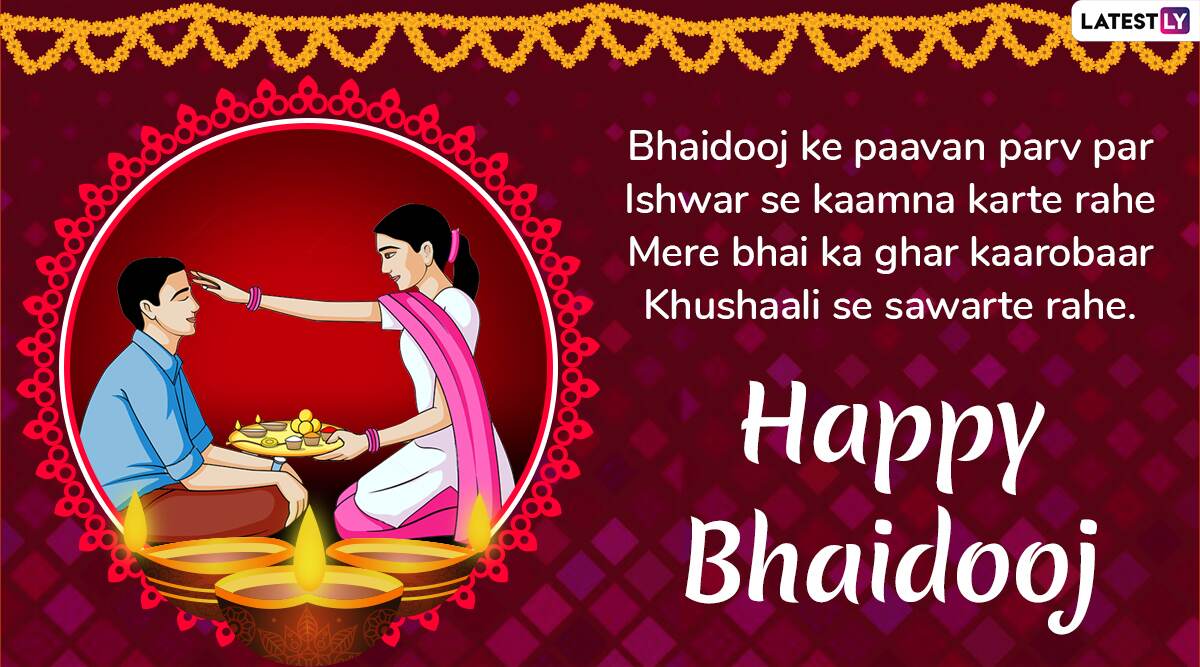 Bhai Dooj GIF
Bhai Dooj Facebook Greetings: Bhaidooj ke paavan parv par, Ishwar se kaamna karte rahe, Mere bhai ka ghar kaarobaar, Khushaali se sawarte rahe. Happy Bhaidooj.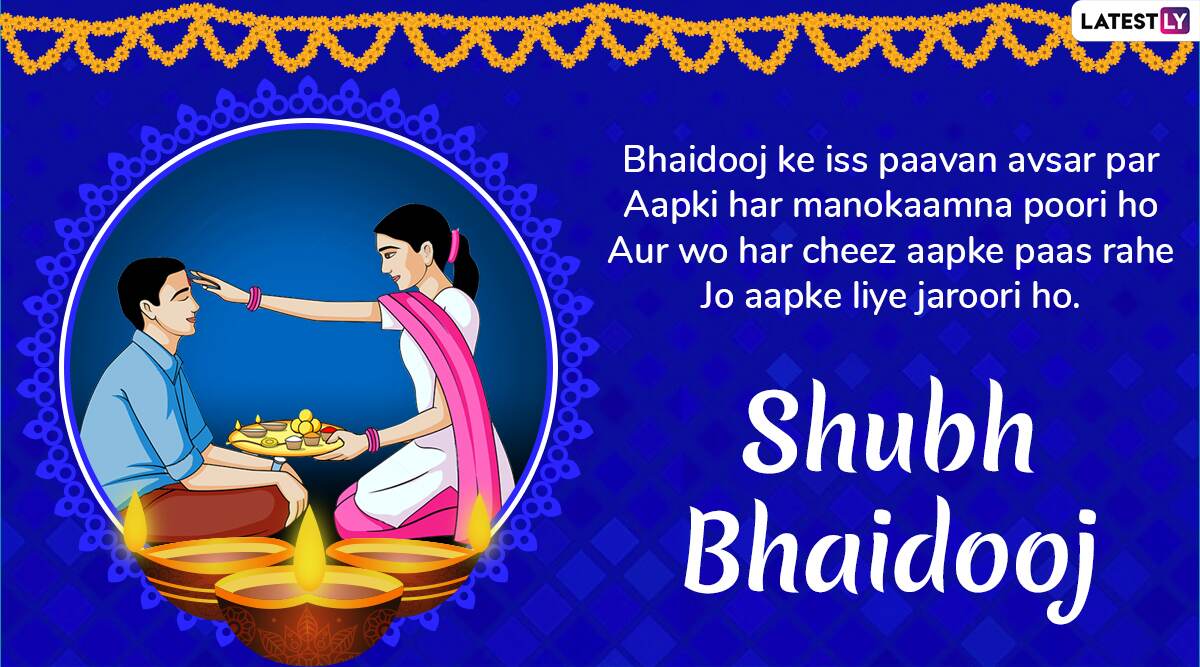 Bhai Dooj WhatsApp Message:  Bhaidooj ke iss paavan avsar par Aapki har manokaamna poori ho Aur wo har cheez aapke paas rahe Jo aapke liye jaroori ho. Shubh Bhaidooj.
How to Download Bhai Dooj WhatsApp Stickers
WhatsApp being one of the most used instant messaging apps, people use the platform to wish on festival, anniversaries, birthdays and other occasions. As the trend continues, WhatsApp Stickers are now used widely on the platform. You can easily download Bhai Dooj WhatsApp Stickers from PlayStore and send it to your near and dear ones.
On Bhai Dooj, brothers promise their sisters to protect and take care of them. They, in return, pray for the well being and long life of their brothers. The observance has various mythological stories attached to it. Every year during Diwali, Bhai Dooj is celebrated with grand celebrations, get-togethers and family meetings. It is a time of togetherness, fun and enjoyment. Like every other Indian festival,  food is an integral part of the celebrations. Sisters prepare various dishes and host brothers and their families on this day. We wish everyone celebrating Happy Bhai Dooj!