November 14 is observed as Jawaharlal Nehru's birth anniversary and in India the day is marked as Children's Day, an annual celebration. Today all over the country, people are celebrating Children's Day or Bal Diwas. Children are often called as pure souls because their heart and mind have not been exposed to the worldly affairs. They are innocent and pure hearted and the future torch bearers of the society. India's first prime minister Jawaharlal Nehru also loved children and was fondly addressed as 'Chacha Nehru' by them.  To commemorate Children's Day or Bal Diwas, popularly called in Hindi, we have compiled messages and greetings in Hindi that you can send across WhatsApp, Facebook status and SMSs. Children's Day 2018 Messages: WhatsApp Messages & Stickers, GIF Images, SMS & Facebook Cover Photos to Wish Kids on 14th November.
Pandit Jawaharlal Nehru often said that children should be carefully and lovingly nurtured as they are the future of the nation. In India, schools celebrate the day with great fervour and enthusiasm. Special cultural programmes, activities and competitions are held for children. Many students also remember Chacha Nehru on the day and essay his speeches. Below we have curated wishes, messages, quotes and greetings in Hindi which a teacher can share with their students and parents can share with their children. Jawaharlal Nehru Birth Anniversary: Lesser Known Facts & Rare Pictures of Chacha Nehru on Children's Day 2018.
Children's Day 2018 Wishes in Hindi
Bal Diwas 2018!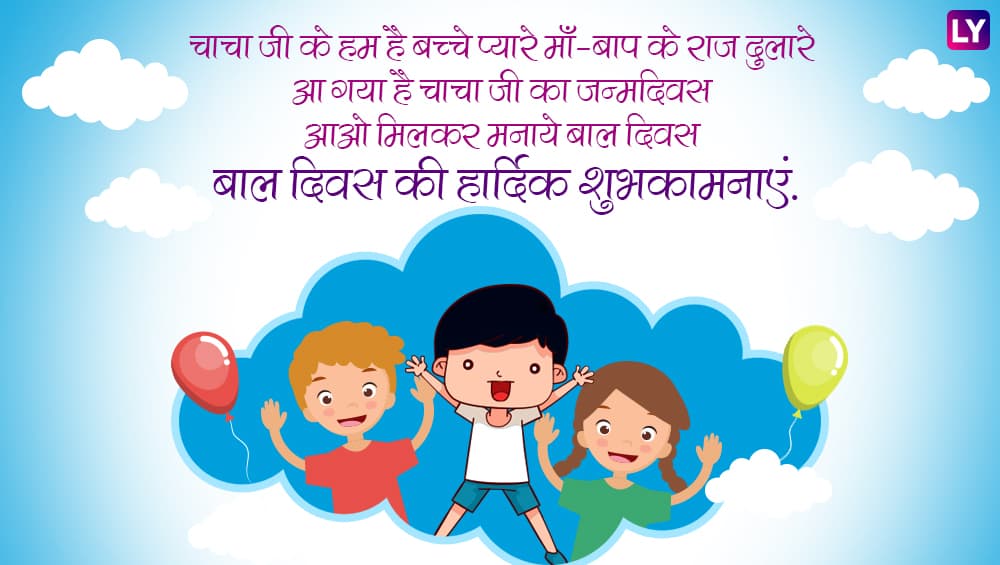 WhatsApp Message Reads: चाचा जी के हम है बच्चे प्यारे, माँ-बाप के राज दुलारे आ गया है चाचा जी का जन्मदिवस, आओ मिलकर मनाये बाल दिवस, बाल दिवस की शुभकामनाएं|
Happy Bal Divas!
WhatsApp Message Reads: बचपन है ऐसा खजाना, आता है न जो दोबारा मुश्किल है इसको भुलाना वो खेलना, कूदना और खाना मौज मस्ती में बलखाना, हैप्पी बाल दिवस|
Bal Diwas Ki Shubhkamnayein!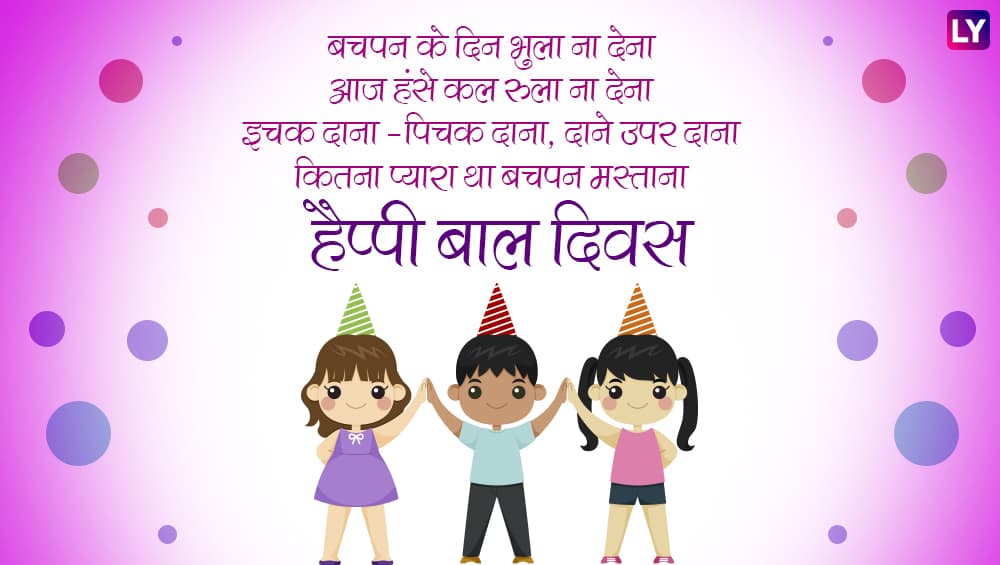 WhatsApp Message Reads: बचपन के दिन भुला ना देना, आज हंसे कल रुला ना देना इचक दाना -पिचक दाना, दाने उपर दाना कितना प्यारा था बचपन मस्ताना, हैप्पी बाल दिवस|
Bal Diwas Ki Hardik Shubkamnayein!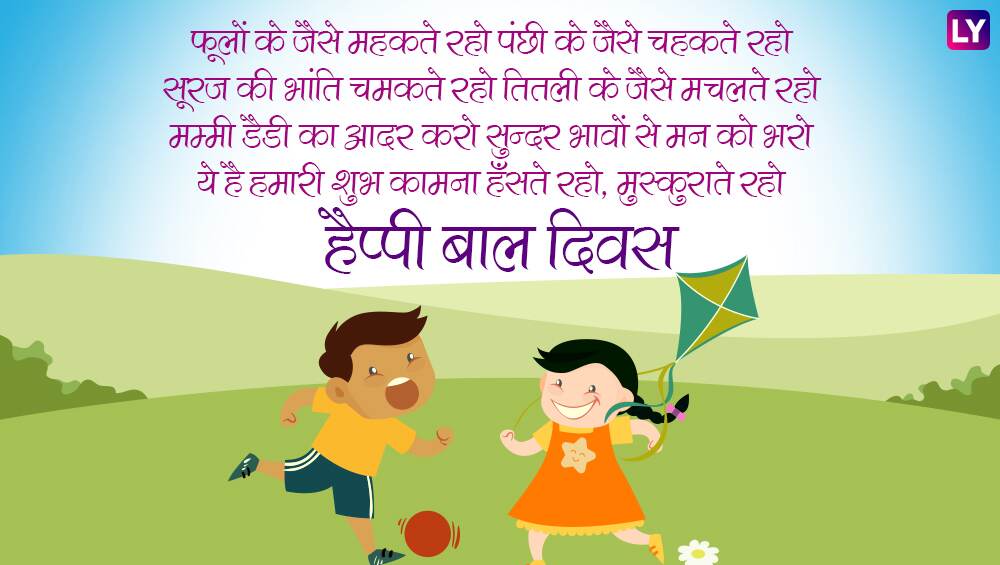 WhatsApp Message Reads: फूलों के जैसे महकते रहो, पंछी के जैसे चहकते रहो सूरज की भांति चमकते रहो, तितली के जैसे मचलते रहो, मम्मी डैडी का आदर करो, सुन्दर भावों से मन को भरो, ये है हमारी शुभ कामना, हँसते रहो, मुस्कुराते रहो, हैप्पी बाल दिवस|
Happy Children's Day!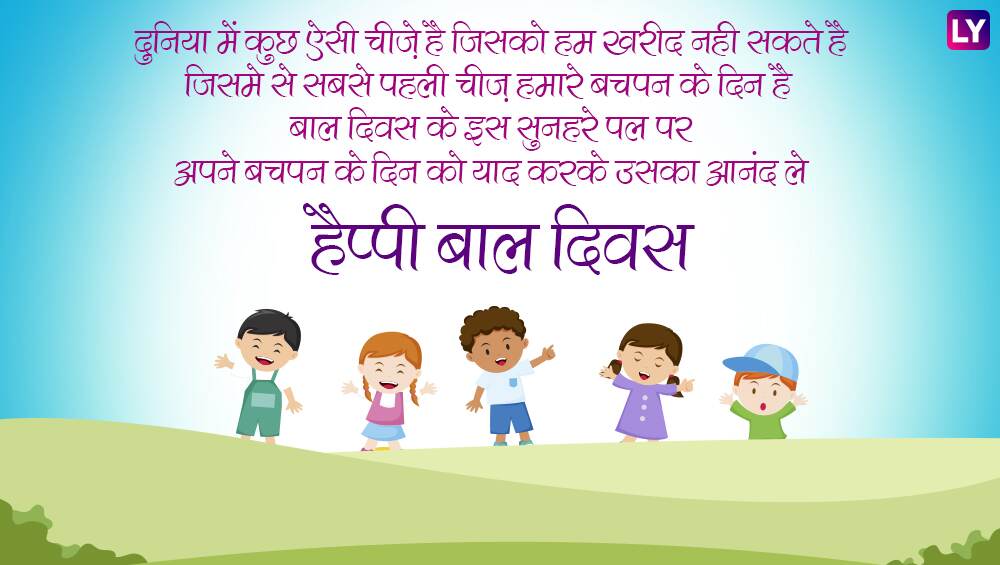 WhatsApp Message Reads: दुनिया में कुछ ऐसी चीज़े है जिसको हम खरीद नहीं सकते है जिसमे से सबसे पहली चीज़ हमारे बचपन के दिन है बाल दिवस के इस सुनहरे पल पर अपने बचपन के दिन को याद करके उसका आनंद ले|
GIF Images
The age of childhood is the prime age when one can be nurtured and moulded in the best way possible. What children learn when they are young builds foundation for them in the future. As parents, teachers, mentors or guide, one must make sure that children receive the education and ideologies that will help them become better human beings in the future. Tomorrow is November 14 and celebrate Children's Day with great joy. Happy Children's Day or Bal Divas!