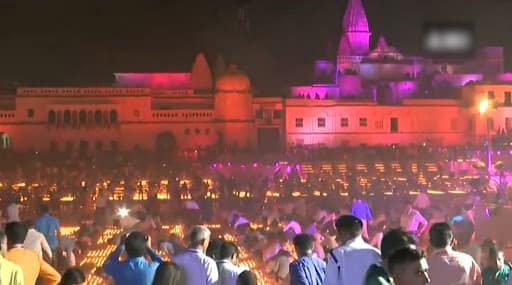 Ayodhya, October 26: Aiming to set a Guinness world record by grandly celebrating the festival of lights, Uttar Pradesh government lit over 5.50 lakh earthen diyas on Saturday evening at Ram ki Paidi in Ayodhya. This is by far the highest number of diyas ever lit anywhere at the same time during Deepotsava -- popularly known as Diwali in India. Previously in 2018, the state government had lit three lakh diyas on the banks of the Saryu River on Diwali -- which is a Guinness record till date.
According to the information, the lighting up of 5.5 lakh diyas have cost the state exchequer a whopping Rs 130 crore. The Yogi Adityanath government, however, had planned to make this 'Deeptosava' continue for five days and each day the same number of earthen lamps would be lit to mark the return of Lord Rama to Ayodhya after he was banished for 14 years. Diwali 2019: Dubai Announces Jail and Fine for People Selling Firecrackers During Festival of Lights.
Here's the ANI video of Deepotsava:
#WATCH 'Deepotsava' celebrations at Ram ki Paidi in #Ayodhya. Over 5.50 lakh earthen lamps have been lit in Ayodhya today as a part of #Diwali celebrations. pic.twitter.com/mJROkg8ZHQ

— ANI UP (@ANINewsUP) October 26, 2019
Earlier, informing about the state government's plan, chief secretary of the UP government R K Tiwari had said, "Administrative officials have taken stock of all the places where celebrations are to take place. On 'Deeptosava', more than 5.5 lakh earthen lamps will be lit in Ayodhya. This will be historic as it will involve huge public participation." In the meantime, state CM Yogi Adityanath had claimed that his government had planned s 226-crore worth of development projects for Ayodhya -- which is considered as the birthplace of Lord Rama.