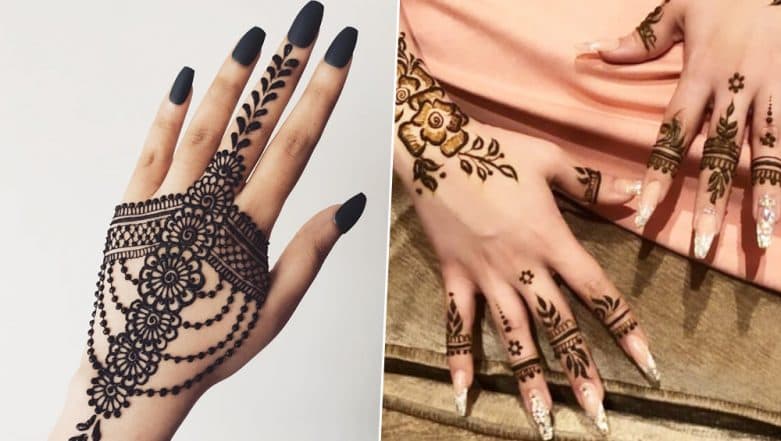 Independence Day is celebrated on August 15 every year ever since India receive its freedom in the year 1947. People celebrate the day in different ways. Some like to sit at home and listen to Prime Minister giving a speech from Red Fort, New Delhi. Some go for their local flag hoisting ceremony, dress up in traditional and indulge in merry-making. Independence Day fashion in India and a very important part of getting ready for Independence day amongst the girls especially is Mehendi designs. Also known as Mehndi or henna designs, this form of body art is very popular and considered holy in India. Made out of dried henna leaves, designs are made out of the paste put inside plastic cones that help create art out of it on palms, feet, arms, back, etc. Did you check out Mehendi designs from last year? They are equally chic, Easy Mehndi Designs for Independence Day 2018: Simple Mehandi Patterns to Apply on Hands This 15th August (Watch Video Tutorials).
The two most popular styles of Mehendi are Arabic style and Indian style. Arabic usually consists mostly of floral designs and has a flow to it, whereas the Indian style is very intricate and has the whole body area covered.
Here are some of the Mehendi designs you can try for Independence Day:
For times when less is more
View this post on Instagram
Chic and simple Arabic Mehendi designs
View this post on Instagram
For newbies in Mehendi designing
View this post on Instagram
Totally loving it
View this post on Instagram
Independence day Mehndi tattoo Design:
Right from Arabic Mehendi Designs to Indo- Arabic Mehndi Designs to Pakistan Mehndi Design to even Western Mehandi Designs, there are various types of Mehendi designs that you can try! Moroccan Mehndi Designs are quite popular as well. Whatever design it may be, apply henna with love and energy for best results.