Hanuman Jayanti or Hanuman Janam-Utsav which marks the birth of Lord Shri Hanuman will be celebrated on April 19 this year. Lord Hanuman who played a prime role in the epic mythology of Ramayana, is immensely respected throughout the country. Hanuman Jayanti is marked on the 15th day of the month of Chaitra, the day of Chaitra Purnima. Devotees of Lord Hanuman pay a visit to Lord Hanuman temple, pray to the lord and seek his blessings. Devotees seek protection from the Lord by reciting special hymns and prayers. People also exchange Hanuman Jayanti wishes and greetings with everyone. People share Lord Hanuman images with quotes, SMS, GIFs and messages to wish Happy Hanuman Jayanti. If you too are looking for Hanuman Jayanti 2019 wishes in Hindi, let us give you a collection of all such wonderful Lord Hanuman greetings and messages. Hanuman Jayanti 2019 Bhakti Geet: Devotional Songs (Bhajan) by Hariharan, Lata Mangeshkar & Other Musical Gems Is Must Play on the Auspicious Festival (Watch Videos).
Lord Hanuman is considered a symbol of strength and energy. He is thus said to protect the people against the evils. Reading of Hanuman Chalisa is said to drive away negative energies. Some temples even have spiritual discourses on this day. People also exchange Hanuman Jayanti wishes and messages. Given below is a collection of Hanuman Jayanti 2019 greetings in Hindi which you can send on this auspicious day. Hanuman Chalisa Facts: Is the Distance to Sun From Earth Found in Hanuman Chalisa's Chaupai; Read Lyrics.
Hanuman Jayanti Messages in Hindi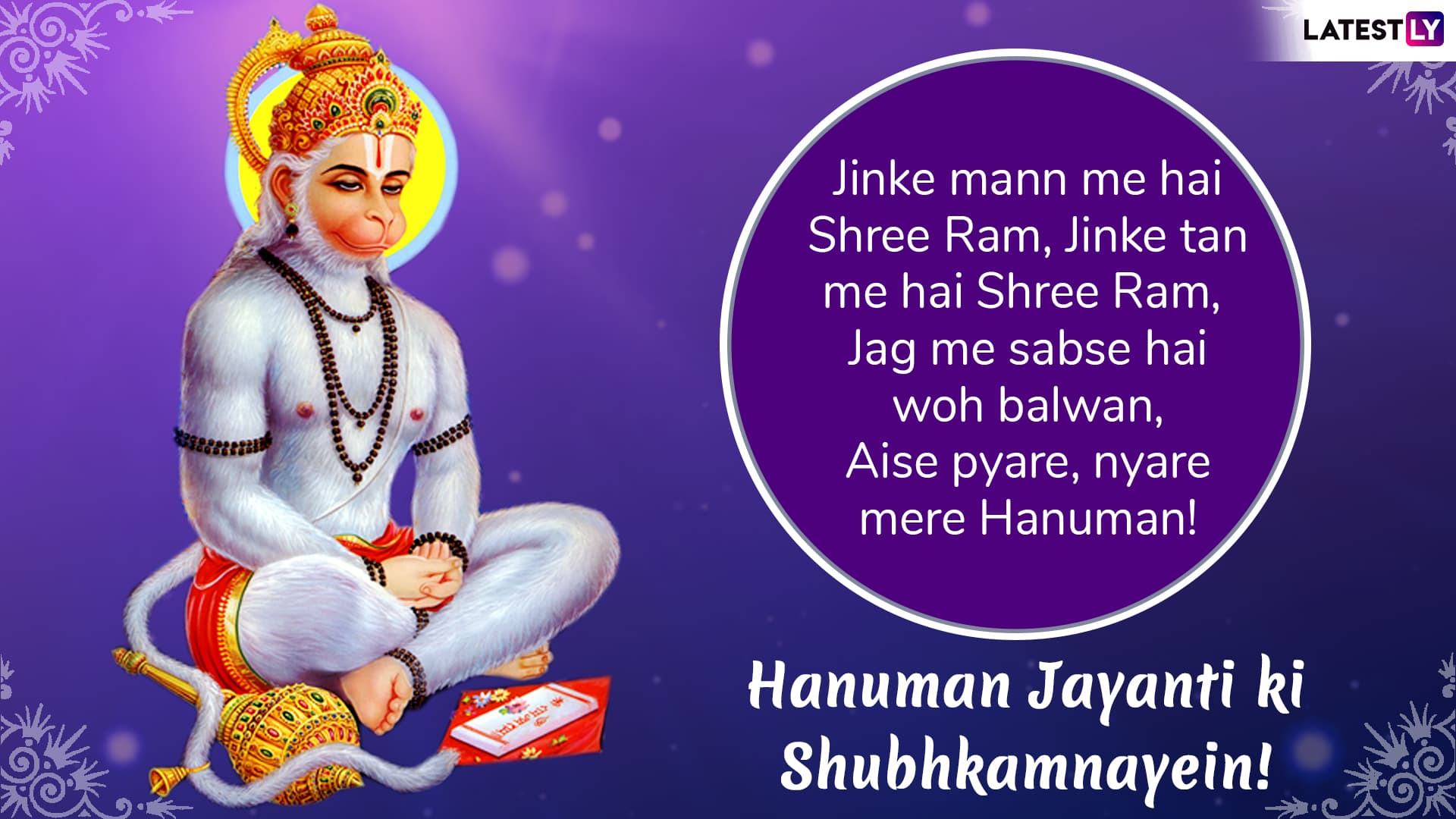 WhatsApp message reads: Jinke mann me hai Shree Ram, Jinke tan me hai Shree Ram, Jag me sabse hai woh balwan, Aise pyare, nyare mere Hanuman!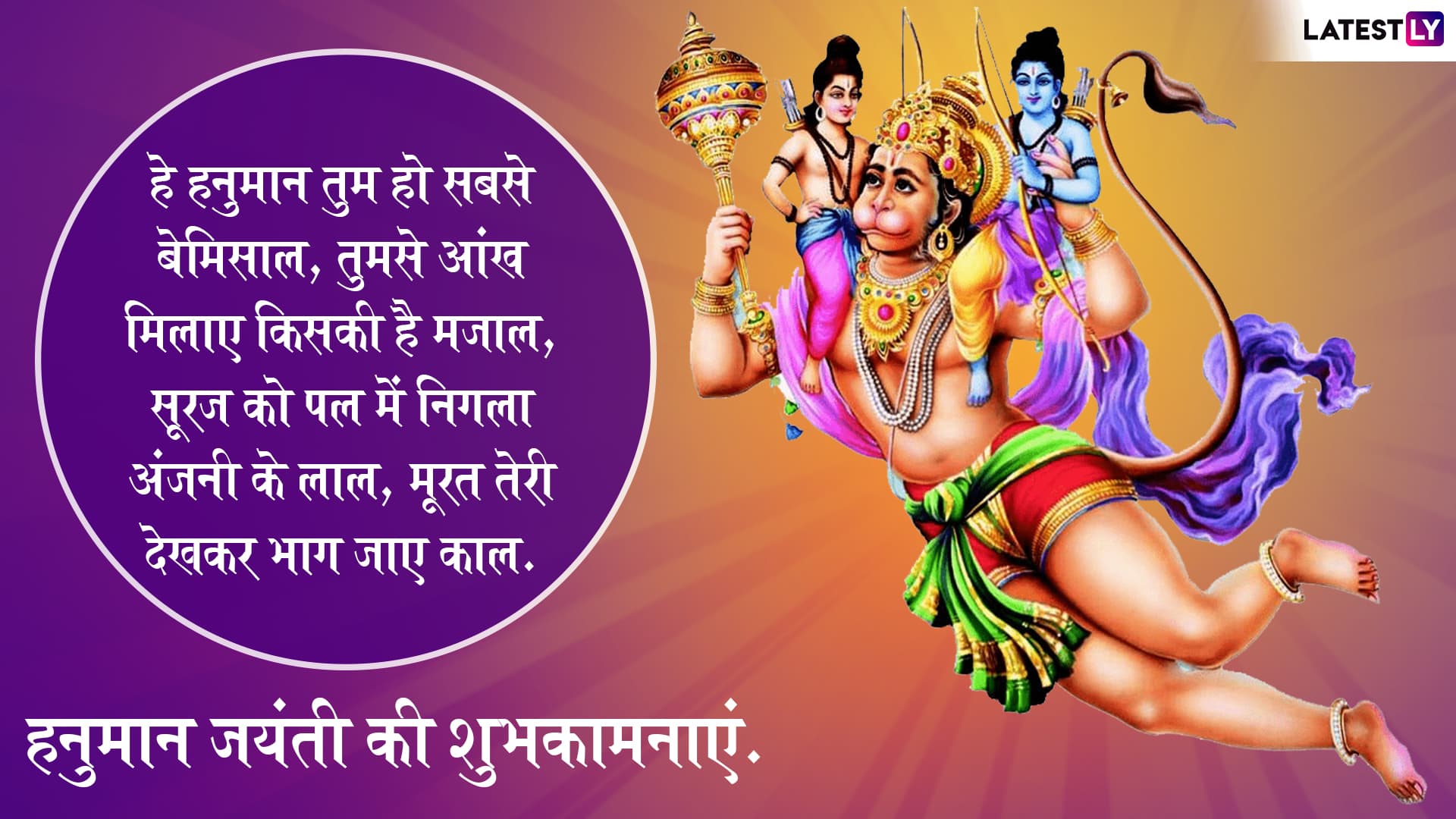 WhatsApp message reads: हे हनुमान तुम हो सबसे बेमिसाल, तुमसे आंख मिलाए किसकी है मजाल, सूरज को पल में निगला अंजनी के लाल, मूरत तेरी देखकर भाग जाए काल. हनुमान जयंती की शुभकामनाएं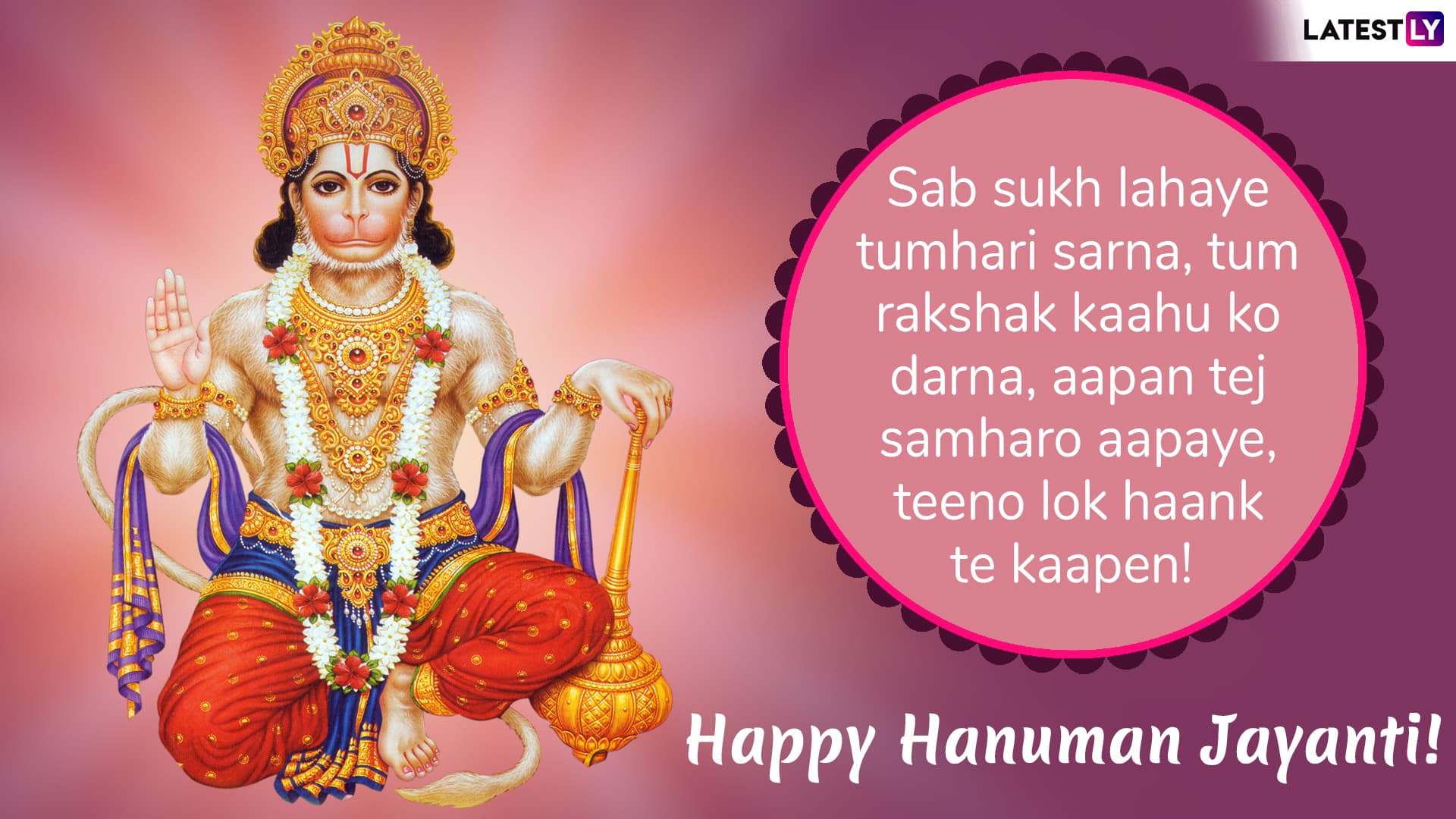 WhatsApp message reads: Sab sukh lahaye tumhari sarna, tum rakshak kaahu ko darna, aapan tej samharo aapaye, teeno lok haank te kaapen! Happy Hanuman Jayanti!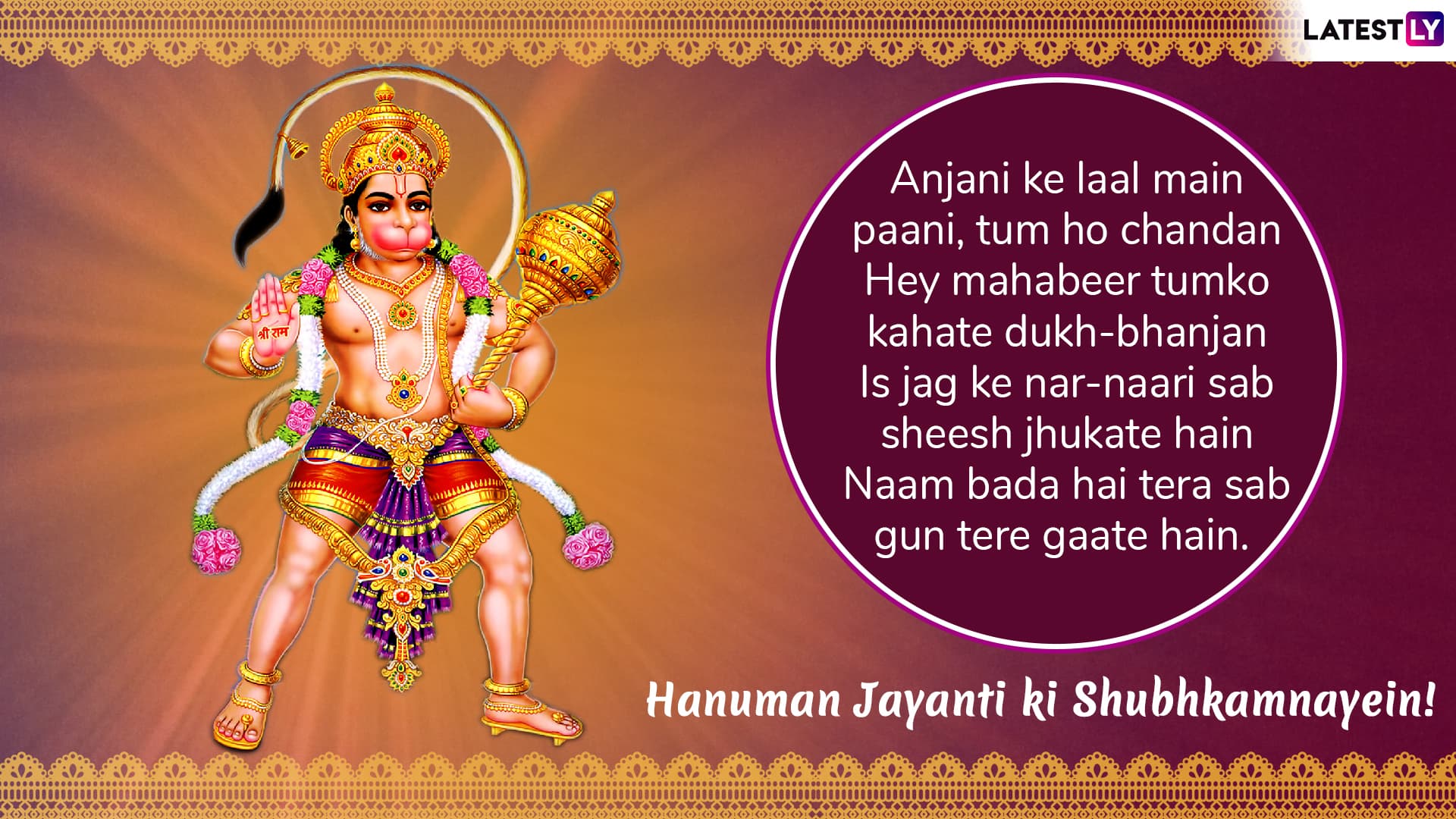 WhatsApp message reads: Anjani ke laal main paani, tum ho chandan Hey mahabeer tumko kahate dukh-bhanjan, Is jag ke nar-naari sab sheesh jhukate hain, Naam bada hai tera sab gun tere gaate hain. Hanuman Jayanti ki Shubhkamnayein!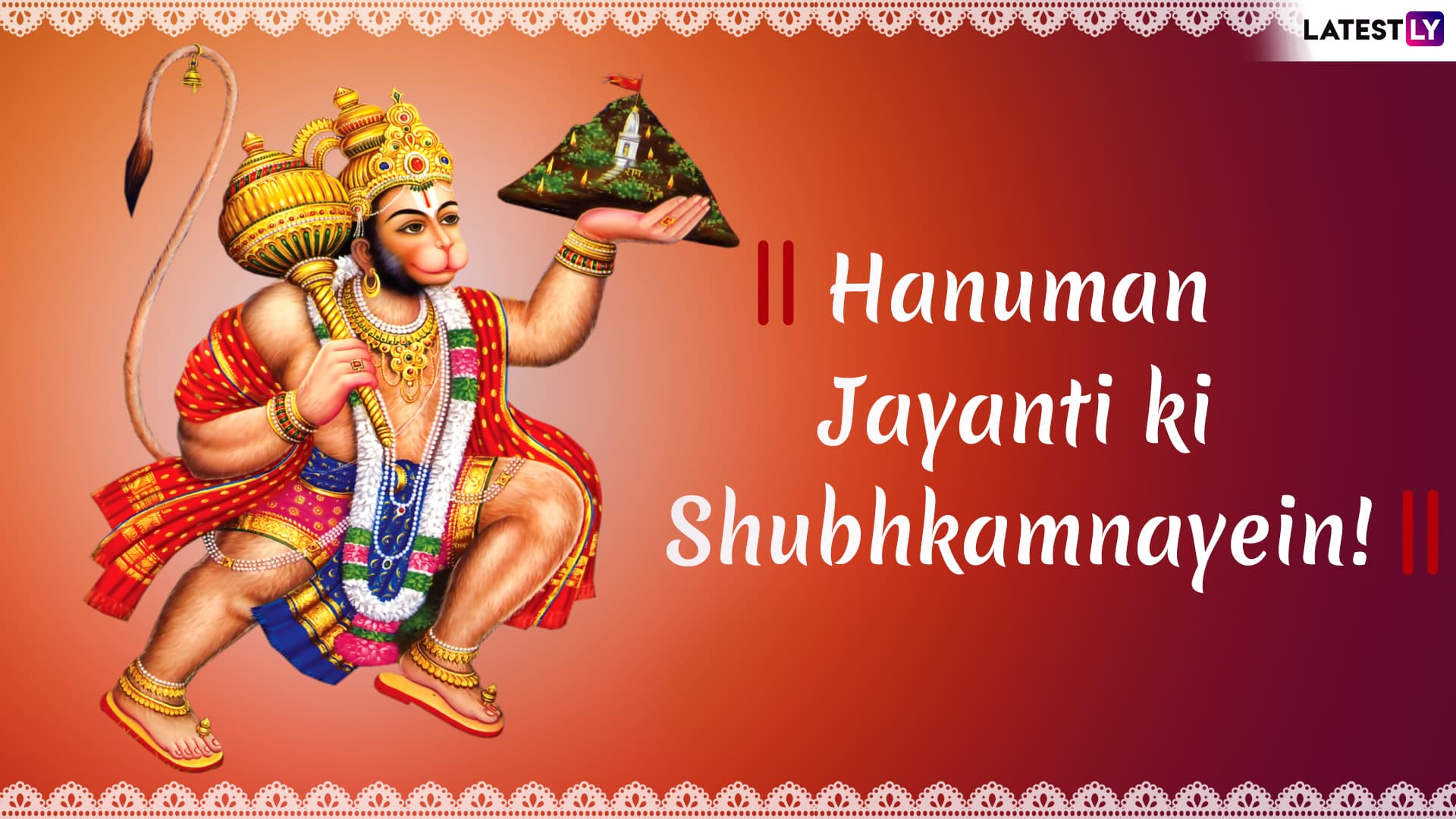 WhatsApp message reads: Hanuman Jayanti ki Shubhkamnayein!
Hanuman GIFs
Hanuman Jayanti WhatsApp Stickers
If you don't want images and quotes, you can also send Hanuman Jayanti WhatsApp stickers and convey your greetings. You can download Hanuman Jayanti WhatsApp Stickers or Lord Hanuman WhatsApp Stickers and send them through the app. Add more fun to your wishes with these festive stickers.
We hope the above messages, images, Lord Hanuman GIFs and other greetings help you to send Happy Hanuman Jayanti wishes on this occasion. We wish all our readers Hanuman Jayanti ki Shubhkamnayein!
(The above story first appeared on LatestLY on Apr 18, 2019 03:00 PM IST. For more news and updates on politics, world, sports, entertainment and lifestyle, log on to our website latestly.com).