The Constitution of India enters into its landmark 70th year as the country gears up to celebrate Republic Day 2019 on 26th January. If you're searching for Happy Republic Day 2019 wishes, Tiranga Wallpapers and photos at the last minute, we are here to help. Celebrate the national festival of India with much joy and enthusiasm with these best Republic Day wishes, greetings in Hindi, Republic Day 2019 WhatsApp Stickers, patriotic quotes to share on Facebook as status, Tri-coloured images as WhatsApp DP, GIF greeting videos, and more. Please feel free to download online and wish your family and friends a very Happy Republic Day 2019. Republic Day 2019 Messages in Hindi: Best Shayari, WhatsApp & Hike Stickers, Patriotic GIF Images, SMS, Facebook Greetings to Wish on 26th January.
On 26th January 1950, India officially became a republic and what an incredible journey it has been ever since. A country ravaged by Britishers for centuries finally had its own set of permanent laws and its people could finally adhere to it. The Republic Day is celebrated across India with a great sense of joy and pride. The Tri-Colour is it its full glory and is the basic theme for the day. Republic Day 2019 Images & HD Wallpapers for Free Download Online: Wish Happy Republic Day With Patriotic GIF Greetings & WhatsApp Sticker Messages on 26th January.
The Republic Day parade at Rajpath, New Delhi is the key attribute we associate with 26th January every year. The Military might of the country, as well as its diversity, is showcased to the world. The visiting head of state who is invited to the parade can see India's might in its entirety. This year, South African president Cyril Ramaphosa will grace the occasion as the chief guest. It is also an occasion to send a message to the world that a young country despite its challenges is striving for glory with each passing day. The beautiful tableau of various states that are part of the parade gives a brief introduction of the state's culture. The various regiments of Army and Paramilitary forces often train for weeks in order to be the perfectionist on the day. Happy Republic Day 2019 Wishes: WhatsApp & Hike Stickers, Patriotic GIF Image Messages, SMS, Facebook Greetings to Send on 26th January.
Check out the photos representing the might and power of India. You have lovely text messages along with it. There are GIF greetings as well as animated stickers and with WhatsApp wishes.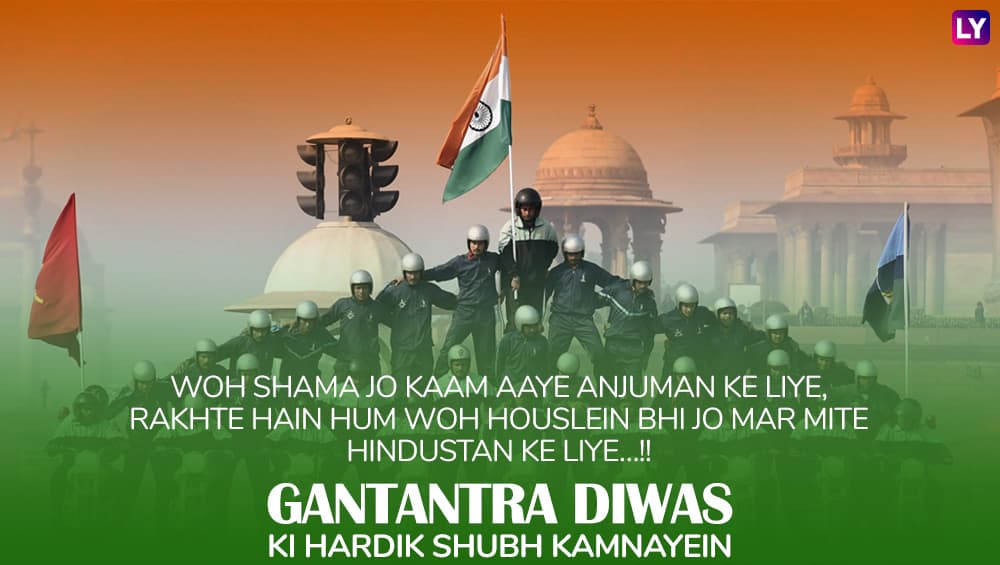 WhatsApp Message Reads: Woh Shama Jo Kaam Aaye Anjuman Ke Liye, Rakhte Hain Hum Woh Houslein Bhi Jo Mar Mite Hindustan Ke Liye…!! Happy Republic Day!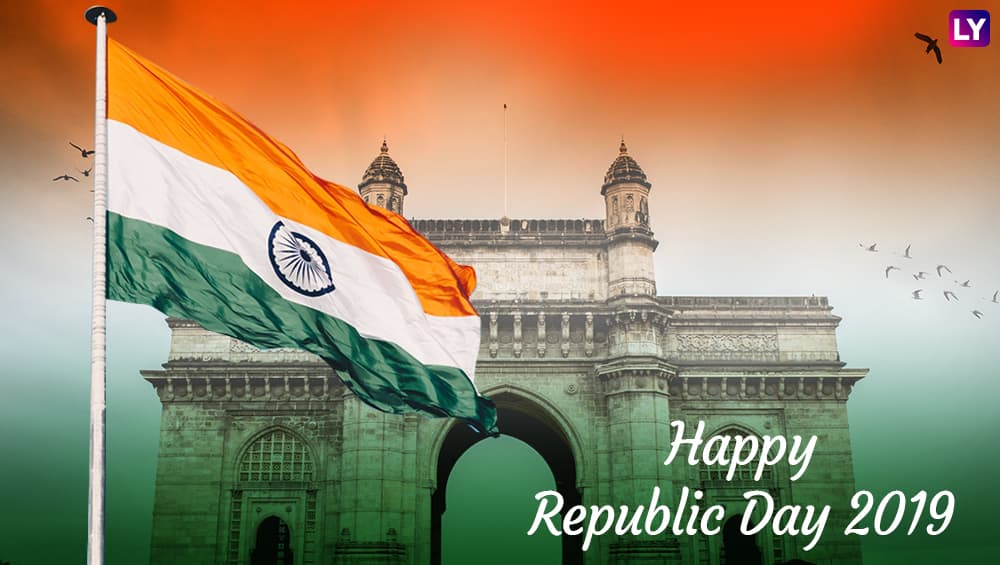 WhatsApp Message Reads: Freedom is our birthright, but was snatched away from us, Our nation earned this freedom after making great sacrifices, Let's never take it for granted! Happy Republic Day 2019.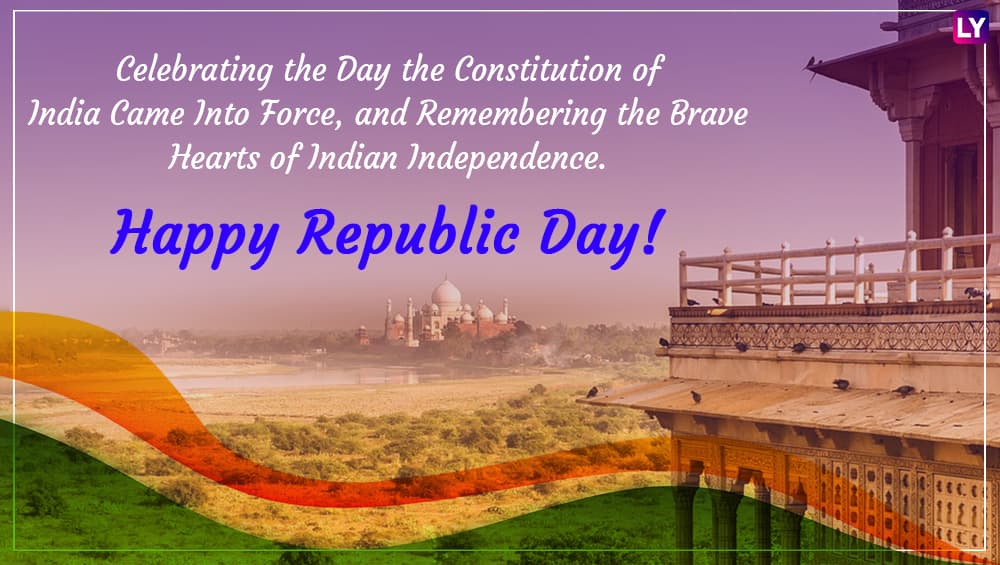 WhatsApp Message Reads: Celebrating the Day the Constitution of India Came Into Force, and Remembering the Brave Hearts of Indian Independence. Happy Republic Day 2019.
WhatsApp Message Reads: Freedom in the mind, Strength in the words, Pureness in our blood, Pride in our souls, Zeal in our hearts, Let's salute our India on Republic Day. Happy Republic Day 2019!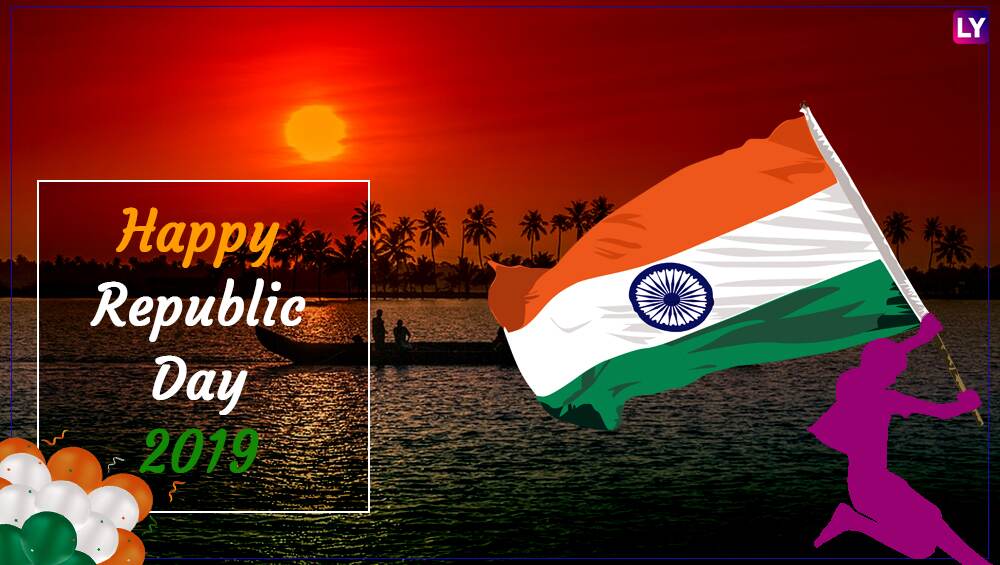 WhatsApp Message Reads: Never Forget the Sacrifices of Our Great Freedom Fighters. Follow in Their Footsteps and Strive to Make Your Country the Best in the World. Happy Republic Day 2019.
WhatsApp Message Reads: Other Might Have Forgotten But Never Can I, The Flag Of My Country Furls Very High. Happy Republic Day 2019.
How to Download Republic Day WhatsApp Stickers?
If you want to download animated stickers,  which have been a fun addition by the messaging app to our day-to-day conversations, here's the link to download Republic Day WA Sticker 2019.  Earlier we had photos or images with quotes, then we moved on to sharing GIF videos. And now there are WhatsApp Stickers or Hike Stickers. If you want to wish your friends or family Happy Republic Day 2019 with these stickers, you can download from Play Store. Wish you a very Happy Republic Day 2019!