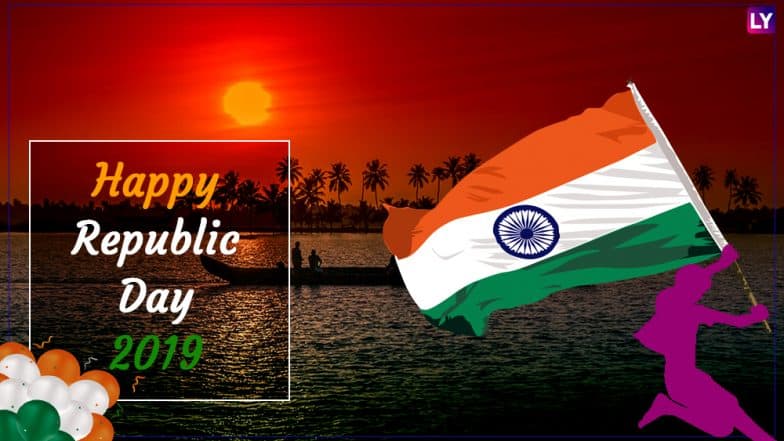 Republic Day 2019 preparations are in their final phase as country gears up to mark the 70th anniversary of the day when India celebrates its Constitution. Republic Day, one of three national festivals, honours the date on which the Constitution of India came into effect on 26 January 1950. It replaced the Government of India Act (1935) to become an independent republic. Yes, we officially became a free nation on 26th January. On this day, proud countrymen wish each other because to be living and breathing in a free country is a privilege that we should be thankful to brave revolutionaries, freedom fighters and great national leaders of the past. And to do so, we bring you a collection of wishes, WhatsApp and Hike stickers, greetings, photos, patriotic quotes, GIF image messages, text messages, SMS, and more to wish Happy Republic Day 2019 on 26th January. Republic Day 2019: Know all About Tiranga and Importance of the Three Colours and Dharma Chakra in the Indian National Flag.
We celebrate religious festivals with great joy and excitement. Be it Diwali or Eid, Christmas or Gurpurab, the enthusiasm to celebrate the day is on another level. But when it comes to the national festivals, we look forward to it as a holiday. Not fair. The three national festivals – Independence Day on August 15th, Republic Day on January 26th and Gandhi Jayanti on October 2nd are not mere no-work days. These dates hold importance and significant and have to be honoured. They are a reminder of our history, without which we would be nothing. Republic Day 2019 Speeches: Best Quotes That You Can Use to Make Your Speech Patriotic (Watch Video).
It is crucial for the youth of the country to understand the significance of Republic Day. Be proud of your history and look forward to improvising as a citizen of this country. Just like Diwali and Eid celebrations, exchange greetings on national festivals, beginning with Republic Day. So, if you're searching for Republic Day 2019, Republic Day images, Republic Day wishes images, Republic Day quotes, Republic Day speeches, Republic Day status, Republic Day 2019 wishes, Happy Republic Day 2019 wishes, Republic Day GIF greetings messages, Republic Day greetings images, Republic Day WhatsApp status download, Republic Day GIF wishes quotes, Republic Day WhatsApp sticker download, and more, you'll find it all below. Republic Day 2019: 12 National Symbols of Incredible India & Their Importance That You Should Know.
How to Download Republic Day WhatsApp Stickers?
Animated stickers have been a fun addition by the messaging app to our day-to-day conversations. Earlier we had photos or images with quotes, then we moved on to sharing GIF videos. And now there are WhatsApp Stickers or Hike Stickers. If you want to wish your friends or family Happy Republic Day 2019 with these stickers, you can download from Play Store. Here's the link to download Republic Day WA Sticker 2019.
HAPPY REPUBLIC DAY 2019 QUOTES AND IMAGES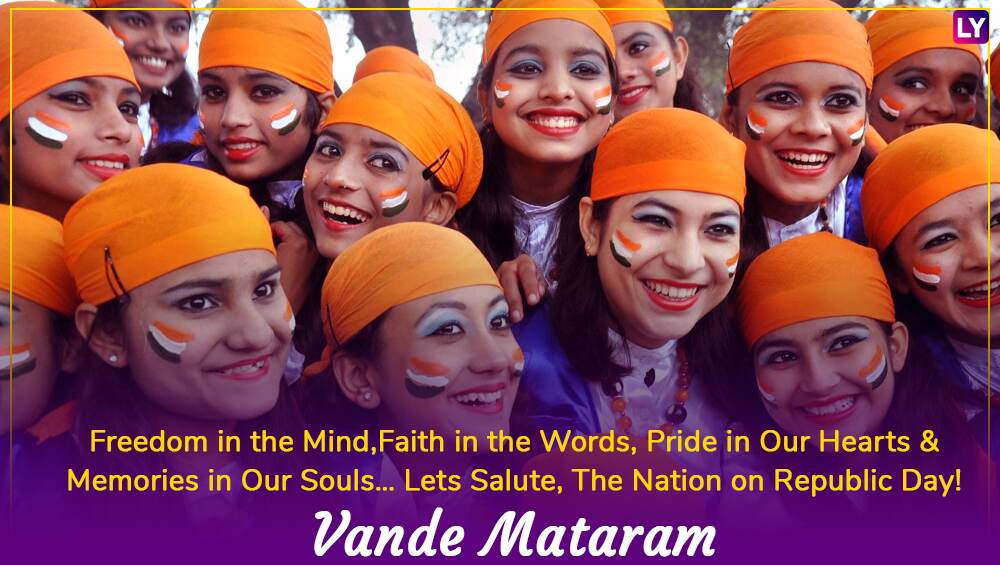 WhatsApp Message Reads: Freedom in the Mind, Faith in the Words, Pride in Our Hearts & Memories in Our Souls…Lets Salute, The Nation on Republic Day! Vande Mataram. Happy Republic Day 2019.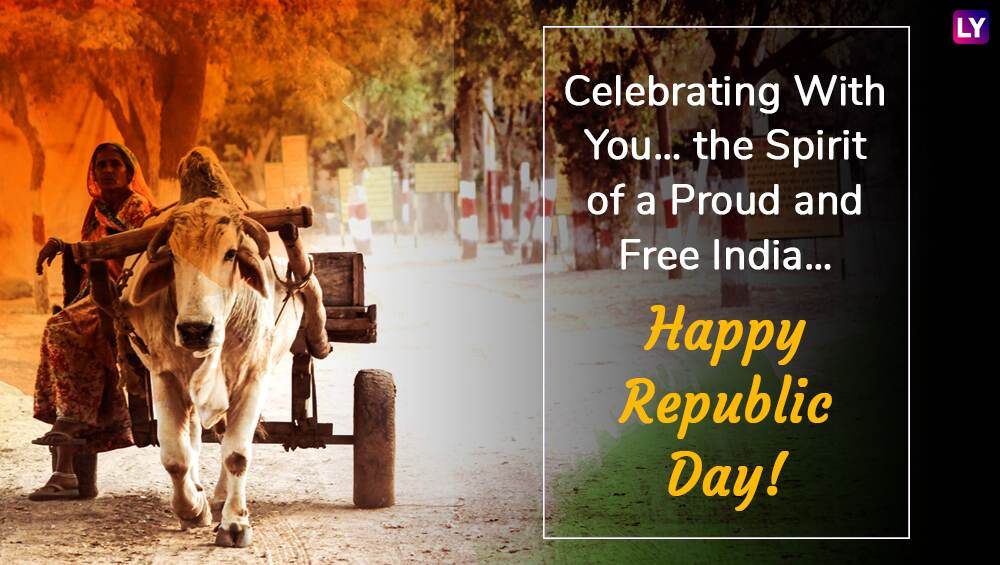 WhatsApp Message Reads: Celebrating With You… the Spirit of a Proud and Free India… Happy Republic Day 2019.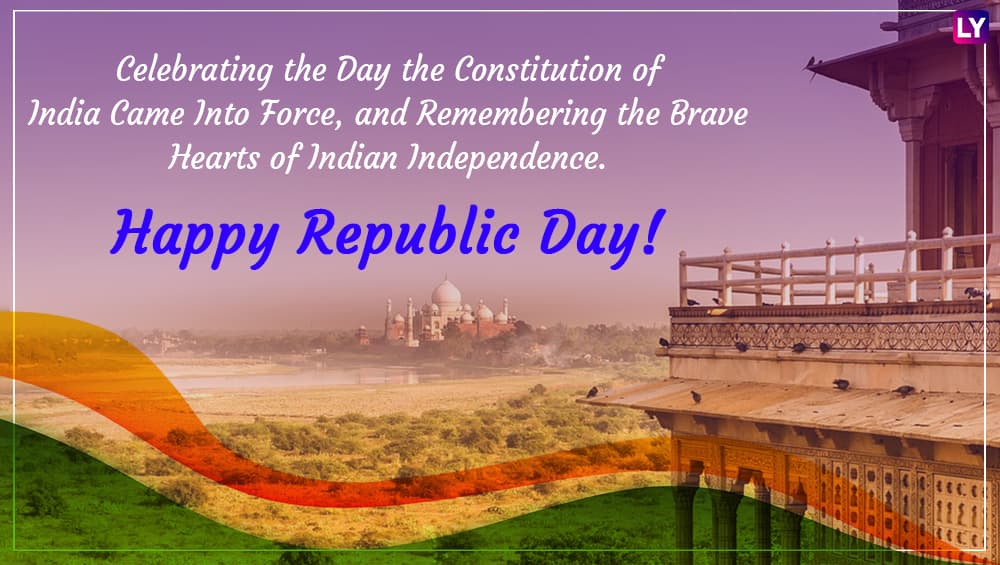 WhatsApp Message Reads: Celebrating the Day the Constitution of India Came Into Force, and Remembering the Brave Hearts of Indian Independence. Happy Republic Day 2019.
WhatsApp Message Reads: Never Forget the Sacrifices of Our Great Freedom Fighters. Follow in Their Footsteps and Strive to Make Your Country the Best in the World. Happy Republic Day 2019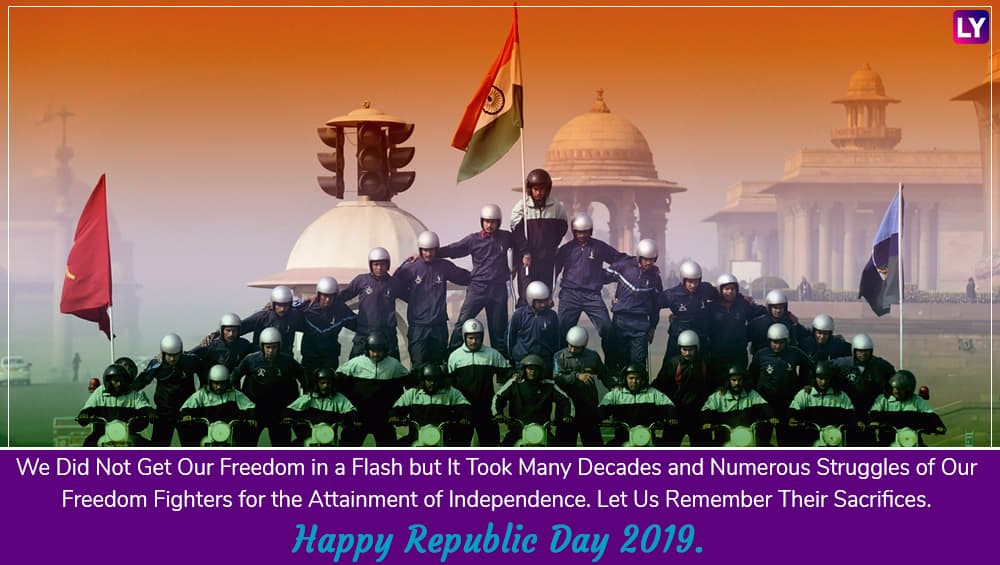 WhatsApp Message Reads: We Did Not Get Our Freedom in a Flash but It Took Many Decades and Numerous Struggles of Our Freedom Fighters for the Attainment of Independence. Let Us Remember Their Sacrifices. Happy Republic Day 2019.
WhatsApp Message Reads: On This Special Day, Let's Promise Our Motherland That We Will Do Everything to Enrich and Preserve Our Heritage, Our Ethos and Our Treasure. Happy Republic Day 2019!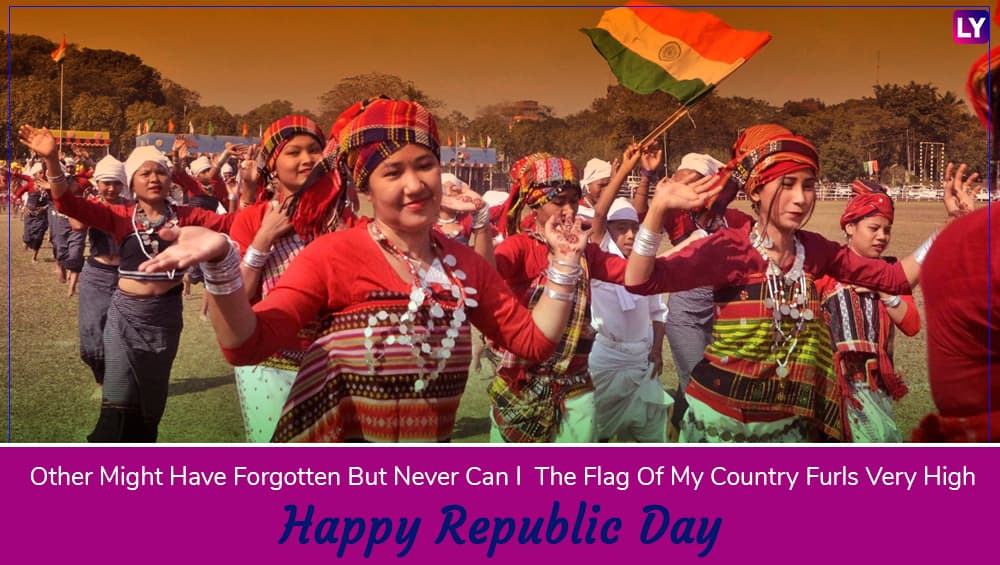 WhatsApp Message Reads: Other Might Have Forgotten But Never Can I, The Flag Of My Country Furls Very High. Happy Republic Day 2019.
Let these colourful wishes and images fill your hearts with patriotism this Republic Day 2019. Let the occasion of 70th Republic Day be a turning point of your life, especially your approach towards the nation. Take responsibility to be an aware citizen. We, the people of India make the country. It is a free nation, which is not ruled by anyone. We all are equal before the constitution of India, not above or below. So make sure this greatness is maintained at all cost in our great country.