Bengali Kali Puja is another popular festival in the Hindu festival, which is dedicated to Goddess Kali. The puja is also popularly known as Shyama Puja and it falls on November 6 this year. It is celebrated on New Moon Day during Diwali. This festival is mostly celebrated in West Bengal, Odisha, Assam, Tripura, and Bangladesh. Kali is a goddess which is most often seen as a slayer of the forces of evil. Kali Puja usually falls on the Lakshmi Puja day of Diwali. Diwali 2018 Date Calendar for India: When Is Dhanteras, Lakshmi Puja, Govardhan Puja and Bhai Dooj? Get Complete Deepavali Holiday Dates.
There are huge pandals in the city of Kolkata, where Kali Maa idols are kept, and in some houses as well, she is worshipped. The puja happens at night, with mantras. Goddess Kali is offered red hibiscus flowers, animal blood in a skull, sweets, rice and lentils, fish and meat.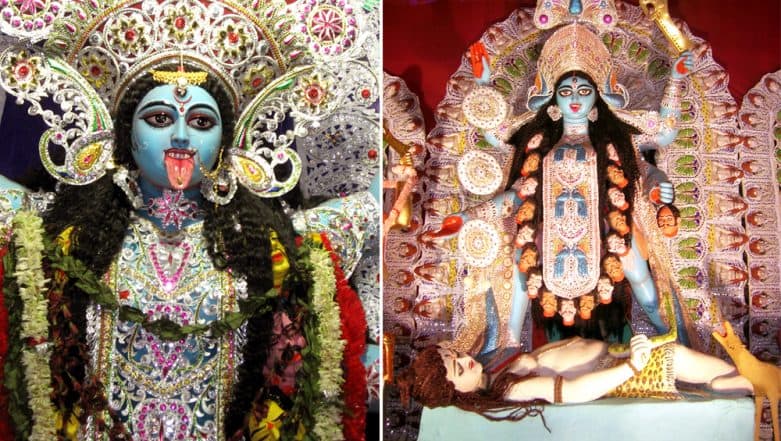 In some traditions, animals are sacrificed on this day, and is offered to the goddess.  According to Drikpanchang, the Amavasya Tithi starts at 00:57 on November 7, and the tithi ends at 00.01 on November 8, 2018. Kali Puja Nishita Time starts from 23:45 to 00:37+ Dhanteras 2018 Date: Puja Vidhi, Auspicious Timings, Significance & Importance of Buying Gold and Utensils.
The festival is popularly celebrated in the Kalighat Temple, and in Kamakhya Temple in Guwahati, where Kali is worshipped as Lakshmi on this day so as to reflect an essence of Vaishnava Haldars on Kali worship. Dakshineswar Kali Temple is another famous Kali temple in Kolkata, where Kali is worshipped.