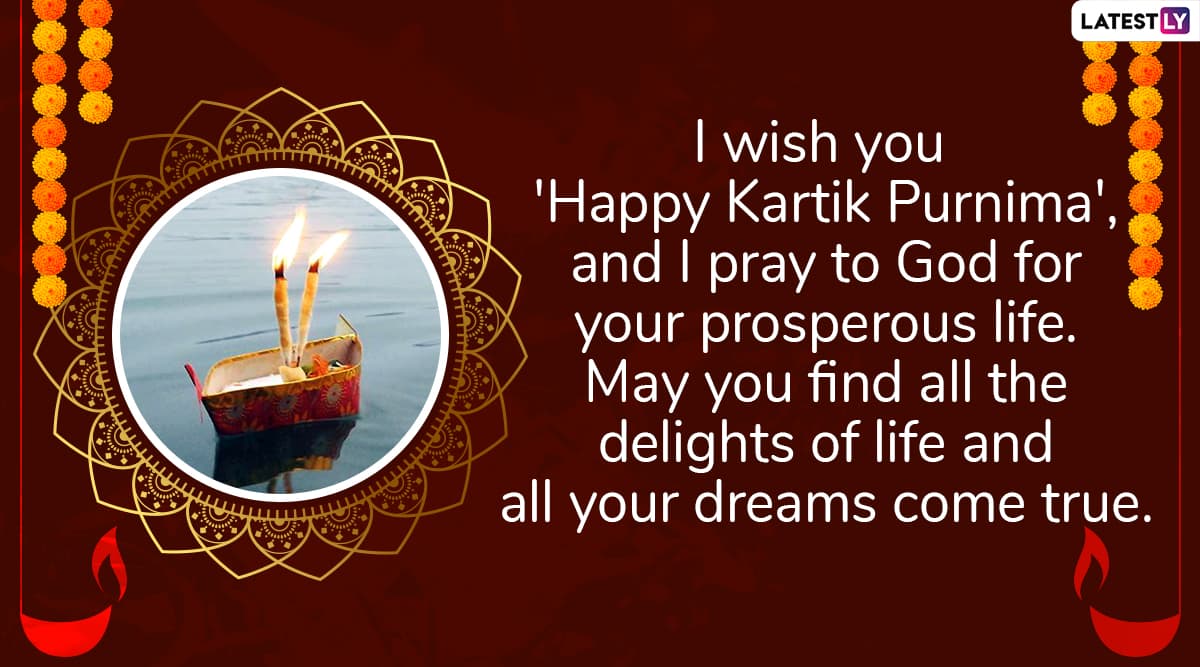 Kartik Purnima is a cultural festival observed on the Purnima of the Hindu month of Kartik. It is believed that on this day Lord Shiva defeated Tripurasura. Hence, the observance is also known as Tripuri Purnima or Tripurari Purnima. Tripurasura is a collective name given to three demons Vidyunmali, Tarakaksha and Viryavana. They had firm control over the world and had created three cities in space known as Tripura. Seeing their arrogance, Lord Shiva killed the three demons in just one arrow which pleased the Gods. Due to which the observance is also known as Diwali for the Gods. In many northern parts of the country, the celebration is hence known as Deva Diwali or Dev Deepawali. Kartik Purnima 2019 will be observed on November 12. As we celebrate Kartik Purnima 2019, we have compiled a list of Kartik Purnima wishes in Hindi and messages in English which you can send to wish on the observance. It also includes Kartik Purnima WhatsApp Stickers, Facebook Greetings, GIF Images, Quotes and SMS. Dev Deepawali 2019 Images and HD Wallpapers for Free Download Online: Shubh Diwali Wishes and Messages to Send on Varanasi's Celebrated Festival.
As Kartik month is considered auspicious in Hinduism, devotees take a dip the holy river of Ganges. Various rituals and traditions are observed to celebrate the day in different regions of the country. Observing Dev Diwali, people light thousands of earthen lamps on the banks of River Ganga. Temples in Varanasi also light hundreds of diyas marking the observance. Kartik Purnima 2019 Wishes in Hindi: Happy Dev Deepawali Quotes, Messages, WhatsApp Stickers, GIFs, Statuses To Wish Your Loved Ones.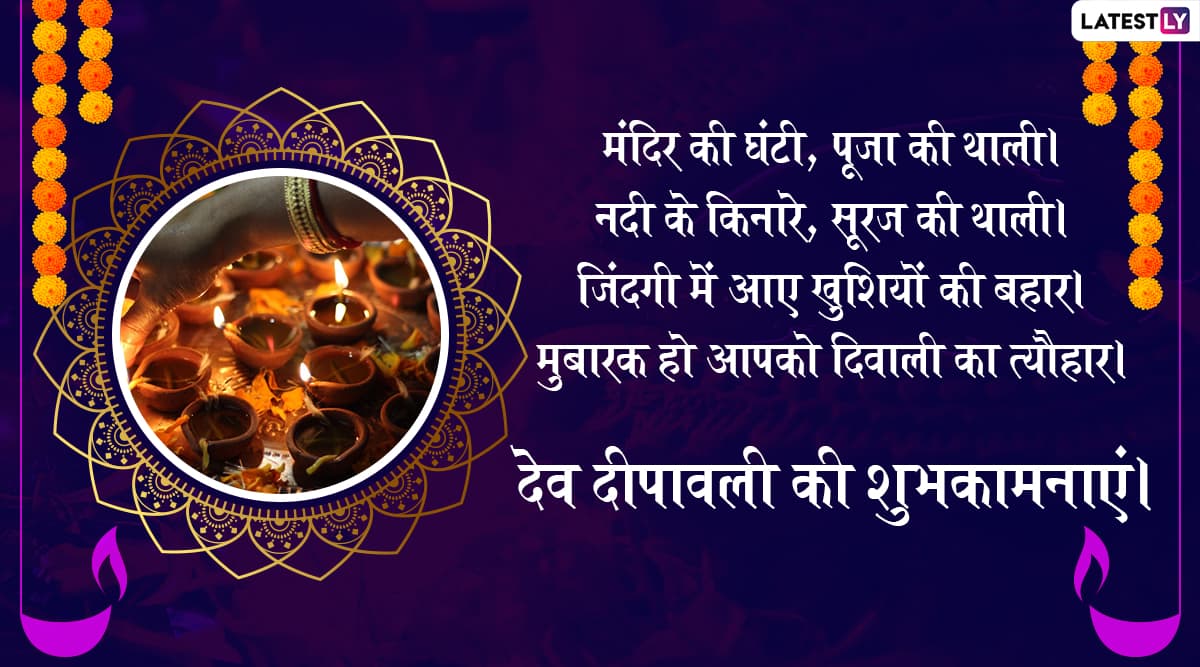 Kartik Purnima WhatsApp Message in Hindi: मंदिर की घंटी, पूजा की थाली। नदी के किनारे, सूरज की थाली। जिंदगी में आए खुशियों की बहार। मुबारक हो आपको दिवाली का त्यौहार।
देव दीपावली की शुभकामनाएं।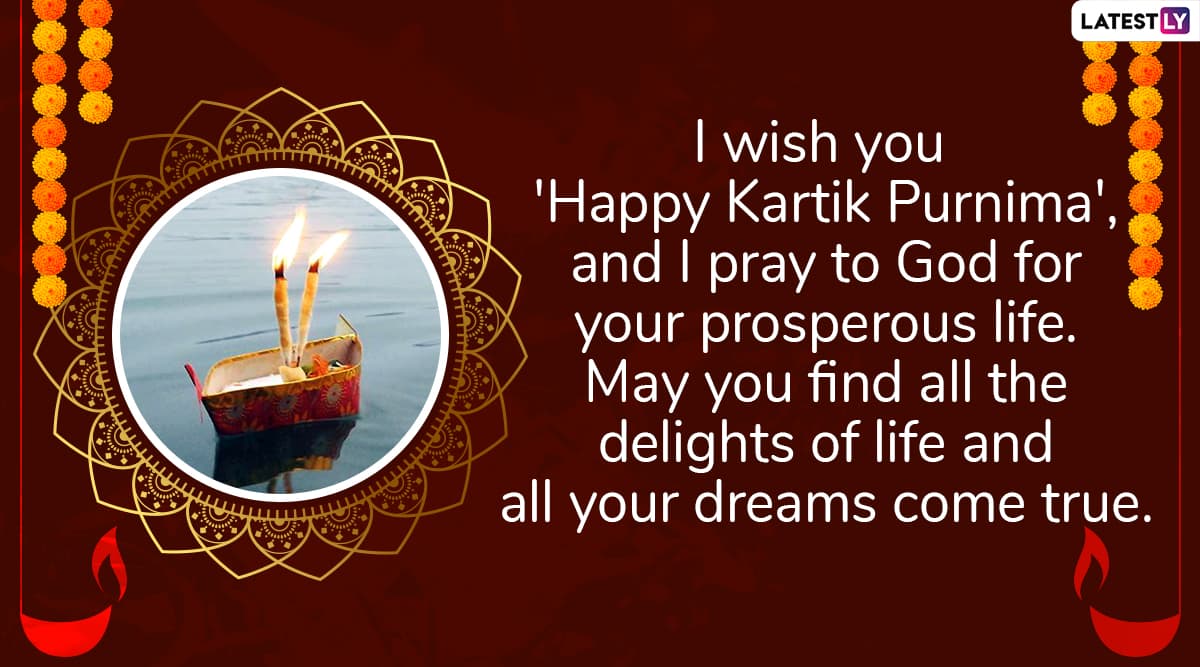 Kartik Purnima Facebook Greetings: I wish you 'Happy Kartik Purnima', and I pray to God for your prosperous life. May you find all the delights of life and all your dreams come true.
Kartik Purnima GIF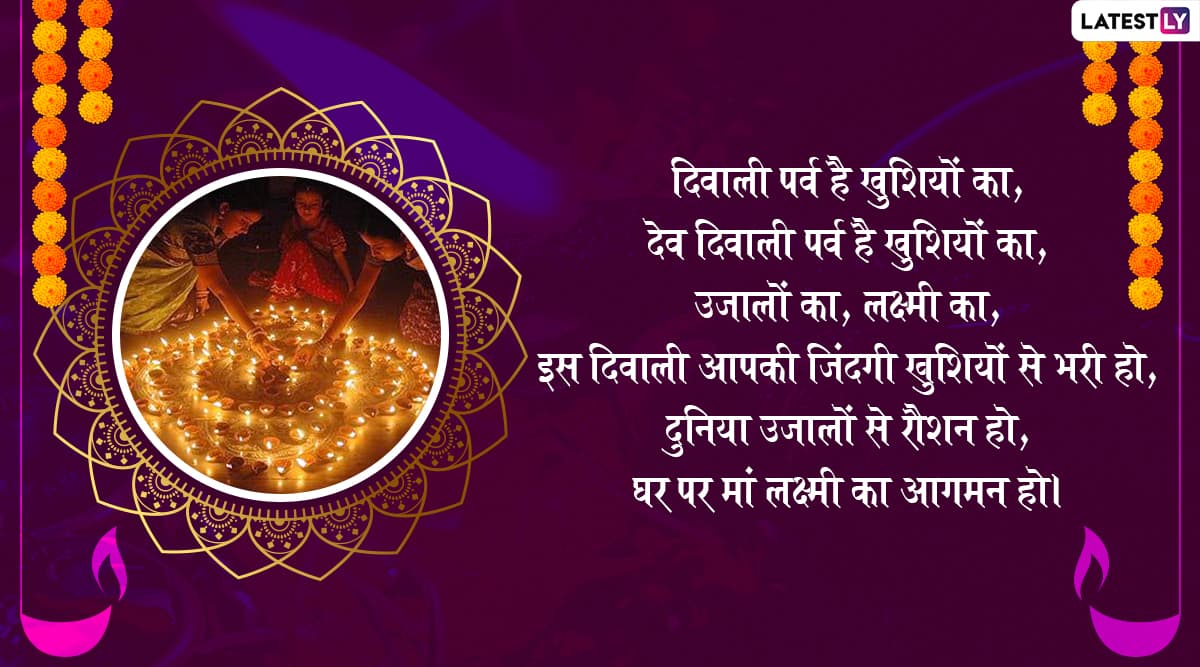 Kartik Purnima WhatsApp Message in Hindi: दिवाली पर्व है खुशियों का,
देव दिवाली पर्व है खुशियों का, उजालों का, लक्ष्मी का, इस दिवाली आपकी जिंदगी खुशियों से भरी हो,
दुनिया उजालों से रौशन हो, घर पर मां लक्ष्मी का आगमन हो।
Kartik Purnima Facebook Greetings: May you be bestowed with health and prosperity on the auspicious day of Kartik Purnima.
Happy Kartik Purnima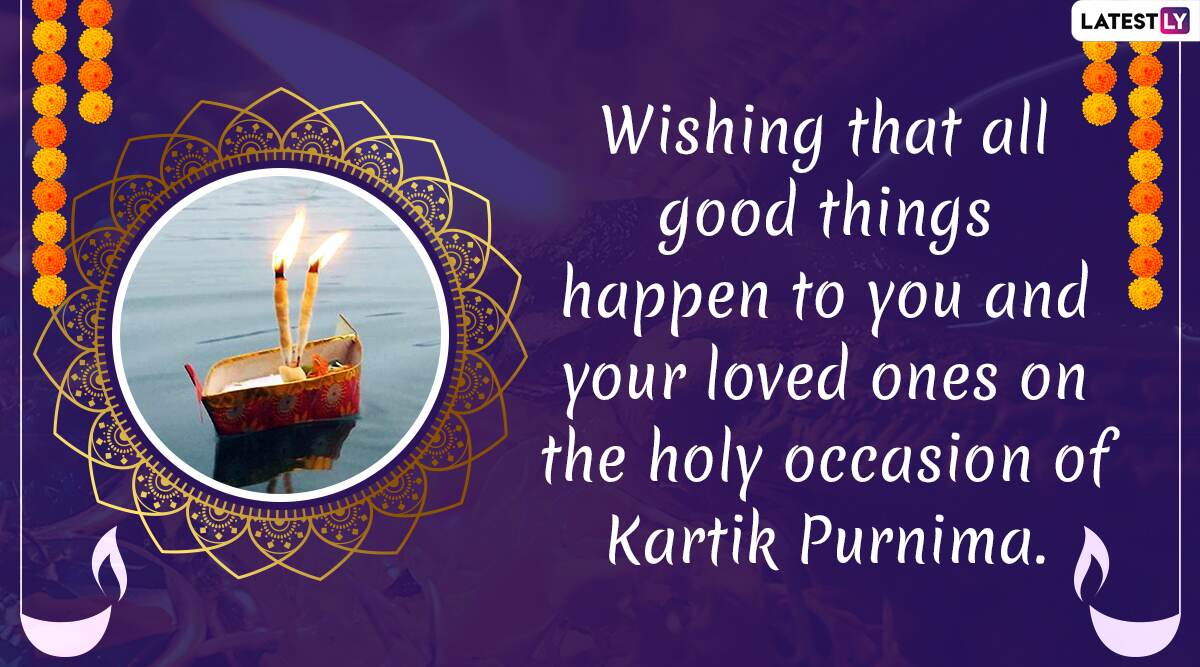 Kartik Purnima WhatsApp Message: Wishing that all good things happen to you and your loved ones on the holy occasion of Kartik Purnima.
How to Download Kartik Purnima WhatsApp Stickers
As WhatsApp is widely used as an instant messaging platform, people often use the medium to send birthday wishes and festival greetings. You can also send Kartik Purnima WhatsApp Stickers to wish the festival. Download the WhatsApp Stickers for free online from PlayStore.
On Kartik Purnima, various celebrations are held across the country. It is also believed that Lord Shiva's son Kartikeya was born on this auspicious day. According to some beliefs, Lord Krishna and Radha danced Rasa on Kartik Purnima. The day also holds religious significance for Sikhs and Jains.