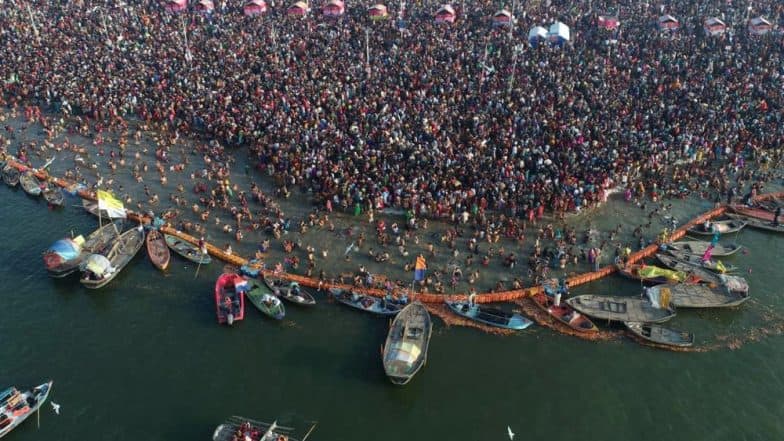 Prayagraj, February 11: Braving the cold weather in Prayagraj, nearly three crore devotees took a dip in Sangam during the third and last 'shahi snan' (royal bath) on Sunday on the occasion of Basant Panchami. According to reports, nearly 1.5 crore people had gathered for the third 'shahi snan' at the confluence of Ganga, Yamuna and the mythical Saraswati till 3 pm while over 50,000 devotees had already taken a dip before sunrise. Prior to Basant Panchami, shaahi snaans were held on Makar Sankranti on January 15 and Mauni Amawasya on February 4. Kumbh Mela 2019: PM Narendra Modi in Prayagraj to Inaugurate Govt Programmes Worth Rs 4048 Crore, Offers Prayers at Sangam Ghat.
Prayagraj hosted the third 'shaahi snaan' of the ongoing Kumbh on Basant Panchami on Sunday. The royal bath is the main highlight of the Kumbh Mela and the most important part of the celebration as it is only after the completion of 'shahi snaan' that people are allowed to take the holy dip. Instagram Shares a Picture From Kumbh Mela 2019 For Its Weekly Feature and Its Spectacular.
Take a look at the images: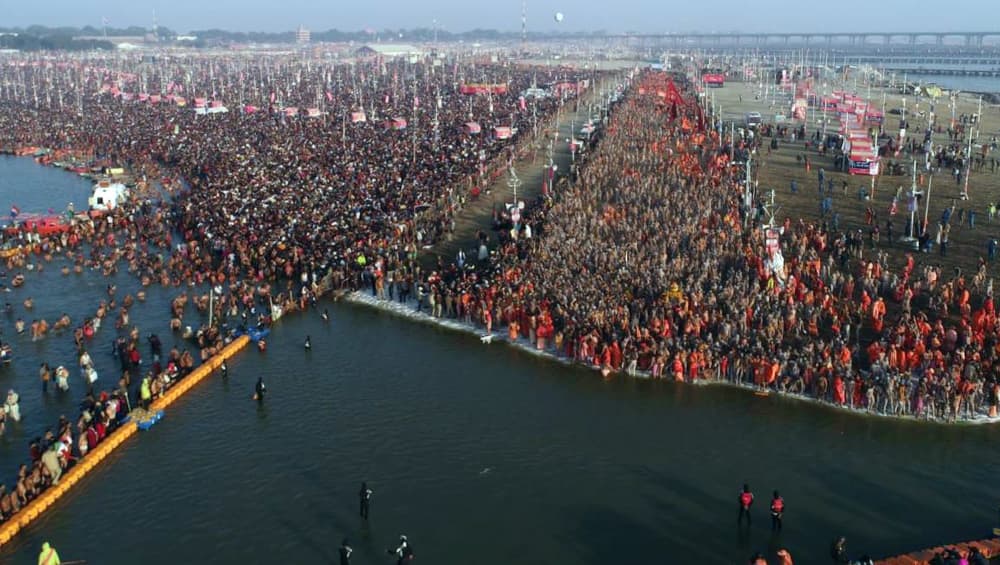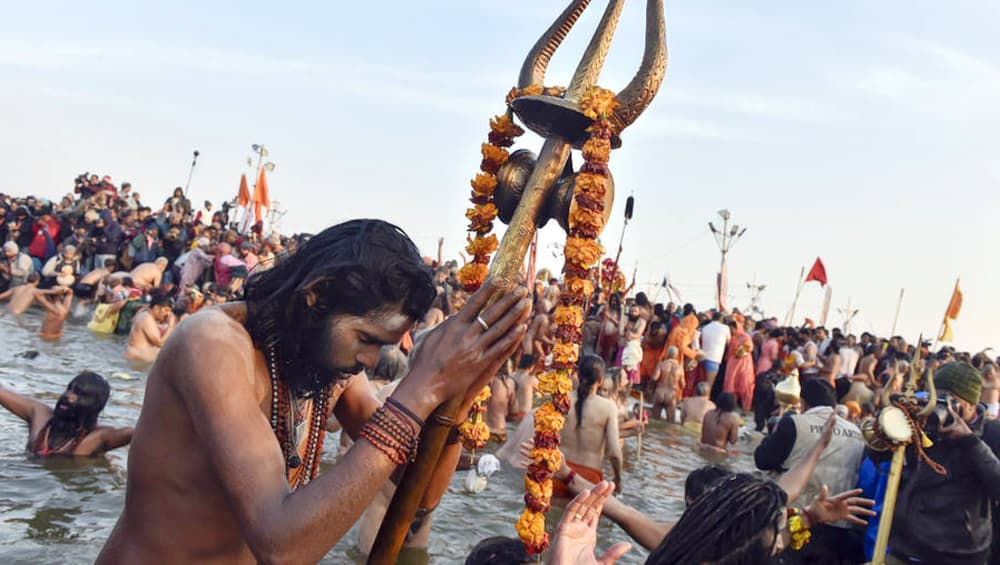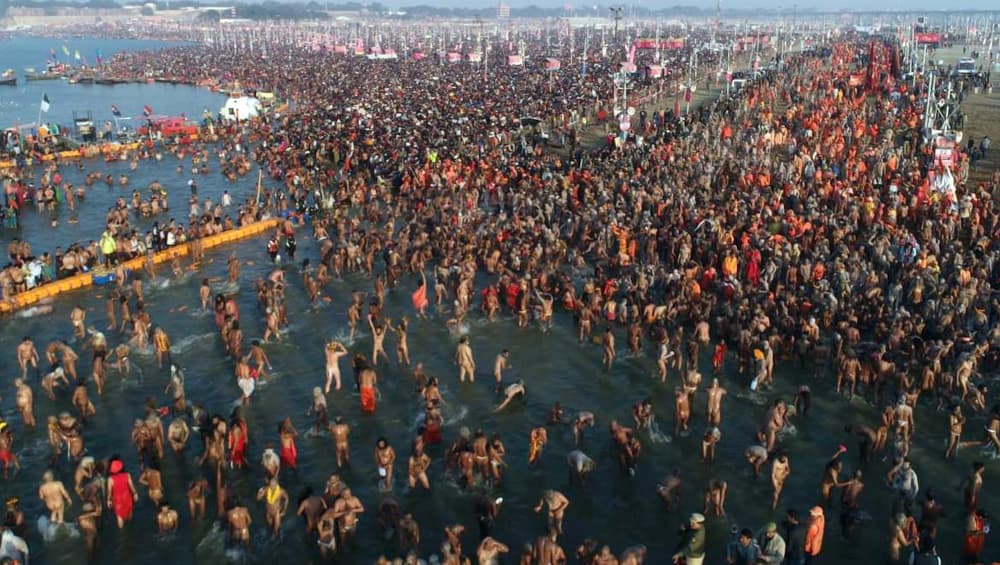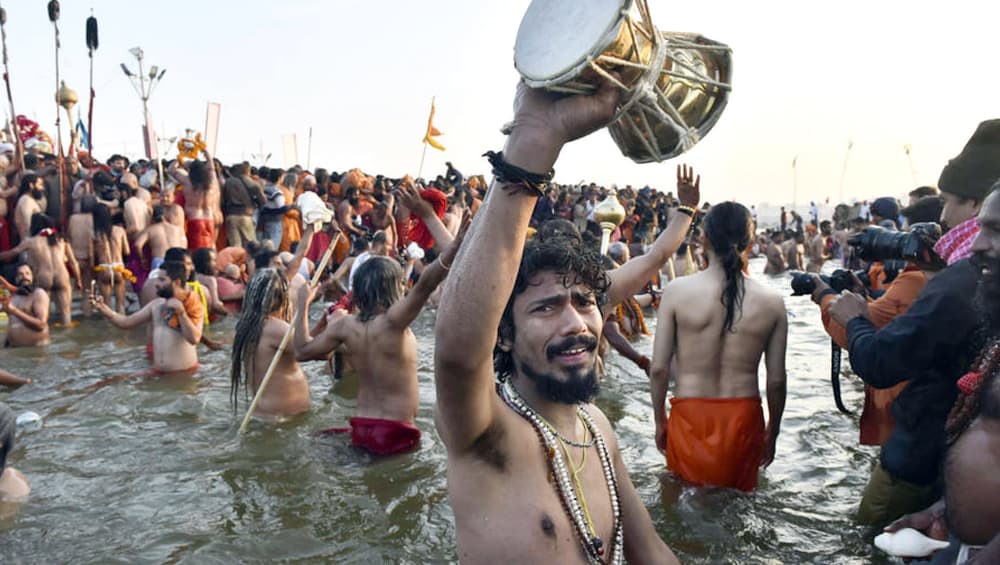 Kumbh Mela Adhikari Vijay Kiran Anand was quoted by PTI  saying around 1.5 crore people took a dip before 3 PM while close to 50 lakh devotees had taken dip before the sunrise. The Kumbh Mela commenced on January 15 on Makar Sankranti and was the first bathing day. Mahashivratri on March 4 will mark its last bathing day. Kumbh Mela 2019: Prayagraj Gets Tents With '5-Star Facilities' for Devotees.
Choppers were also used for aerial monitoring of the Kumbh mela area. UP's Director General of Police (DGP) OP Singh had earlier told PTI that the whole region has been demarcated into nine zones and 20 sectors with the deployment of over 20,000 police personnel, 6,000 home guards, 40 police stations, 58 outposts, 40 fire stations, 80 companies of central force and 20 companies of PAC.
Uttar Pradesh Chief Minister Yogi Adityanath expressed his gratitude to all akharas and saints on the successful conduct of three shahi snans and a total of four snans during the ongoing Kumbh. Adityanath also congratulated all the officers of the Team Kumbh for their hard work in the organisation of the Kumbh, a senior UP government official said.