The nine-day festival of Navaratri has begun from October 10 and each day a form of Goddess Durga is worshipped. On each of the days, one manifestation of Durga Maa is honoured. Devotees keep a fast and carry out the dedicated puja of the Goddess. The festival of Navaratri is celebrated in different ways in different parts of the country. The whole essence is to honour Maa Shakti in all her forms. Women observe strict fasts and seek blessings and strength from the Goddess. The nine forms of Goddess are also referred to as Navdurga. The day 4 of Navaratri worships Kushmanda form of Durga.  Let us look at more details about the worship of Devi Kushamanda Puja, the Puja Vidhi, Mantras and aartis for the day. Day-Wise List & Images of 9 Colours for Each Date of Sharad Navaratri.
Maa Kushmanda has a fascinating mythological legend to her name. She has immense energy and resides inside the Sun. She is also said to have created this world with her smile and the bright shine of the Sun is due to her own radiance.
Other than preparing fast-friendly items and some delicious foods on the days of the festival, there is also a dance routine called the Garba dandiya. On all the nine nights, people play garba and be a part of the celebrations. The garba dandiya nights are so popular that they are arranged even abroad. Sharad Navaratri 2018: What Are Nine Avatars of Goddess Durga or Navdurga? Pictures, Mantras & Celebration Dates of Navratri Festival. 
Iconography of Goddess Kushmanda
Goddess Parvati (Durga Maa) took the form of Siddhidatri. She resided inside of a Sun to liberate energy to the entire universe. The Goddess is thus named Kushmanda. The Goddess is so powerful that she could live inside the Sun. Goddess Siddhidatri rides on the lioness. She is depicted with eight hands with a Kamandal, Dhanush, Bada and Kamal in the right hands. In her left hand, there is Amrit Kalash, Jap Mala, Gada and Chakra.
Kushmanda Puja Vidhi - Kushmanda Mantra and Prarthana or Prayer of Devi Kushmanda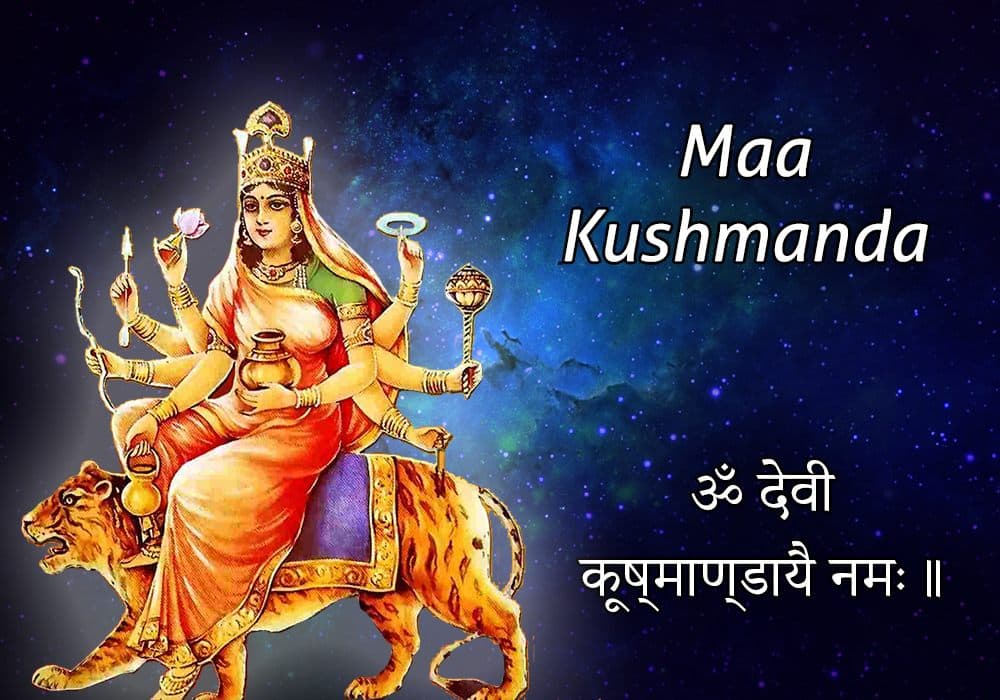 Kushamanda Mantra - ॐ देवी कूष्माण्डायै नमः॥ Om Devi Kushmandayai Namah॥
Kushamanda Prarthana- सुरासम्पूर्ण कलशं रुधिराप्लुतमेव च। दधाना हस्तपद्माभ्यां कूष्माण्डा शुभदास्तु मे॥ Surasampurna Kalasham Rudhiraplutameva Cha। Dadhana astapadmabhyam Kushmanda Shubhadastu Me॥
It is believed that Devi Kushmanda provides energy and direction to the Sun. For the puja, devotees offer Devi Kushmanda with cardamom, pumpkin, fennel seeds along with the regular vermillion and dhoop. They seek blessings to get as much as energy and strength from her.