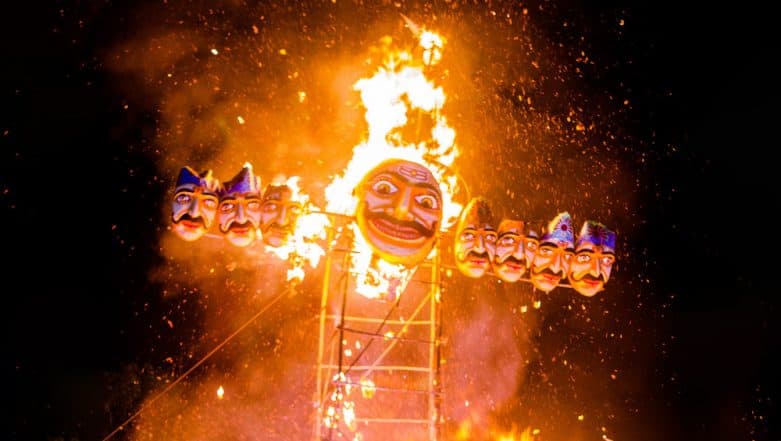 New Delhi, October 19: Ramlila is a series of plays that depict various events of Lord Rama's life based on the ancient Hindu epic Ramayana. Ramlila plays culminate on Dussehra (Dasara or Vijayadashami) when giant effigies of Ravana, the king of Lanka are burnt. Prime Minister Narendra Modi will set the effigies of Ravana, Meghnad and Kumbhakaran on fire at Ramlila Maidan this evening. Catch live streaming of Ramlila and Ravan Dahan from the iconic Ramlila Maidan in Delhi here. Catch live updates on Ravan Dahan by PM Modi here.
Ramlila celebrations include Lord Rama-related dramatic plays that are performed during the annual autumn festival of Navratri. Ramlila is a compound Sanskrit words 'Rama' (a Vishnu avatar) and 'Lila' (play or sport). It revolves around the epic of Rama and Sita. The plays recreate important events of Rama's life such as his marriage with Sita, his exilement, Sita's abduction by Ravana and finally his return to Ayodhya after killing Ravana. Apart from skilled artists, ordinary people too participate in these plays and portray different characters in Ramlila. The whole purpose of Ramlila performances is to recall how good always emerges as a triumph over evil. Vijayadashami 2018 Wishes and Subho Bijoya HD Images: Best WhatsApp Messages & Status, SMS, GIF Images & Facebook Quotes.
Apart from various protests, Ramlila Maidan in Delhi is mainly known for staging Ramlila performances and Ravan Dahan. It was Mughal emperor Bahadur Shah Zafar who began hosting the Ramlila near the Red Fort of nearly 200 years ago. Ramlila Maida was a large pond which was filled in the early 1930s so that Ramlila plays could be held. Before this, Ramlila had been staged at the reti (sandy) floodplains of Yamuna river behind the Red Fort. A small pond is still there inside the Ramlila ground. Dussehra 2018 Messages and Dasara HD Images: Best WhatsApp Greetings & Status, SMS, GIF Images and Facebook Cover Photos to Wish Happy Dussehra!
Watch Ravan Dahan at Ramlila Maidan, Delhi Live Streaming Here
Apart from Ramlila Maidan, Ramlila is staged at Madhavas Park, 15 August Park, Lal Qila Maidan and Shriram Bharatiya Kala Kendra theatre lawns beside other small grounds. Ramlila plays at Ramnagar in Uttar Pradesh's Varanasi draw a large crowd as well. Effigies of Ravana, Kumbhkaran, and Meghnad are burnt with fireworks marking the destruction of evil.