After the exciting nine-day Navratri and Durga Puja festival, it is time to celebrate Vijayadashami. Vijayadashami 2018 will be celebrated on October 19, Friday. Vijay Dashmi, the revered festival signifying the win of good over the bad will be celebrated on the 19th of October. The festival marks the end of nine-day festivities of Navratra and has its association with the killing of Ravana by Lord Rama in the epic Ramayana. The festival is also celebrated to honour the killing of buffalo demon Mahishasura by Goddess Durga. The tales may vary depending on the culture, but the underlying theme of this festival is to commemorate the victory of the good. It inculcates values in oneself to do away with the underlying evil that cripples our character and move towards the path of righteousness. Bengalis on this day after bidding goodbye to Maa Durga gather to wish each other Subho Bijoya (Happy Victory). Your entire Facebook and other social media feeds will be surfaced with beautiful HD and GIF images of Maa Durga. Vijayadashami 2018 Tithi: Maa Durga Visarjan Date, Shubh Muhurat, Significance & Celebration Details. 
Vijayadashami is majorly celebrated in eastern and northeastern states of India, marking the end of Durga Puja. It is not a day of joy and merriment for Maa Durga's devotees but is marked with a subtle sorrow. Because it is time for the Hindu Goddess to return to Kailash. Devotees pay a teary farewell to Maa Durga with sweets, sindoor and betel leaf as part of offerings. Among the celebrations, Sindur Khela is the main highlight of Vijaya Dashami where married women donning in traditional attire, smear vermillion on each other after making offerings to Goddess Durga. After the deity's immersion in a water body, families and friends gather to wish each other Shubo Bijoya and sit for a final festive meal together. As the special occasion will be observed tomorrow, October 19, here are some beautiful greetings to share with your near ones ending the festivity. Best WhatsApp Messages & Status, SMS, GIF Images and Facebook Cover Photos to Wish Happy Dussehra!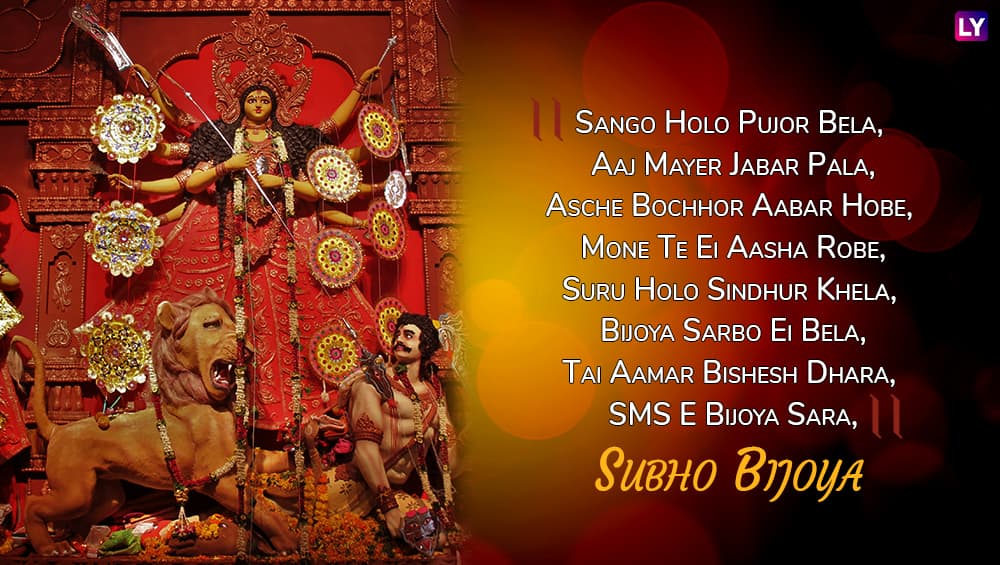 WhatsApp Message Reads: Sango Holo Pujor Bela, Aaj Mayer Jabar Pala, Asche Bochhor Aabar Hobe, Mone Te Ei Aasha Robe, Suru Holo Sindhur Khela, Bijoya Sarbo Ei Bela, Tai Aamar Bishesh Dhara, SMS E Bijoya Sara, Subho Bijoya.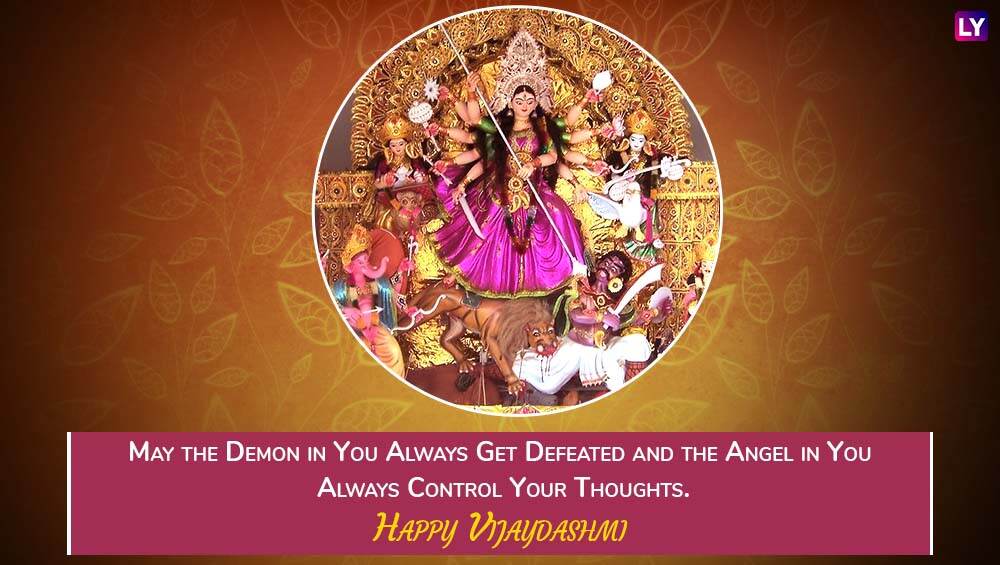 WhatsApp Message Reads: May the Demon in You Always Get Defeated and the Angel in You Always Control Your Thoughts. Have a Blessed Vijayadashami!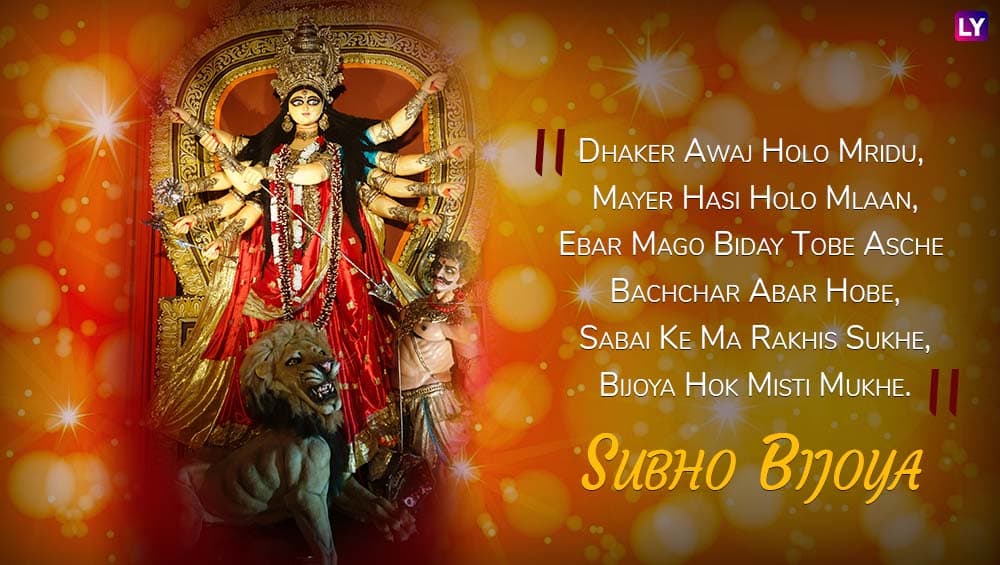 WhatsApp Message Reads: Dhaker Awaj Holo Mridu, Mayer Hasi Holo Mlaan, Ebar Mago Biday Tobe Asche Bachchar Abar Hobe, Sabai Ke Ma Rakhis Sukhe, Bijoya Hok Misti Mukhe. Subho Bijoya.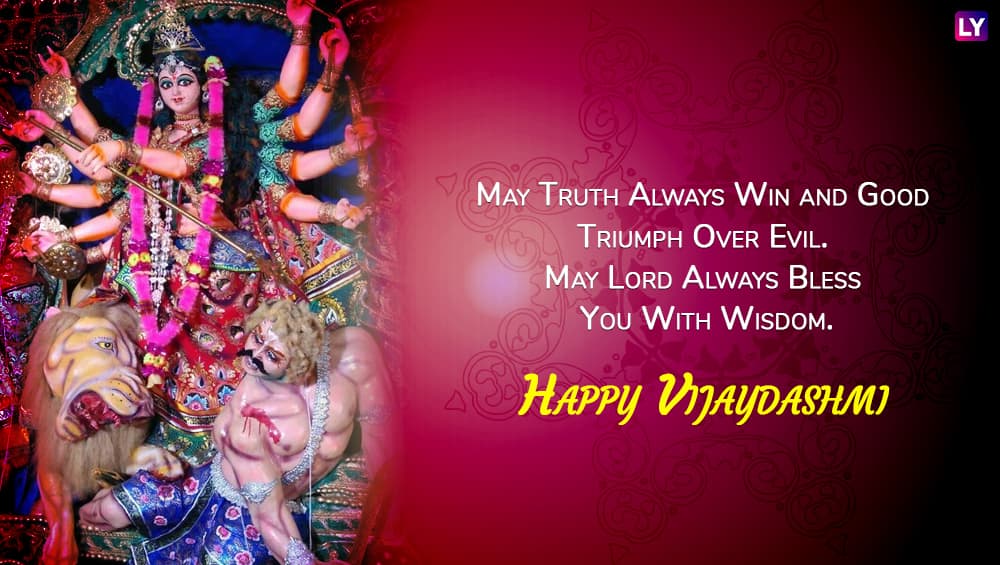 WhatsApp Message Reads: May Truth Always Win and Good Triumph Over Evil. May Lord Always Bless You With Wisdom. Happy Vijaydashmi.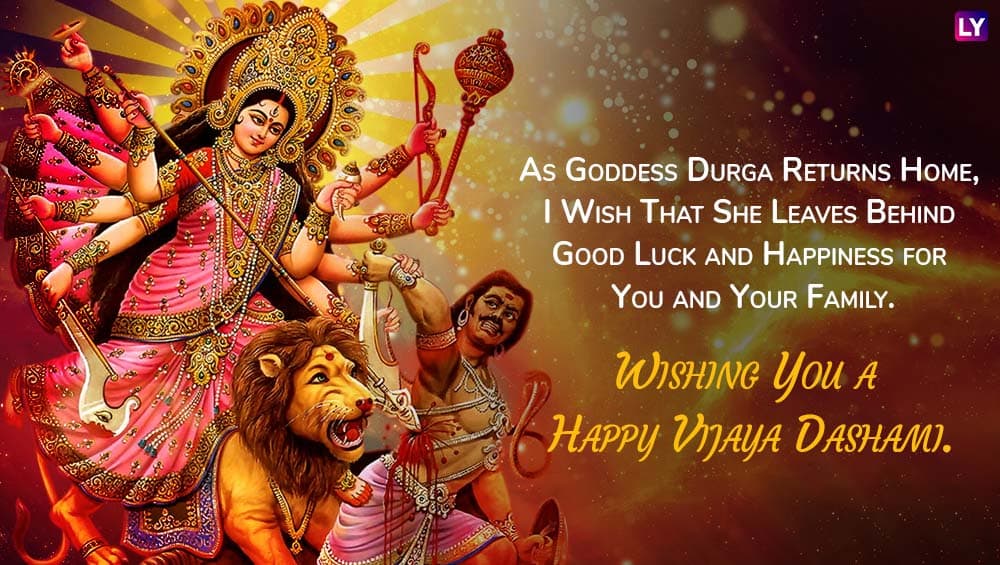 WhatsApp Message Reads: As Goddess Durga Returns Home, I Wish That She Leaves Behind Good Luck and Happiness for You and Your Family. Wishing You a Happy Vijaya Dashami.
WhatsApp Message Reads: Dhaker kathir biday sure, Udas kore mon. Chollen Ma Mahamaya, Aajke bisarjan. Dhaker taale dhunichi nachon, etai prachin riti. Moner frame -e bandhiye rekho Durga Pujor smriti. Subho Bijoya.
We hope that the above images will be useful to you as you share your warm greetings through messages and social media platforms. The period of Bisarjan is a sudden moment of dullness with the festive hangover fading away, realising that Durga Puja is finally coming to an end. But the hope remains as Maa Durga will come again in the coming year, 'Asche bochor abar hobe!' That is how devotees end their Pujo. Vijaya Dashami is celebrated in different manners across the country but with the same ethos—the triumph of good over evil. Shubho Bijoya everyone!
(The above story first appeared on LatestLY on Oct 18, 2018 01:47 PM IST. For more news and updates on politics, world, sports, entertainment and lifestyle, log on to our website latestly.com).