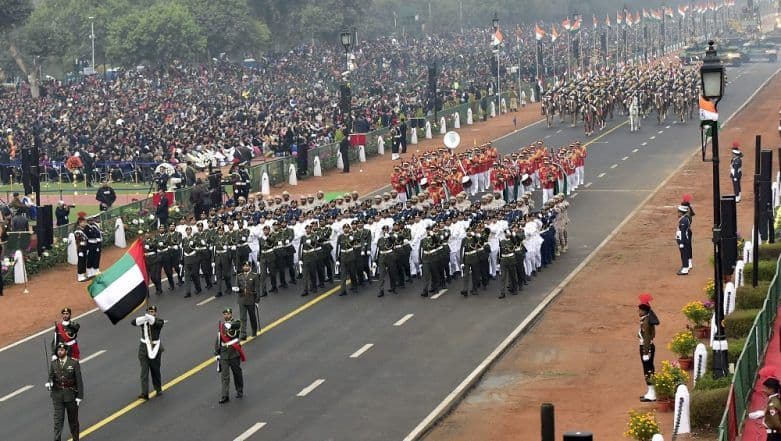 New Delhi, January 25: India is celebrating its 70th Republic Day today. After August 15 (Independence Day), the 26th of January is considered the most important day. The Constitution of India, which made India a sovereign, democratic republic, was adopted on November 26, 1949, and it came into effect on January 26, 1950. Among other attractions on January 26, is the Republic Day parade that takes place every year at Rajpath in New Delhi. The parade aims to exhibit India's defence capability and its cultural and social heritage.
The celebration of the Republic Day will begin with the laying of a wreath at the Amar Jawan Jyoti at India Gate by Prime Minister Narendra Modi. South African President Cyril Ramaphosa will be the chief guest of the Republic Day parade 2019. This year Republic day will mark the 150th birth anniversary of 'Father of the Nation', Mahatma Gandhi. And he is the central theme of the 22 participating tableaux.
The tableau from Arunachal Pradesh will be based on the theme "Peace Within" and shows a tribal Monpa child placing flowers at Gandhi's feet, while Tamil Nadu's presentation depicts the Father of the Nation switching to a loincloth from his formal Western attire. The Jammu & Kashmir tableau shows Mahatma Gandhi with the charkha. Republic Day 2019: President Ram Nath Kovind Addresses Nation.
India's newly-acquired M777 American Ultra Light Howitzer and self-propelled K9 Vajra artillery guns are set to make their debut at the Republic Day parade. The Indian Air Force will fly an aircraft which will run by blended bio-fuel on the Republic Day 2019. Reports say the aircraft will fly over Rajpath with a 'V' shape formation. The 'V' shape formation stands for victory sign. Republic Day 2019: Militant-Turned-Army Man Lance Naik Nazir Ahmad Wani From Kashmir Gets Ashoka Chakra.
The number of women from armed forces participating in this year's Republic Day Parade would be the highest till date. Captain Shikha Surabhi of the Army's Corps of Signal will be saluting President Ram Nath Kovind while standing on a bike. For the first time, the all-women Assam Rifles contingent will create history this year by participating in a Republic Day parade. Major Khushboo Kanwar will lead the contingent.