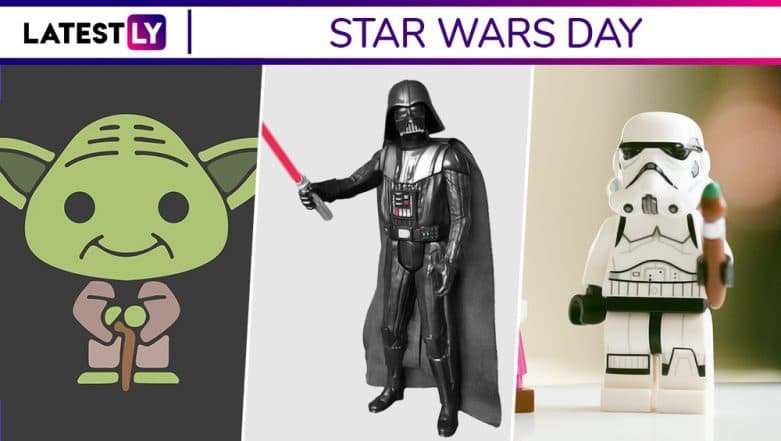 "May the Fourth be With You" is one of the most commonly-shared punny phrases by Star Wars fans. The line is based on the immensely popular line from the Star Wars franchise, "May the force be with you." It grew so popular that May 4 came to be regarded as Star Wars Day even though the official day is on May 25, the day the film was first released. Star Wars Day 2019 falls on a weekend, which makes for a double celebration. So how are you planning to ring in this day? We have some fun ways in which you could celebrate Star Wars Day 2019. Star Wars Day 2018 Quotes, Memes & GIFs Shared by Twitterati Along With 'May The Fourth Be With You' Message.
5 Ways to Celebrate Star Wars Day
1. Movie Marathon: The best way to celebrate the day is with a binge-watch session of all the Star Wars movies.  This may be your 10th rerun but you are definitely going to enjoy it if you have like-minded company. So ask your friends to join and watch your favourite scenes and travel together into the fictional galaxy far away.
2. Star Wars-Themed Games: If you are too tired to go through Star Wars reruns again, you can gather your friends and play Star Wars games. There are a dozen of online games to choose from and a lot of games are available for free! Star Wars galaxy is giving discounts as well.  Disney Plus: Web-Series on Loki, WandaVision, Winter Solider AND Star Wars Officially Announced – Read Deets.
3. Get Crafty With Characters: If you totally want to invest your time and be creative then it's a good idea to get crafty and create your own Star Wars products. It could be a simple bookmark or a fancy lampshade. Imagine making your own lightsaber and making your friends jealous. That'd be fun right? Here's how you can make one.
Watch Video of How to Make DIY Light Saber
4. Dress Up: Become a model of the Star Wars franchise and pick your favourite character to cosplay. Princess Leia, Ahsoka Tano, Luke Skywalker, Han Solo, Yoda or Darth Vader, pick your favourite look and prepare your squad. How about taking on some role play and get into a character side off screen?
5. Star Wars Recipes: If you are someone who loves food as much as you fancy the Star Wars galaxy, May the fourth is a good day to club them together. Make Star Wars inspired foodstuffs like Princess Leia truffles, cupcakes, Star Wars tartlets, Chewie noodles to name a few. Invite your friends and impress them with your fantastic culinary and fandom combined.
Watch Video of Star Wars Inspired Food Recipes:
These are some of the ways you can indulge in your love for Star Wars fantasy and make it a slight part of your reality on May the fourth. On a parting note, May the fourth be with you! (Sorry, we couldn't resist)