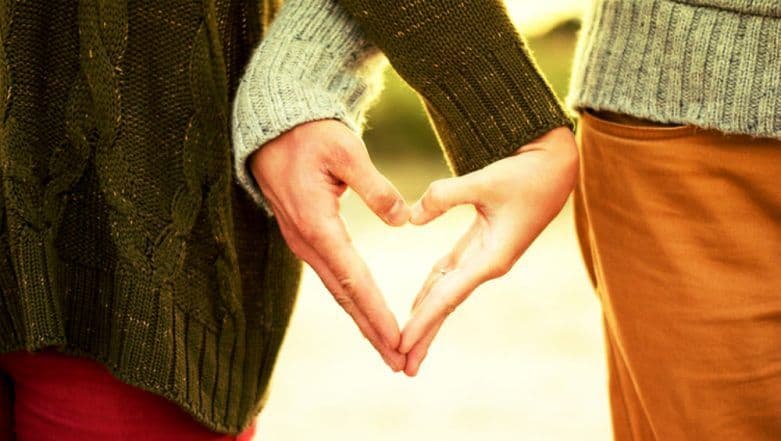 The days of love altogether, the Valentine Week 2019 has begun starting with Rose Day on February 6. Each day leading up to Valentine's Day 2019 will express a way of showing love towards their partner. Rose Day, Propose Day, Chocolate Day, Teddy Day, Hug Day, Kiss Day and finally Valentine's Day each of these days honour every expression of love. The air of love is felt in the air right from the start of the month. Over the years, the popularity of celebrating each day is growing and the vibe of love is very evident. Valentine Week 2019 Calendar PDF Download Online: List With Dates of Valentine's Day, Rose Day, Chocolate Day, Hug Day, Kiss Day to Celebrate the Festival of Love!
The entire 7 days is a build-up of expressing your love day by day.
Valentines Day on February 14 can be rightly called the culmination of expressing love after doing all the small gestures of love over the week. Every couple celebrates it with much fervour and there is more and more excitement to get gifts for their partner. Let us look at each of the days and their importance. Valentines Week 2018 begins from this coming Wednesday, February 7 to February 14.
Rose Day (February 7): A flower is a good symbol to express love and the rose is enough to convey all your feelings well. People give a rose to significant other as a symbol of love. Different roses convey different messages, a red rose the obvious love bearer. Don't worry if you are single, you can always give a yellow rose to your friends.
Propose Day (February 8): A day specifically to make your love known to the other person. People who have been waiting to express their feelings for the loved ones, this day is the best time. On the occasion of propose day, it is best you let the other person know how you feel about them. Happy Propose Day 2019 and Valentine's Day in Advance Messages: Best WhatsApp Stickers, GIF Image Greetings, Quotes to Wish During Valentine Week.
Chocolate Day (February 9): Chocolates are one gift which no one says no to. The third day of the Valentine week is dedicated to gifting chocolates. A simple token of love and appreciation, chocolate can convey the feelings and impress your partner. Make sure you know their favourite chocolate by now! Chocolate Day 2019 Date and Significance: Romantic Quotes and Chocolate Gift Ideas to Give Your Partner A Lovely Surprise!
Teddy Day (February 10): Women have always adored soft toys and teddy bears are the best to cuddle with! The adoration for teddy bears is so common that there is a specific day for it. Guys, get your girl the cutest teddy bear and it will make her happy. She can hug it when she is upset or even if she's missing you. It is a cute gift that she will keep by her side at most times.
Promise Day (February 11): This day is celebrated to highlight the importance of commitment in your relationship. Couples make some promises to each other on this day. It could be something really simple and sweet or something that you've been meaning to tell them but haven't found the perfect occasion. This day also highlights the importance of trust in your relationship. You make a promise and gain their trust for not breaking it. It is just one of the sweet gestures to show your partner how much they mean to you.
Hug Day (February 12): The warmth you feel when you hug your loved one cannot be compared with anyone else. A tight hug can be so soothing. This simple gesture is enough and can work even when sometimes words don't. On this day, meet your partner and give them a nice tight hug. Don't say anything, just hold on and both of you can feel the love.
Kiss Day(February 13): A kiss is such a special moment shared between two loved ones. A kiss day celebrates the very romantic gesture. You can kiss them on the forehead to show a mark of respect. Even a stolen kiss can get your partner to blush and they look so adorable, even you'd agree. So make it a memorable day by meeting your partner and stealing a few kisses, or just giving a small peck on the cheek. This romantic gesture can express your love the best!
Valentine's Day (February 14): Finally, Valentine's day which will celebrate love in all its forms and gestures. Just go ahead and spend quality time with your partner. Shower them with the gifts that you've carefully chosen for them and make them feel all special. You could plan a nice date or just do something small but which will make them really happy! It is all about being in love and feeling it all over again.
These seven days are good to go an extra mile for your loved one and make your loved one feel special. As much as you say you do not need specific days to express love, following these days just brings in the excitement in your relationship. As you look forward to celebrating love on Valentines' day, make sure you spend with your partner at least some days, if not all.