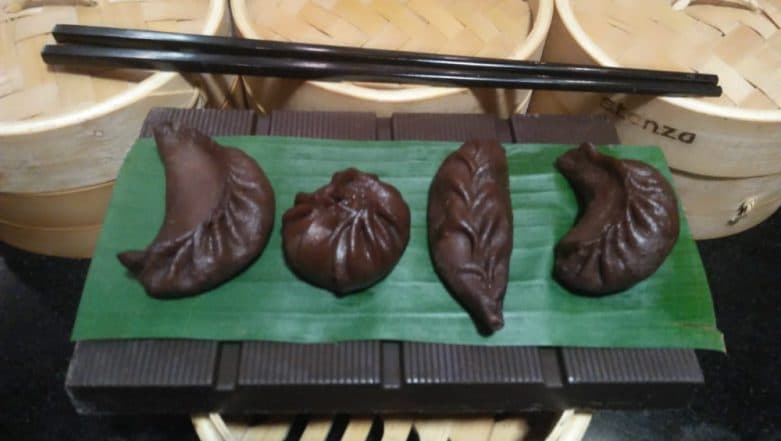 Rare are those who dislike chocolates. Right from children to the elderly, everyone loves having a piece of chocolate. To mark the universal love that people have for this sweet,  World Chocolate day is celebrated every year on July 7. Some references say this day celebrates the introduction of chocolate to Europe in 1550.
Now there are various ways of relishing a chocolate other than having chocolate bars. Thanks to its many forms and varieties, you can transform and create different dishes. Today we show you a rather unique recipe of chocolate dim sums.
How to Make Chocolate Dim sum:
Dough:
• 2 cups potato starch flour
• 1 cup wheat starch flour
• ½ cup tapioca starch flour
• 4 tablespoons chocolate sauce
• 1 1/2 cup lukewarm stock or water
Filling:
150 gm Dark chocolate

50 gm Nutella (hazelnut paste)

50gm dry fruits
Method:
In a bowl, mix the all flour and chocolate sauce together. Slowly mix in the hot water and stir to combine. Knead the dough on a lightly floured, clean work surface until the dough is smooth, about 5 minutes. Place the dough ball into a medium-size bowl, cover with plastic wrap and put into a larger bowl filled with of hot water. Place these into either the oven or microwave and let rise for 30 minutes, or until dough doubles in size.

While the dough is rising, prepare the filling of chocolate, dry fruits and hazelnut pest. Set the filling aside. After 30 minutes or more, the dough should have doubled in volume. Knead the dough lightly to expel any air pockets.

Roll into a cylinder on a floured board, and cut into 8 equal pieces. Put a drop or two of sesame oil in your palm to coat hands (for each ball). Roll each piece into a ball, and place under a wet towel and resting for 10 minutes (the dough will rise again).

Roll out dough into circles. Place a small ball of filling in center. Form pleats in dough as you seal the buns by twisting (make sure they have a nice seal).

Place finished buns on baking paper sheets.To Cook:

Place the filled dim sum in warm bamboo steamer or rice cooker (as we did) and let steam for 15 to 20 minutes. The dim sum will almost double in size.

Serve with whipped cream or healthy option fruit.

(Recipe by Executive Chef Of Radisson Mumbai Goregaon -Chef Kamlesh Rawat )Do you love dim sums? Then do give this recipe a try!