The Mininstry of Health, Congo has confirmed three more cases of Ebola in the North Kivu province of the country. According to The Associated Press, Health Minister Oly Illunga Kalengatold the media that there are 16 confirmed cases of the haemorrhagic fever, 27 probable cases and 31 suspected ones. He also informed that the "cold chain" for vaccinations has arrived in the main city of the region, Beni.
The North Kivu Provincial Health Division notified the government of Congo that a couple of cases of haemorrhagic fevers were reported. And on 1st August 2018, it was reported that four of the six samples collected from the patients were tested positive for Ebola. According to WHO the presumptive positive tests have prompted the Ministry of Health of the Democratic Republic of Congo to declare the fresh outbreak. Of the three healthcare workers who were affected, one has died. Just the week before, researchers discovered a new species of Ebola virus known as the Bombali Ebola Virus.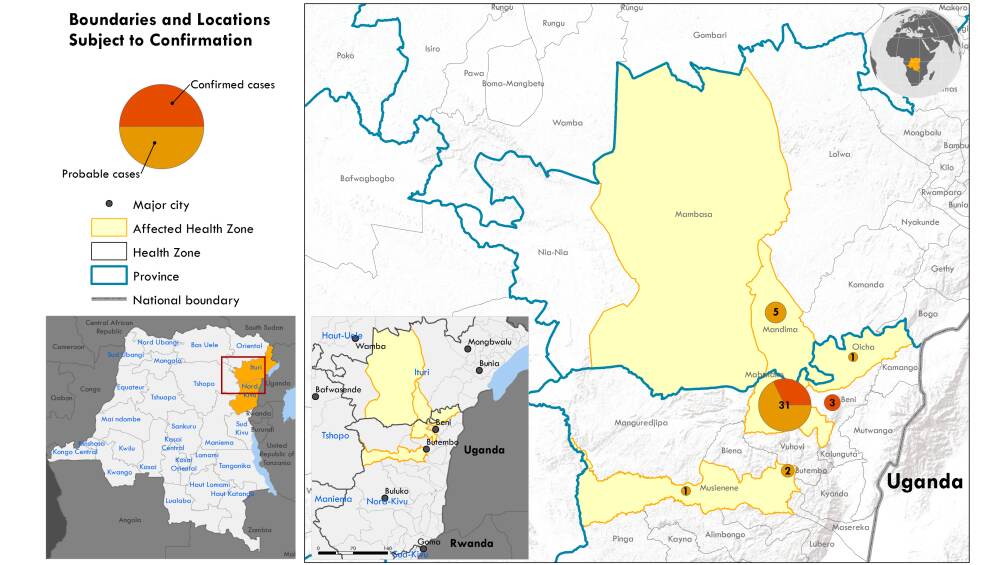 These cases have been geographically confirmed to five health zones in the North Kivo province and one in the Ituri Province. The area comprises one million displaced people and shares borders with neighbouring countries of Rwanda and Uganda. Trade activities between the countries result in frequent cross-border movement. WHO believes that response efforts to the outbreak may be worsened by the humanitarian crisis in the area and the deterioration of the security situation.
Testing by the Institut National de Recherche Biomédicale has suggested that the virus causing this outbreak belongs to the Ebola Zaire species. Viral sequencing of the pathogen will decide the vaccine and other therapeutic measures that can be taken.
In preparation for any untoward event, the Ministry of Health and WHO have deployed Rapid Response Teams to the affected health zones. A country, regional and global mechanism to take stock of the risk and to respond immediately. The government has established an incident management team and support teams for the purpose.