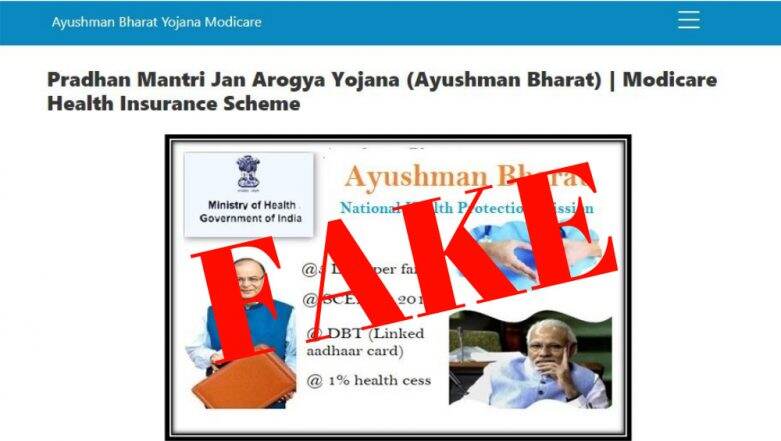 The Health Ministry of India has identified around 58 websites, spreading false information about the government's Ayushman Bharat healthcare scheme. They have also zeroed in on 68 such mobile apps, 62 of which have been shut down. The National Health Agency, through a press release, has shared a list of these malicious websites that have allegedly been spreading fake information and misleading users. The agency has stated of "unscrupulous individuals, agencies, websites, digital media channels, mobile apps, job portal websites and organizations" that have been spreading fraudulent information through emails, WhatsApp messages, registration portals, job updates, blog posts, video channels and web links. Ayushman Bharat Scheme: Fake WhatsApp Messages With Dubious Links Shared on Groups.
According to the advisory, the websites belonging to the list claim to enrol people as beneficiaries under Ayushman Bharat - National Health Protection Mission / Ayushman Bharat - Pradhan Mantri Jan Arogya Yogja and even promised recruitments as Arogya Mitra. The list comprises names of the fraudulent websites and the developers responsible for creating them. Here is a comprehensive list of all the fake websites and apps claiming to be connected to the government.
The National Health Agency has reached out to the public, notifying them against these misleading websites that claim to be affiliated with the government. The advisory also says that if one were to receive any information, message, mail or website link that seeks personal information, it could be fraudulent. Ayushman Bharat: Key Facts to Know About PM Modi's 'Game-Changing' PMJAY Healthcare Scheme.
It advises people to reach out with evidence to BK Datta, GM of the National Health Agency. People contacted by such websites should exercise due diligence and not give in their personal data. Stating that the agency doesn't ask for any monetary consideration from beneficiaries covered under the Pradhan Mantri Jan Arogya Yogja, it lays down a disclaimer that the agency will not be responsible if users lose money to fraudulent practices.