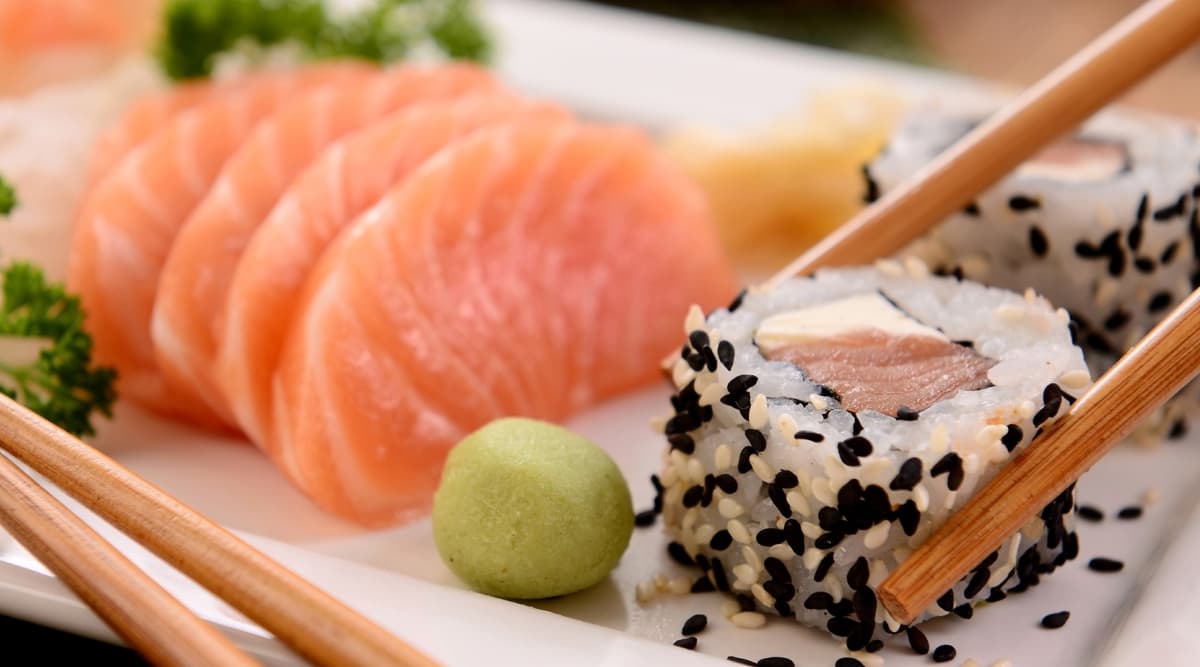 You must have come across Instagram quotes 'keep calm and eat sushi', and 'you had me at sushi'. These words are corny for sure, but it is all good because sushi is healthy. That said, the saturated fat in specific sushi preparations like the fried and mayo-laden Kamikaze roll is disturbing nonetheless. In reality, these sushi preparations are close to French fries in nutrition with around 200 calories per roll. It is not a big deal if you eat these sushi once in a while, but if you are hitting a sushi joint every alternate day, it is a problem.
How Healthy Is Sushi?
When it comes to sushi, the nutrient quotient depends on what you order. Something like a salmon with loads of omega-3 fatty acids is a big thumbs up. However, be mindful of your intake of fatty fishes like tuna and mackerel as they contain a lot of mercury. Why avoid mercury, you ask? Mercury, when consumed in high levels, can lead to birth defects. Weight Loss, Beauty and Other Amazing Health Benefits of Sushi
Besides, one roll can contain up to one cup of rice, and that is a lot of carbohydrates. It would be best if you did not have more than a two-third cup of white rice at a time as it can spike your blood sugar levels. If you find it challenging to stick to one sushi roll, ask for fibre-rich brown rice when eating out or swap the white part for quinoa when you are preparing it at home. If you are a seafood fan, stick to one or two tuna rolls and get the rest of your protein from shrimp or scallops. Sushi Horror! 71-Year-Old Had To Amputate His Hand Due To Bacterial Infection Caused By Raw Fish
What Are The Healthiest Sushi Options?
The fewer creamy and crunchy add-ons, the better is the sushi. Also, ensure that you swap the spicy mayo for a side of pickled ginger. To make your life easy, we give you a low-down of the healthier sushi options. Moving Sushi Video from Japanese Restaurant Will Freak You Out!
Go for the California roll as it typically contains healthy ingredients like shrimp, avocado and cucumber. This sushi roll will fill you up with no more than 150 calories.

The vegetarian roll with soft tofu, avocado and a variety of fresh vegetables contain only 122 calories. It is a pure delight for the vegetarians and vegans alike.

Try and order sashimi which is just a plain slice of raw fish with a base of rice. Ask for brown rice in your sashimi, and you will have the healthiest meal within 125 calories.
If you are coping with an autoimmune disease or are pregnant, you should steer clear of raw fish altogether. If not, remember to enjoy your sushi in moderation.