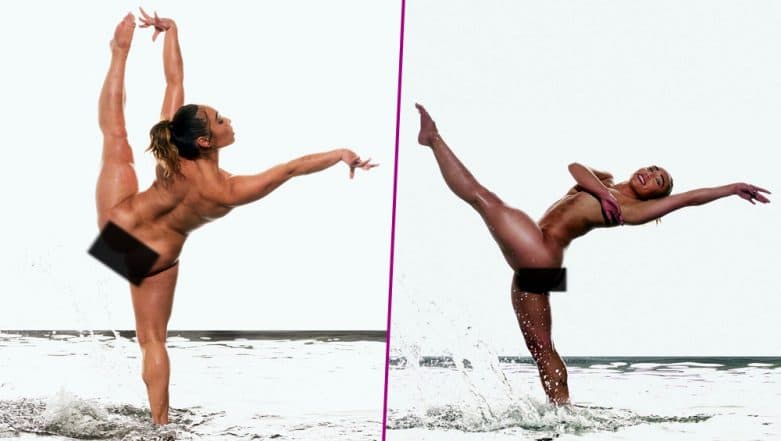 Cheerful gymnast, Katelyn Ohashi's floor routine video, recently went viral like wildfire. Fun-filled Katelyn showed us that she knows how to let it loose. But whatever you saw in the video has a very moving backstory. It wasn't always as happy for the UCLA student as it looks like now. Not only did she experience an eating disorder but also had a skin condition that made her dislike herself. The 22-year-old also revealed her struggles with body shaming in an interview with ESPN, for their 2019 body issue. Katelyn stripped down for the annual feature and bared her rare skin condition that causes circular bumps on her body. UCLA Gymnast Katelyn Ohashi's Perfect 10 Floor Routine Takes The Internet by Storm (Watch Video). 
She spoke about her rare skin condition and how people's reaction affected her. She said, "I have a skin condition called granuloma annulare. It covers my entire body. Some look like bruises; some are complete circles. It actually doesn't affect me, but people are like, 'What's wrong with your stomach?'"
Talking about body image issues, she said how she "used to feel ashamed." She also further said that rude comments were made about her body and her weight. She revealed how she used to "vomit up her food", and also constrain her daily food intake. She said, "There were times I couldn't even get through a floor routine because I was so exhausted. I would fall, and my coach would be like, "What's wrong with you?" I'm like, "All I've had today are raspberries."
Take a Look At Pictures From Her Nude Photoshoot:
She Did This Shoot For ESPN:
What Is Granuloma Annulare?
Granuloma annulare is a rare disorder, the cause of which is still unknown(idiopathic). The chronic degenerative skin disorder causes marks on the body that looks like bruises. While there are many types of clinical granuloma annulare, the most common form is localised granuloma annulare. People having localised granuloma annulare usually see small, firm red or yellow coloured bumps, medically called, nodules or papules that appear arranged in a ring shape on the skin. Apart from localised granuloma annulare there is generalised or disseminated, linear, perforating, and subcutaneous. However, the rest of the kinds are quite rare. Experts are yet to find the exact cause of the condition but as per popular theories trauma, sun exposure, thyroid disease, tuberculosis, etc. have been linked to the condition. There is insufficient scientific backing though.
Take a Look at Katelyn Ohashi's Complete Interview:
However, Ohashi is now in a much better place after she took a full year break before returning to gymnastics again. "My new goal was to find joy in the sport again and just fully do it for myself," she said. Ohashi also mentioned that after she joined the gymnastics team at UCLA, where the nutritionists and trainers helped her with a healthy, nourishing diet to get things came on track.