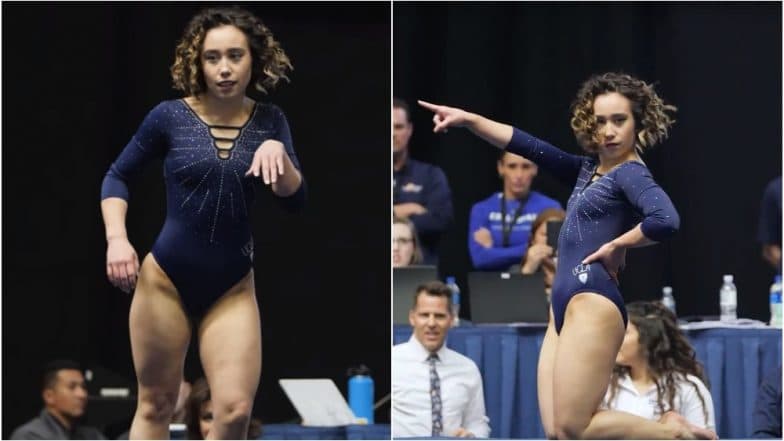 American gymnast Katelyn Ohashi swept over the internet as her performance at Collegiate Challenge in Florida went viral. The 21-year-old from the University of California performed on Michael Jackson-inspired floor routine and was given a perfect 10. Katelyn's graceful performance was quick to go viral and garnered much applause after UCLA shared it on their Twitter handle.
She performed on Michael Jackson's 'The Way You Make Me Feel', 'I Want You Back' and also on Tina Turner's 'Earth, Wind and Fire' keeping the audience entertained all the while. The video has received over 40 million views and continues to go viral on social media. The clip shows how her UCLA teammates were by her side as she flipped, danced, did splits effortlessly on the stage at the 2019 Collegiate Challenge in Anaheim, California. Hershey Bears' Ice Hockey Fans Throw 34,000 Teddy Bears Onto Rink Breaking World Record (Watch Video)
Watch Katelyn Ohashi's performance that has gone viral:
Talking about mindblowing performance, she told ABC News, "Every time I get on the floor, that's always been my favourite part of gymnastics, and being there with my team and my coach and being able to see them dancing with me, it just feels like home." She also said that as a gymnast she faced body shaming issues but she didn't let that decide her future. Her low times also inspired her to write a poem on self-hatred.
Here is the poem:
UCLA gymnast @katelyn_ohashi reads powerful poem she wrote called "Self-Hatred Goodbyes" on @GMA: "Because I am my own size and no words or judgmental stares will make me compromise." https://t.co/UW6NVbFSAf pic.twitter.com/fvmPmrdzy7

— Good Morning America (@GMA) January 17, 2019
Katelyn is currently NCAA co-champion in floor exercises and was also a 2018 NCAA team champion. She has had tough times with shoulder and back injury, comments on her weight and self-issues as a teenager. In a blog post in August 2017, Ohashi wrote, "I've been told I looked like I swallowed an elephant or a pig, whichever was more fitting that day. I was compared to a bird that was too fat to lift itself off the ground." However, now, her routine which her coach Valorie Kondos Field calls "ridiculously hard" has garnered her a lot of praises.