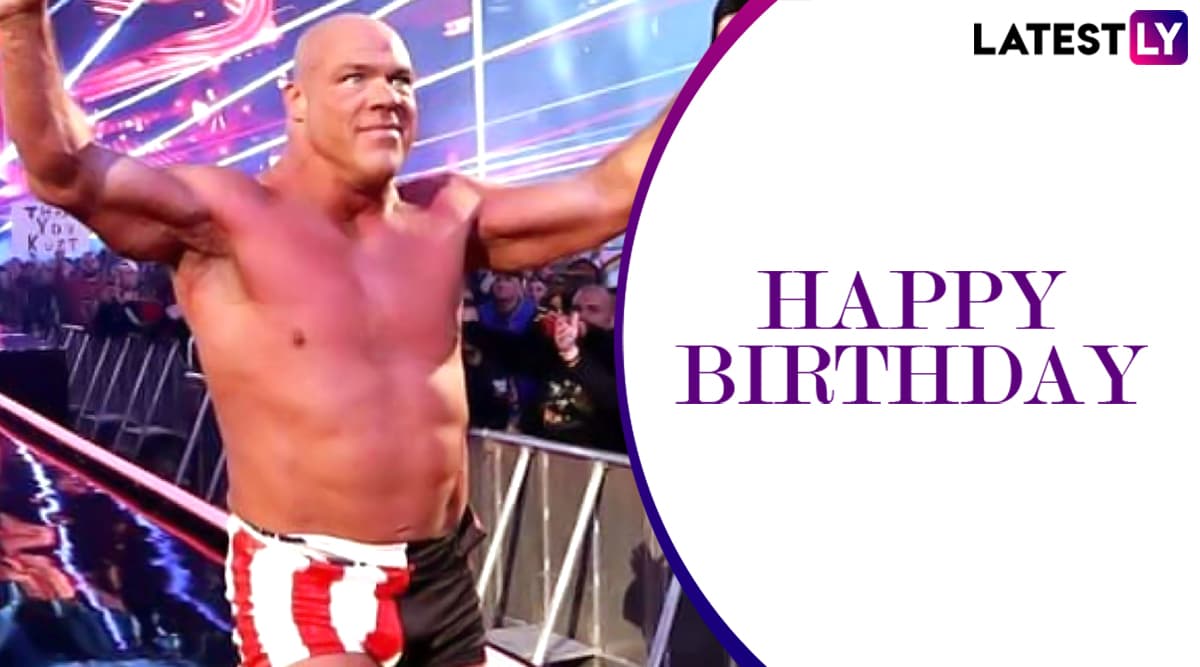 Kurt Angle is a retired professional wrestler and is currently signed with WWE to work as a backstage producer. Kurt Angle turns 51 years old on Dec 9, 2019, and the way he carries himself, it is hard to imagine that former WWE wrestler has reached his fifties. On the occasion of Kurt Angle's birthday, we will explore workout and diet of Olympic Gold medallist that keeps him fit even in his fifties. WWE Pays Tribute to Kurt Angle on His Final Appearance of Monday Night RAW! 'Wrestling Machine' Will Play Career's Last Match at WrestleMania 35 (Watch Video)
Kurt Angle was born in the Pittsburgh suburb of Mt. Lebanon Township, Pennsylvania. Apart from being a renowned WWE wrestler, Kurt Angle also has many other accolades to his name. After completing the graduation, Angle won a gold medal in freestyle wrestling at the 1995 World Wrestling Championships. He then went on to win the freestyle wrestling gold medal at the 1996 Summer Olympics. He is amongst the four people to complete an amateur wrestling Grand Slam which includes Junior Nationals, NCAA, World Championships, and Olympics. Kurt Angle made his debut in WWE in the year 1998 and became WWE Champion (then known as WWF) for the first time in the year 2000. Now let us speak about Kurt Angle's fitness routine that has helped him to stay in shape till date. WWE WrestleMania 35: Kurt Angle Loses His Career Last Match Against Baron Corbin.
Workout of Kurt Angle
In an interview with bodybuilding.com, Kurt Angle has revealed that he mostly performs super-sets in his exercise routine which helps to maintain his strength and at the same time also helps in improving the endurance. On Tuesday, Thursday and Saturday Kurt Angle runs three to four miles. While on Monday, Wednesday and Friday, the former WWE wrestler split his one hour of workout into thirty minutes of super-set training followed by thirty minutes of cardio. Super-set training includes around 10 different strength exercise with no resting period in between.
A Glimpse of Kurt Angle Workout 
Diet of Kurt Angle
Kurt Angle starts his day with low sugar oatmeal along with egg whites. He includes chicken breast and steak for lunch and dinner respectively. Kurt also takes protein shakes twice in a day which provides a general 30 gm proteins in each serving. The former wrestler also takes multi-vitamin tablets and a pre-workout supplement.
Kurt Angle lost his farewell match against Baron Corbin at WrestleMania 35, after that match he received a standing ovation from the crowd present at MetLife Stadium in East Rutherford. Kurt Angle has also wrestled at Total Non-Stop Action (TNA) from 2006 to 2016. He is the only wrestler along with Sting to be inducted in both WWE and TNA hall of fame.