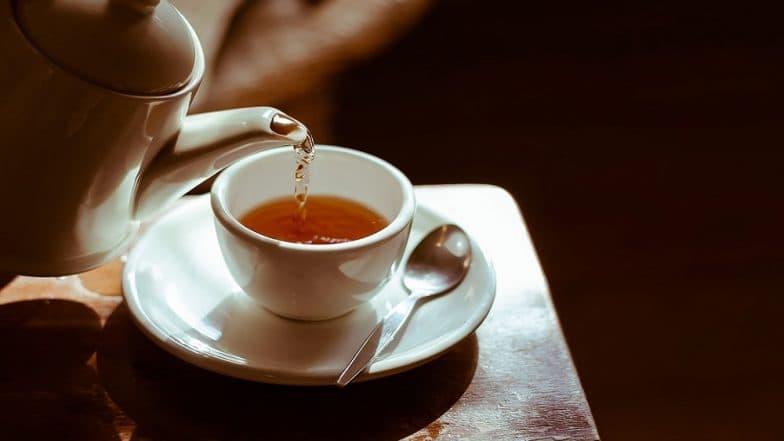 The National Tea Day is observed every year on April 21  in the United Kingdom to celebrate the drinking of tea. This year UK citizens have two more reasons to celebrate this day as April 21, 2019, is Easter Sunday as well as the birthday of Elizabeth II who is the queen of the United Kingdom.  Let us explore some important health benefits of drinking tea. Caffeine-Free Alternatives to Tea That Will Cool Your Body Down This Summer.
Tea is the most famous beverage taken worldwide. One should try to have organic tea which has gone through least processing. The least processed one is the green tea as it has high amounts of polyphenols, and the only type that contains the polyphenol, catechin. Your Genes Make You Tea or Coffee Lover: Study
7 Reasons to Drink Tea
1. Lowers the Cholesterol Level: According to a meta-study published in June 2011 by The American Journal of Clinical Nutrition, green tea helps in lowering total serum cholesterol and LDL cholesterol. It suggests drinking 5 cups of green tea every day, as it will lead to a heavy drop in cholesterol level.
2. Prevent Blindness: Tea contains antioxidants which can protect you from getting blind, as antioxidants have been found in eye tissue. Drinking tea can help prevent blindness caused by cataracts.
3. Helps reduce Cortisol Level: Cortisol is a stress hormone which can increase the belly fat in our body. Apart from that it can also result in quick ageing. Drinking tea after a stressful event can drop down your cortisol level. Four cups of tea every day will make you worry less and will also keep you active, fresh and young.
4. Increase your concentration level: A naturally occurring amino acid found in tea sharpen up the memory and also increases the concentration level. It is worth to have a tea before an important meeting or an examination as it will help you stay more focused.
5. Tea act as an Anti-inflammatory: Active compounds in tea lower the levels of inflammation and inflammatory reactions. Inflammation is connected to ailments like arthritis, metabolic syndrome, and depression. In fact it can lead to water retention and make one look puffy, so add few cups of tea in your daily routine to look and feel thinner.
6. Decrease risk of stroke: Drink three cups of green or black tea per day to reduce the risk of ischemic stroke by 21%. Ischemic strokes occur when the arteries to your brain become narrow which cause severe reduction in blood flow.
7. Tea makes teeth stronger: In 2010, Japanese researchers reported that drinking at least one cup of green tea every day is associated with significantly decreased odds for tooth loss.
Tea is highly beneficial for our body, however it must be noted that tea shouldn't be overcooked and also try to add less amount of sugar if you are drinking regular white tea. Try to have green tea or black tea as they are known to have potential blood lowering effect.