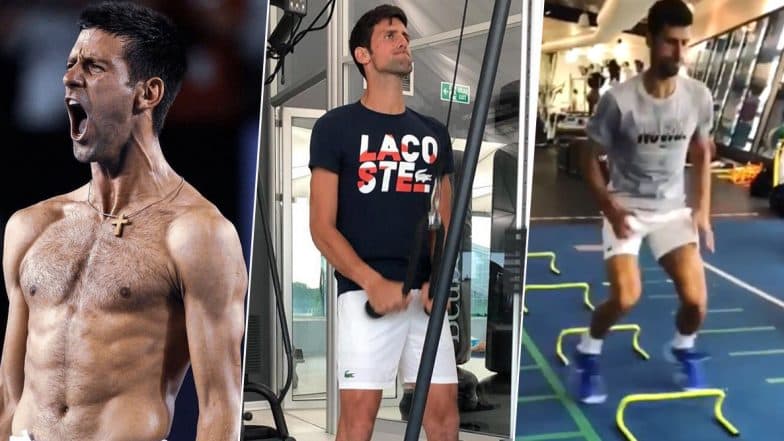 Novak Djokovic is a Serbian Tennis star who is currently ranked World No. 1 in men's singles tennis by the Association of Tennis Professionals (ATP). Djokovic is the first male player who represented Serbia and won a Grand Slam title for his country. He is also the first tennis player from his nation to be ranked at number one position. Meanwhile, let us speak about his gluten-free diet and fitness regime that makes him the best tennis player in the world. Cristiano Ronaldo Workout & Diet: How Star Juventus Forward Maintains Lean Muscular Physique? (Watch Videos)
Novak Djokovic, unfortunately, was retired injured against his clash last-16 clash with Stan Wawrinka in New York in the recently-concluded US Open 2019. However, Djokovic has confirmed on Twitter on Sept 2019 that he is actively working on his recovery and hopes to come back soon in action for the Asian swing. Now speaking about Djokovic exercise routine, his workout mostly includes conditioning training, body balancing workout and agility training. Being a tennis star, muscular strength is also necessary, therefore Djokovic also trains his quadriceps, hamstrings, forearms, bicep and tricep separately. Tennis player generates a good shot from their deltoid muscles, therefore they spend good amount of time on their shoulder mobility and muscular strength of that particular body part. Sania Mirza Workout and Diet: How the Indian Tennis Star Lost 26kg in Four Months After Her Pregnancy (Watch Videos)
Djokovic Tweet on His Injury Update 
Sorry for keeping you guys in the dark these days. I'm having a wonderful time with my family and actively working on my recovery so I can be ready for the Asian swing. My health is always top priority and as soon as I'm ready, I'll be back.

— Novak Djokovic (@DjokerNole) September 12, 2019
Novak Djokovic Workout
The Serbian tennis star trains for endurance, agility and power.  These three aspects of fitness are necessary for any tennis star. Novak Djokovic does exercises like jumping jack, walking high knees to increase his stamina and also make his heart strong. He also incorporates plyometrics like box jumps in his routine. Djokovic also does jumping drills and medicine ball workout as part of his conditioning training. The most important part of Djokovic training is foam rolling which includes hamstring roll, glutes roll, calf roll, lower back roll and upper back roll. These rolling exercises loosen the tough connective tissue around your muscles and decrease stiffness to improve overall mobility. Djokovic also trains his core muscle by balancing on Swiss ball and spend time cycling.
Djokovic Loves Cycling 
Djokovic Conditioning Training
View this post on Instagram
Djokovic Doing Water Gymnastic 
Novak Djokovic Training 
Novak Djokovic Gluten-Free Diet
Djokovic follows a gluten-free diet which has a very interesting story behind it. During the 2010 Australian Open, Novak Djokovic had troubled to breathe and faced the problem of running out of strength. He even used to vomit during a toilet break. Dr Igor Cetojevic, a nutritionist and fellow Serb helped Djokovic discover that he is strongly intolerant to wheat and dairy products, and mildly sensitive to tomatoes. Since then Djokovic has completely excluded cheese, wheat and tomato which has helped him perform better and become number one tennis star. Djokovic also cuts out as much sugar as possible, tending to stick to vegetables, beans, white meat, fish, fruit, nuts, seeds, chickpeas, lentils and healthy oils.
Novak Djokovic Credits Diet for His Success
Novak Djokovic fitness lifestyle is indeed a motivation for many youngsters as well as adults. Looking at the exercise routine of the Serbian tennis star, there is one simple learning that success doesn't come easily, one has to earn it. Djokovic workout should motivate you to step out of your house and indulge in some physical activity to lead a healthy life.