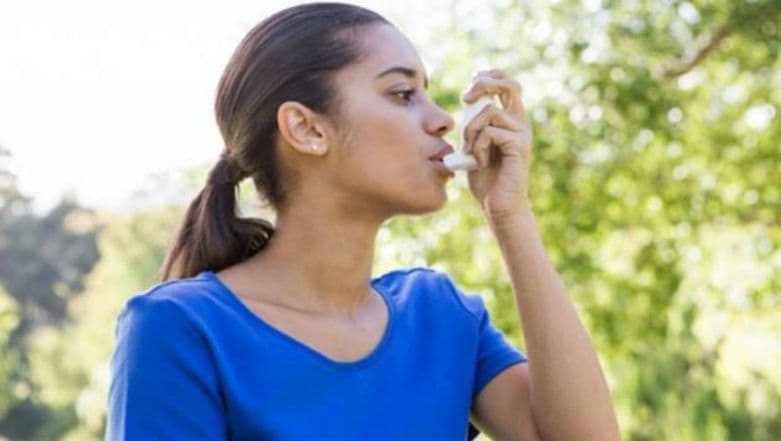 World Asthma Day is celebrated world over on May 7. The event is annually organised on an international level by the GINA (Global Initiative for Asthma) to create a better understanding of the respiratory disease. The theme for World Asthma Day 2019 is "STOP for Asthma." The disease is a chronic inflammatory disease of the airways, which results in wheezing, coughing and tightness in the chest. In asthma, people's airways become so tightly compressed that it's impossible for them to breathe. On World Asthma Day 2019, let's look at the history and significance of the day. Most Asthma Patient Do Not Take Inhaler Correctly, Study Finds.
History of World Asthma Day
World Asthma Day was first celebrated in the year 1998 by the GINA in more than 35 countries. The first "World Asthma Meeting" was held in Barcelona, Spain. GINA organises various activities every year on this day with the help of associates like health care groups and asthma educators to encourage and motivate the common public, using the sub-theme called "It's Time to Control Asthma". Obesity Increases Asthma Risk in Children: Study
What is Asthma?
Asthma is a common long-term inflammatory disease of the lungs, more specifically the airways. It is caused by reversible airflow obstruction and easily triggered bronchospasms. Symptoms include episodes of wheezing, coughing, chest tightness, and shortness of breath. These may occur a few times a day or a few times per week. Depending on the person, they may become worse at night or with exercise.
World Asthma Day 2019 theme is "STOP for Asthma". The STOP in the theme stands for Symptom evaluation, Test response, Observe and assess and Proceed to adjust treatment. GINA will organise checkup camps across the globe to diagnose and treat asthma. National Institutes of Health (NIH) will set up medical camps at different places to provide free checkups and medicines for the patients suffering from asthma. It will also educate people on asthma and other allergic diseases.
Since World Asthma day is celebrated in the month of May; therefore this month is also known as Asthma Awareness Month. In this month, the "National Asthma Education and Prevention Program (NAEPP)" is organised to encourage the people to take care of their lung condition. People who have asthma are recommended to go for a written asthma action plan.
How to Treat Asthma?
According to the National Heart, Lung and Blood Institute, people who have asthma, can manage their symptoms through treatment by allowing themselves to resume normal activities, and preventing asthma attacks. Treatment usually depends on age, asthma severity, and individual response to a given treatment option. The doctor may adjust the treatment until asthma symptoms are controlled.
Most of the asthma patients are treated with daily medicine, called long-term control medicines, along with inhalers containing drugs for short-term relief during an asthma attack or when symptoms worsen. An inhaler allows the medicine to go into the mouth and airways, relieving the tightness in the chest immediately.
Kills Asthma Permanently And Naturally (Watch Video):
It is very necessary to get educated about the treatment of asthma. A patient suffering from this disease should regularly visit their doctor and take proper medicines in order to get rid of it. One should try not to stick around with this disease for a longer period of time as it can cause trouble in physical activities like running, jogging and exercising.