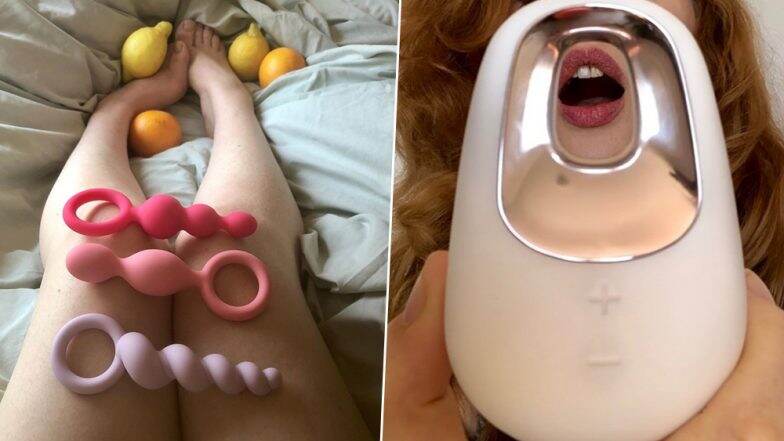 Earning good money is always attached with pain and struggles but what if you were told that there is someone who earns a fortune by deriving pleasure from sex-toys? Believe it or not, Venus O'Hara, from Barcelona, legit quit her job to opt for a technique that is called "sexual transmutation." The single woman tests, sex toys and has now become an "orgasm activist" since 2014. In her career as an "orgasm activist," she has tested over 500 sex toys and orgasms almost every day. She has reportedly confessed that she has tripled her income by testing sex toys, as per DM. She earlier worked as a high-end estate agent and soon turned to this innovative career option only to realise that she is making more money. "Sexual transmutation" is a technique that involves "harnessing sexual energy to achieve higher goals." Remember the Unique Sex Toy! Teenager Makes Money by Sneezing! Creates 'Nose Dildo', Sells Videos to Fetishists?
Venus O'Hara, admits that she has always been a sexual person and climaxes about 10 times a week. She believes that she had an "orgasm revolution" after starting her own blog 10 years ago. As well as testing sex toys and writing columns the rest of her income comes through her blog, her YouTube channel, affiliate marketing and sponsored reviews.
Venus O'Hara Reviewing The Thruster - A Handheld Sex Machine:
SQUIRTING: The Day I Received A Professional G Spot Massage by Venus O'Hara:
Petting Hippo Satisfyer Vibes Sex Toy Review by Venus O'Hara:
Venus O'Hara also starred in Cyberslave Which is A Short Fetish Film:
She has also written three books - collaborating on a beginner's guide to BDSM (Bondage and Discipline, Dominance and Submission, Sadism and Masochism), a sexual vocabulary book called English for Perverts and an erotic memoir, The Mask of Venus. Let's check out some of her popular YouTube uploads.