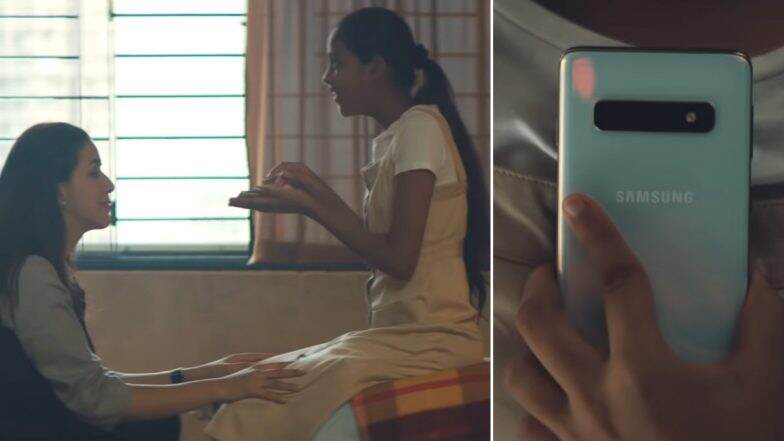 In a great initiative, Samsung India has unveiled two tech-enabled solutions—Good Vibes and Relumino for the deafblind individuals to easily communicate with their caregivers and loved ones. The Samsung India Good Vibes ad video featuring a life story of a visually impaired girl has already touched millions of hearts from across the globe. People are lauding the company for introducing such applications and trying to make communications easy for someone who has impaired vision and hearing or both. All Samsung phone users can download the Good Vibes app from the Galaxy Store. For those who are still figuring out as to how to use it, below in the article, we have given a detailed description. Samsung Galaxy A70s With 64MP Rear Camera Likely To Be Launched in India Soon. 
Good Vibes allows the deafblind to have two-way communication with their near ones using their smartphones. Again, Relumino has been developed by Samsung employees as part of the company's C-Lab programme globally. It is a visual aid application dedicated for people with low vision. The app reportedly helps them to see images brighter by magnifying and minimising them, highlighting the image outline, adjusting colour contrast, brightness, and reversing colour. Samsung Galaxy A90 5G Render Images Leaked Online; Expected Price, Features & Specifications. 
Watch Video of Samsung India Good Vibes Ad:
How to Use Samsung India Good Vibes and Relumino Apps?
The Good Vibes app reportedly uses Morse code to convert vibrations into text or voice and vice-versa. A deafblind person can send a message from the app by tapping on the screen using Morse code where all the English letters are the combinations of dots and dashes. The alphabets can be input as a short tap for a dot and long press for a dash. Similarly, incoming messages can be understood as vibrations. Small vibration means a dot and long means a dash. For people with sight and hearing, anyone can send a message by typing or speaking. The standard chat interface delivers the message to the deafblind person as Morse code vibrations.
Relumino, on the other hand, will be used in classrooms where students with low vision will be able to see better that will help them to improve their learning abilities. Samsung has partnered with the National Association for the Blind (NAB) Delhi and the company will reportedly provide training to the educations on how to use the app.
The applications are part of Samsung's Citizenship Initiatives for which the company had aligned with Sense India; a not-for-profit dedicates to improve the lives of the deafblind. Samsung India Good Vibes app can be downloaded from the Samsung Galaxy Store, and it will soon be made available on the Google Play Store for all smartphone users.