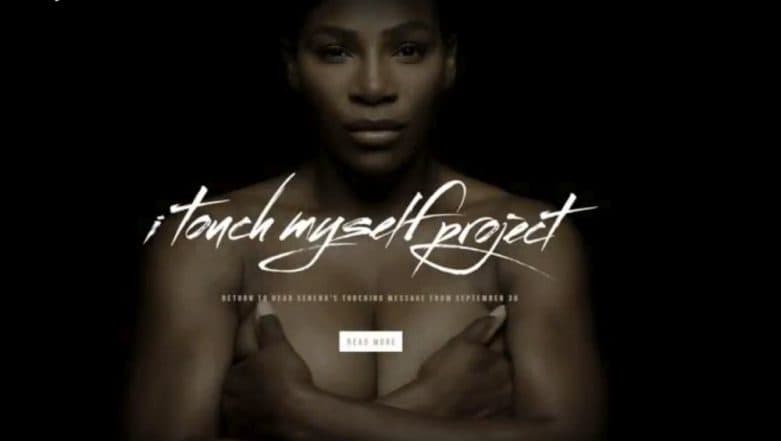 Serena Willams recently teamed up with the I touch Myself project and stripped naked for a nine-second teaser video that released on Sunday. She stripped naked in the video to bring awareness about breast cancer and in the video she is signing a line from the 1991 smash hit Divinyls song "I Touch Myself." In Preparation for the month of October that is the breast cancer awareness month, Serena Williams connected with the I touch Myself project. The lead singers of the song, Divinyls by Chrissy Amphlett died of breast cancer. They wanted this song this song to become a reminder for the women all around to check their breast for any kind of lumps or tumours. Six-time Champion Serena into US Open Semi-finals as Champion Stephens Exits.
In the video, the tennis champion is seen singing the memorable lines 'I love myself, I want you to love me.' Shortly after Chrissy Amphlett, the lead singer of Divinyls died, the project I touch Myself was launched in partnership with bra manufacturer Berlei in 2014.
The description of the video said, 'Inspired by Chrissy Amphlett, who passed away from breast cancer in 2013, we are once again singing her song and reminding you to 'touch yourself'. Such a powerful message needs a powerful voice and we are proud to team up with Serena Williams and Berlei for Breast Cancer Awareness Month to remind you to self-check regularly. Make the pledge to 'I touch myself' for your breast health.'
Here's the nine-second teaser clip.
Serena Williams found herself in a recent controversy that left the internet divided. Serena Williams After Losing 2018 US Open Finals to Naomi Osaka, Accused Chair Umpire Carlos Ramos of Sexism, Calls Him Thief! (Watch Video). While there are different opinions doing the rounds on the internet, we cannot deny that she has always spoken her mind. Earlier in August she also Opened About Struggling with Post-Partum Emotions & Not Doing Enough for Her Baby.