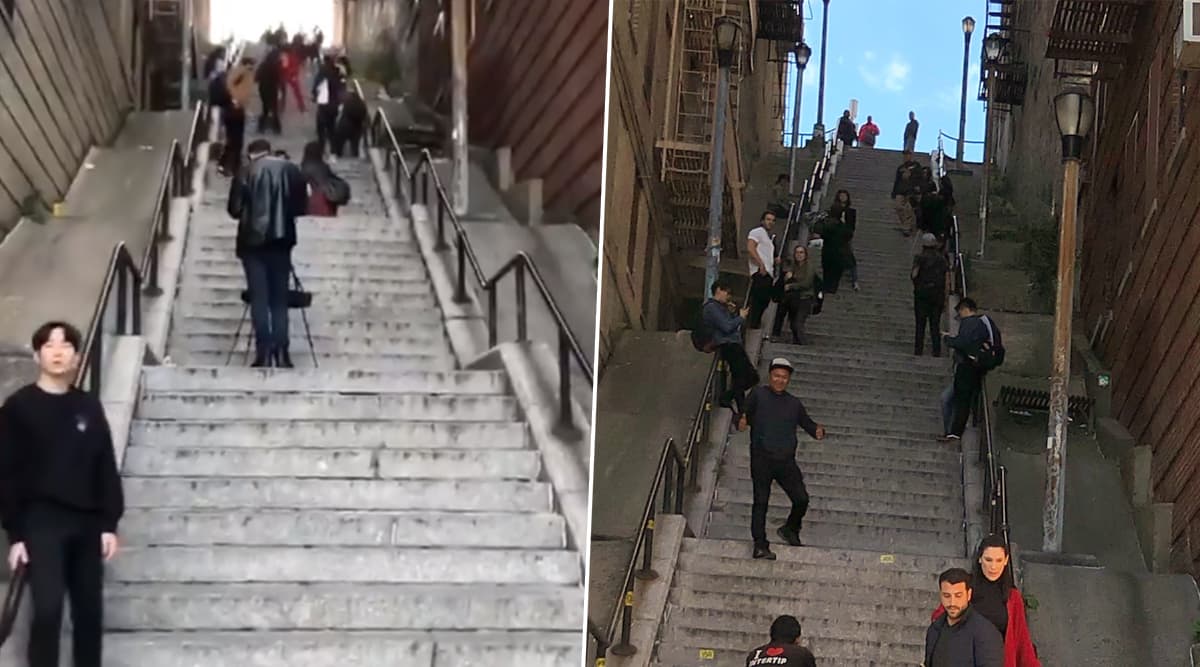 If there is one recent movie that has cast a lasting impression on the audiences is Todd Phillip's Joker starring Joaquin Phoenix. And one scene that people can't stop talking about is the iconic moment which sees Arthur Fleck dancing on the stairs, celebrating his transition into a Joker. The scene has etched on so many minds, that the earlier neglected corner in NYC's Bronx is now brimming with tourists. Weekend or weekdays, the stairs connecting the Shakespearean and Anderson Avenues at West 167th Street have become a photo spot. But locals are not happy. There is displeasure expressed about the stairs becoming a tourist hotspot suddenly. Cosplayer Dressed As Joker Sparks Debate Online! Netizens Brutally Troll and Accuse Her of 'Appropriating Joker Culture' (View Viral Pics).
A video of the crowd standing on the stairs, waiting to get their pictures clicked was shared on Twitter and it quickly went viral. The locals are not too pleased with so many people crowding the area for photo opportunities. They have been using the stairs for their daily commute and now there are constantly people posing on them waiting to get clicked. Some try and imitate the dance, others are seen dressed and in the makeup of the character. Joker Movie Stills & HD Images for Free Download Online: Arthur Fleck Quotes, Wallpapers & Iconic Scenes of Joaquin Phoenix's Film Go Viral.
Check Video of People Flocking on The Joker Stairs:
This really a tragedy pic.twitter.com/AsSFoP3cN1

— GravitysEnemy (@GravitysEnemy) October 21, 2019
Ignored Then, Popular Now
So let me get this straight, the stairs we all grew up hating and trying to avoid are the new cool "Joker Stairs"...... pic.twitter.com/LQLlopaJK1

— Nathalie Muñoz (@NathalieMunozx3) October 18, 2019
Pay a Tax!
legally as a bronx resident you're allowed and encouraged to tax anyone visiting the joker stairs

— Desus Nice (@desusnice) October 17, 2019
Tourist Trap
They're gonna turn the Bronx into a tourist trap because a clown danced on some stairs.

— A very stable penis (@littletopo1) October 18, 2019
Renamed to Joker Stairs
It's really called the Joker Stairs on google now (I just searched it).

Please, if you're reading this and you're not from around here (or ever been to the Bronx, Yankee stadium does not count) PLEASE DO NOT COME HERE.

Thanks,

Bronx Resident pic.twitter.com/s5u9gVPtyM

— Maybe: Candy (@_cvndy) October 15, 2019
Tourists, Stay Away!
Dear Tourists, Stay away from these " #JokerStairs ", we really don't want y'all there. Poor areas aren't fucking tourist attractions.

— Carabali (@TheShoeSnob) October 20, 2019
What's Happening?
Media: Joker is gonna inspire people to do mass shootings

Reality: People dancing on stairs learning the Joker dance

— Abby Saw Joker x2 (@EzraQuinzel) October 21, 2019
How Dare You?
me @ all the people on the joker stairs pic.twitter.com/Wlnd67jfPi

— Doxi is Dutch again (@DoxitheDutchman) October 22, 2019
Check Some Pictures on Instagram From The Same Spot:
View this post on Instagram
Posing on The Stairs
View this post on Instagram
Selfie Spot
View this post on Instagram
There are more than 1,000 posts on the photo-sharing application from the location tag of Joker stairs. The popularity continues to grow with some influencers also having their shoots here. In fact, a flyer has also been put up here by an entertainment site which reads, "It is disrespectful to treat our community and residents as a photo opportunity." A resident of the area mentioned in a report that they feel disrespected in their own locality and hope this wave ends soon.
Here's The Iconic Scene From The Film Joker:
The tourist influx is not really benefitting the locals with tourism as such, as people just pose and cause an inconvenience to those who actually want to get to school or work. Each trend has its downside and that's what the locals of Bronx can experience right now. Since the movie has released recently, we think it will take some time for the wave to reduce.