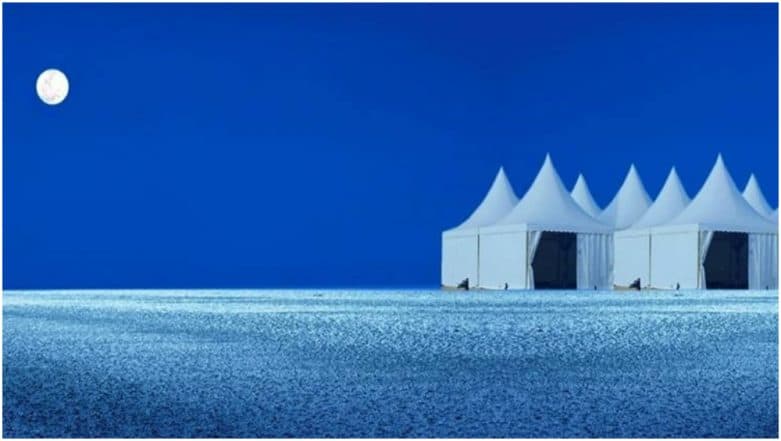 The Rann of Kutch in Gujarat turns into a pretty amalgamation of culture and serenity during the months of the Rann Utsav. Every year from November to February, a magnificent festival is organised against this canvas of white salt desert. There are different art displays, local dance and music performances, crafts and culture on display here. It gets a carnival-like appearance and people can experience it while staying in tents. Rann Utsav 2018 bookings have begun and if you do not want to miss it, then let us give you all the details how to go about the bookings in the tent city.
Rann Utsav 2018 will begin from November 1. One of the best times to visit here is during the full-moon night when the environment turns to a bluish tinge across the vast expanse of white salt. The night forms into a lovely landscape, a spectacle to the eye.
How to book your tickets and stay at Rann Utsav 2018:
The Rann of Kutch transforms into a tent city during the festival. There are tents according to your preference. The suite tents have all facilities like king size beds, AC, sofa set, TV etc. So it is no less than a small house. A Darbari suite will have majestic interiors and all amenities. Depending on your choice of tents, the packages differ. The rates are high in the month of December compared to the rest of the months. All the details are given on Rann Utsav's website.
If you are still not clear what exactly goes on here, watch this video.
Take a look at a video which showcases Rann Utsav:
The desert carnival is one of the unique festivals in India which one must definitely experience. It is a colourful and enchanting period with all the art, crafts, folk music and people performing for the visitors. The weather also turns to pleasantly cool in the nights while the day temperatures are hot. Year after year, the number of tourists keep on increasing so if you do not want to miss on this opportunity, then start booking.