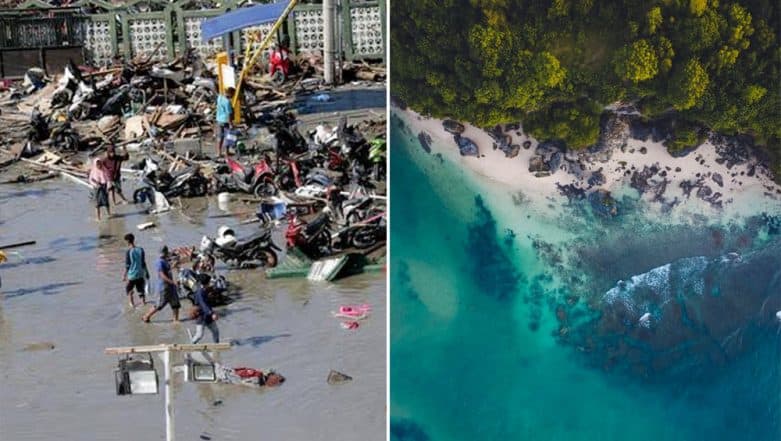 There is a lot of excitement about New Year's Eve and a lot of people plan to make abroad trips to get their celebrations in all gusto. Indonesia, Thailand are the popular choices of many but if you have booked your tickets already then you might have to make some changes to your itinerary. In the wake of the recent disaster, an alert has been issued for more tsunami waves. A tsunami wave followed by an earthquake killed more than 400 people and left more than thousands missing. Tsunami in Indonesia Triggered by Volcano Activity Strikes Sunda Region; Kills at Least 168, Over 600 Injured.
The areas of Sunda Strait were deeply affected by the tsunamis. The eruption is believed to have set off a landslide in the areas of Java and Sumatra islands. According to details given by the Meteorology, Geophysics and Climatology Agency, people have been asked to stay about 500 meters from the coastline. They have given extreme weather warnings in the surrounding areas. There is a possibility of rains even.
So if you have made plans keeping in mind the coastal areas or beachy vibes then you might have to stay indoors. The last tsunami struck without any warnings and caused enough damage. Some villages have even been cut off from receiving help because of the roads blocked by rubble. In the Sumur subdistrict more than 16,000 people have been displaced from their homes. The locals in the Sunda area had not experienced any tremors or seismic activity. Tsunami Batters Indonesia Again: Take a Look at Other Earthquake and Tsunamis That Have Caused Massive Destruction to Island Nation in the Past.
While Bali has been a very commercial place for holidaying among tourists today, there are other unexplored and offbeat places in the country which are worth exploring. But with the recent disasters and weather report, you might have to carefully research on the places you plan to visit. Just as Indonesia have several travel-worthy places, you cannot ignore the earthquakes followed by tsunamis the country has faced in this year itself.