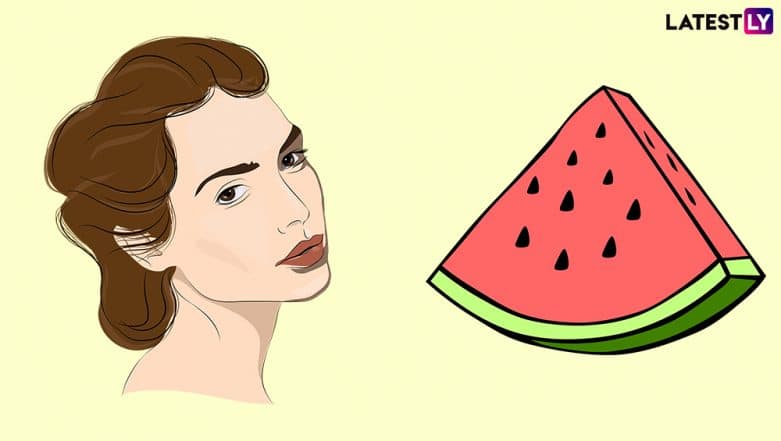 Finally, the summers are here! Time to relish some delicious, colourful fruits. One of the most favourite summer fruit of all time has been watermelon. The huge red and green fruit is not just tasty and healthy but also has tonnes of beauty benefits. Rich in Vitamin A, B6 and C, watermelon is also extremely hydrating and helps contribute to the fluid requirements of the body. What makes watermelons extremely good for skin is the lycopene and amino acids content in it. The combination is known to be extremely healthy for the skin and also help boost the immune system. Rich in antioxidants, the watery fruit is perfect for the skin. Watermelon is also packed with Arginine, an amino acid, which is extremely essential for our bodies as it is known to improve blood circulation. Curry Leaves for Hair and Skin: How Kadi Patta Can Cure Acne and Stop Hairfall (Watch Video.)
Watermelon For Acne
Did you know watermelon is known to have positive effects on acne? Watermelon can help soothe and heal acne. Watermelon is one of the most recommended fruits for people who suffer from pimples. Rich in antioxidants and cooling properties, the fruit can help reduce the effects of acne. Watermelon is packed in vitamin C, moreover, the fruit has the ability to generate nitric oxide in your body that can accelerate the wound healing capacity of the body, including acne. Red watermelon flesh contains high amounts of an amino acid known as l-citrulline, which is again very good for acne healing and improving the health of your skin.  Watermelon Works Like Natural Viagra: Here's What Makes This Summer Fruit Great Cure for Erectile Dysfunction and Improve Sexual Life.
Ways to Use Watermelon for Skin:
Direct application of watermelon pulp or juice on your skin, regularly.

 Mix watermelon juice and honey and use the mix as a toner.

Watermelons and oranges are both rich in antioxidants and vitamin C, wash your face daily with the mix of both the fruit juices to see the difference.

In the ice cube tray pour in some mixture of watermelon juice and rose water and throw it into the freezer. Use the pink ice-cube on your acne to give your skin a soothing effect.

Add some watermelon pulp to your yoghurt, banana, chia seeds face pack and apply it on your skin to have hydrated, glowing skin.

You can heal sunburn and suntans by making pulp out of cucumber and watermelon and applying it to your skin before you go to take a bath.

You can easily make watermelon scrub at home by mixing some chickpea flour to watermelon pulp for glowing skin.
Here's how you can give yourself a watermelon facial at home:
Consuming more watermelon directly is probably one of the best ways to reap the benefits of watermelons for the skin as well as overall health. So this summers, do not forget to add watermelons to your list. However, you must keep in mind that too much anything is not good and therefore, watermelons too should be consumed in moderation.