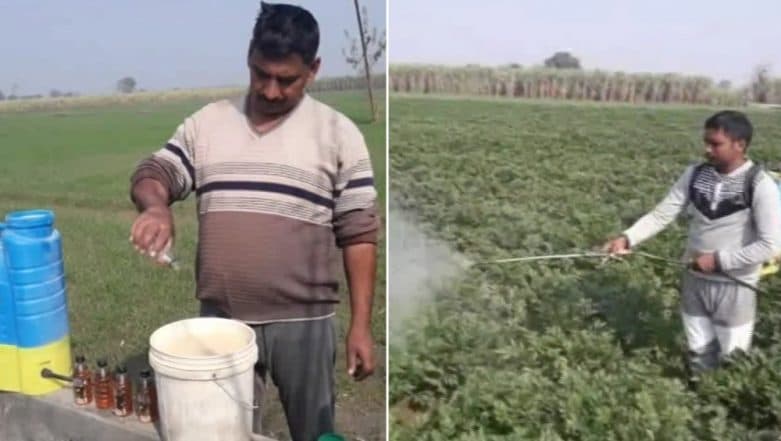 India is an agrarian country so farmers are constantly at work. The condition of farmers is not exactly desirable but they always keep coming up with new experiments and techniques to improve their produce and get a better price in the market. Farmers in Uttar Pradesh's Bulandshahr have gone a bit too ahead with their innovation and it is raising some eyebrows. Some farmers are using alcohol to improve the production of potatoes. But does this method really help the crops? Punjab: Farmers Protest Against Ban on Stubble Burning, Say 'Have No Option But to Set Crop Residue on Fire'. 
Pictures of farmers from the area were posted by ANI and the caption mentioned about them using alcohol for increasing potato production. However, plant production officers state that there is no truth to the myth that alcohol will boost the growth of potatoes. Farmers from the area have been facing a crisis due to the low prices they get for their produce in the market. This has resulted in protests in some of the areas. The start of the year saw a huge protest from these farmers who threw the potatoes outside CM Yogi Adityanath's house and the roads remained dirty with all the potato residual. Free Milk For Maharashtra! Farmers to Stage a Unique Protest Against Low Procurement Prices.
Check Pictures of Farmers in UP Using Alcohol to Increase Potato Production
Farmers using liquor to increase potato production in Bulandshahr. Plant Production Officer says, "There's no scientific reason behind use of alcohol as medicine for plants.I appeal to farmers to use right medicines. Farmers experiment with it to boost production, which is wrong pic.twitter.com/Bv6v4tBmZh

— ANI UP (@ANINewsUP) December 23, 2018
The farmers seem to be unaware of alcohol not doing any benefit to the crops. It is important to educate them about the right ways of increasing the potato production and adding alcohol might just create some other side-effects on the crop.