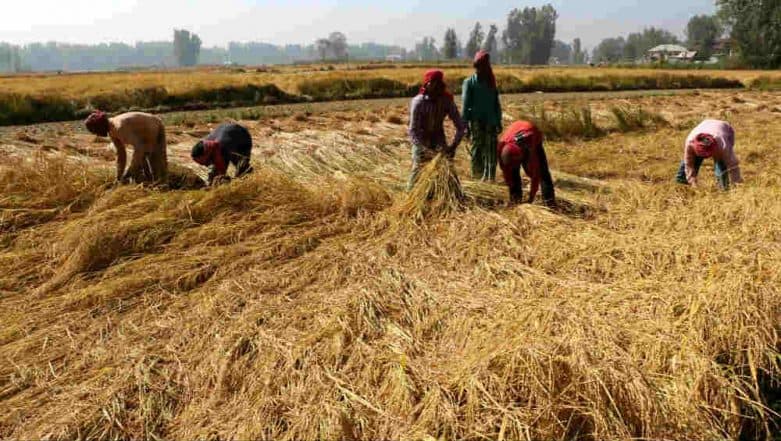 Amaritsar, October 13: Thousands of farmers gathered in Barnala town in Punjab to protest against the ban imposed on stubble burning. Expressing displeasure over fine imposed by the Paunjab government, the agitating farmers say they have no option but to set the crop residue on fire. They say the machinery to cut crop is unaffordable and inefficient.
One of the farmers, Joginder Singh, said they don't want burn stubble because they too have to breath in polluted air much before it reaches to Delhi and National Capital Region. Another farmer, Chhatar Singh, said the government should offer cash incentive to burn the crop residue. "Otherwise, nothing is going to change," he told Times of India.
The Haryana and Punjab governments have imposed a ban on burning paddy residue, with erring farmers subject to prosecution if they defy the orders. The ban was imposed as every year, air quality in Delhi-NCR, Haryana and Punjab reaches to 'hazardous' level as farmers set the crop residue on fire. The Punjab government recently slapped fines on farmers who burnt stubble.
Paddy is grown across 65 lakh acres in Punjab. After harvesting paddy, about 20 million tonnes of the straw are left in the fields to be managed by farmers before sowing the next Rabi crops. "It is estimated that 15 million tonnes of paddy straw is burnt by farmers for early and easy clearance of the fields," a state government spokesman told IANS.
Punjab Chief Minister Amarinder Singh recently wrote to Prime Minister Modi seeking Rs 100 per quintal as compensation only for those farmers who do not burn the paddy residue.
AAP Slams Centre, Nieghbouring States Over Stubble Burning
Expressing apprehension of widespread stubble burning across Punjab, Haryana, Rajasthan and Uttar Pradesh, Delhis AAP government on Friday flayed the Centre and the neighbouring state governments for not tackling the issues.
Delhi Environment Minister Imran Hussain, releasing photographs of stubble burning across the Delhi-Chandigarh National Highway, said stubble burning may be widespread in the country side of Punjab, Haryana, Rajasthan and Uttar Pradesh. "This situation leads to reasonable apprehension that Delhi may witness another episode of worsening ambient air quality in the coming weeks and months," Hussain said in Twitter.
Reacting to the development, Chief Minister Arvind Kejriwal called the Central and state governments' inaction as "criminal". "We have been pursuing with the Centre, Haryana and Punjab governments, yet no concrete action has been taken. Farmers again helpless. The entire region including Delhi will again become gas chamber. People will again face difficulty in breathing. This is criminal," tweeted Kejriwal. (With agency inputs)