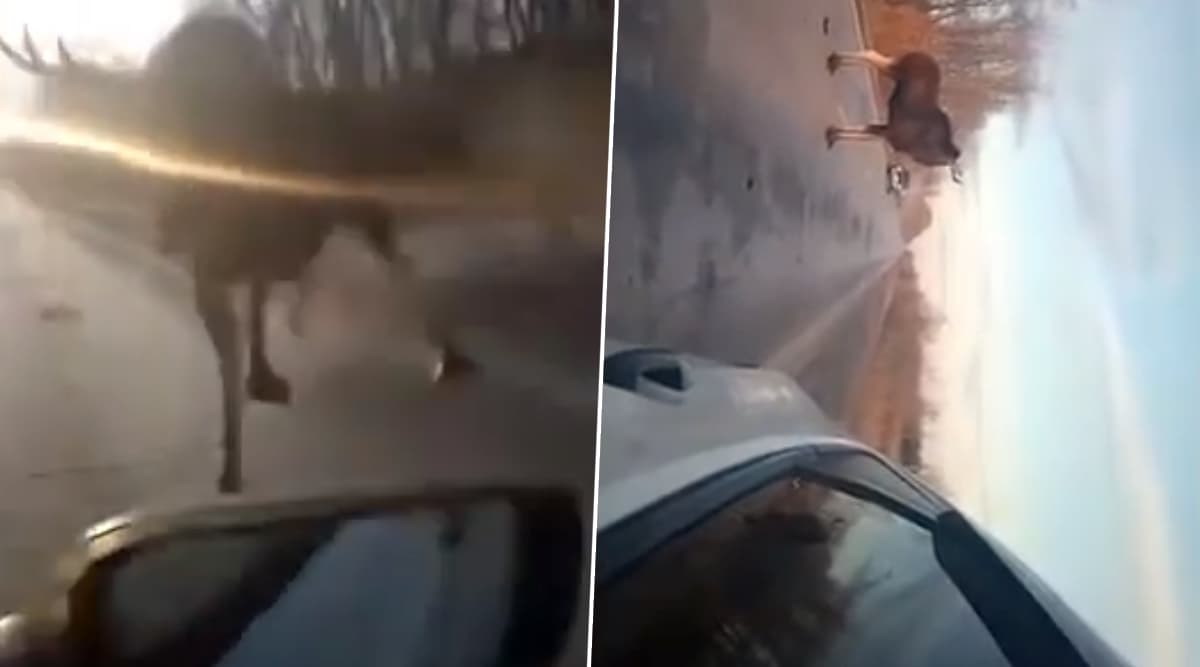 Video of an angry elf racing towards a car on a highway in Russia has gone viral on social media platforms. The clips show the animal charging towards the vehicle leaving the driver terrified. The incident happened on the Khryashchevsky highway near Tolyatti, located in the west of Russia. Seems someone sitting next to the driver was capturing the early morning sun on camera when the elk appeared out of nowhere. It is not sure what caused the animal to behave that way. Tigress Chases Tourists During Safari Ride at Ranthambore National Park in Rajasthan's Sawai Madhopur, Viral Video Scares Netizens.
The elk rushes towards the vehicle, hits at the glass window giving passengers the fright of their lives. After attacking the vehicle, it moves behind and stands in the middle of the road. Another vehicle can be heard honking at the elk making it charge after the first car. The driver immediately accelerates and drives away quickly. The animal eventually stops its pursuit and stands still in the middle of the road.
Angry Elk Attacks Passengers in Car on Russian Highway:
An adult male elk can weigh up to 1,100 pounds and can stand at 5ft tall. They are found across the world but typically in large numbers in cold parts of North America and Russia. Bulls charge at humans during mating season, only if they come too close. The animal can be extremely dangerous during this time. An elk only reacts to human if one comes in their close proximity. In the past, national parks and sanctuaries have advised people to stay away from elks.