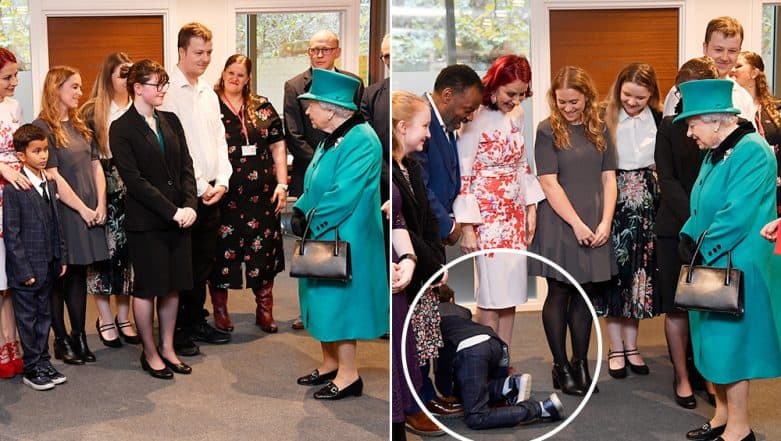 A nine-year-old wasn't sure what to do on meeting the Queen, that he just crawled out of the room. Nathan Grant was introduced to Queen Elizabeth II during her visit to Coram, the UK's oldest children's charity. Nathan had a worried look on his face as he was being introduced to the Queen, he then bent down and crawled away to the door. Also to be noted that he shouted "bye" from the door making everyone including the Queen smile. The video of this encounter has gone viral on social media platforms.
The 92-year-old was dressed in a bright blue coat by Stewart Parvin as at the event to mark the 350th anniversary of the birth of the founder, Thomas Coram in central London. At Coram, the Queen was greeted on arrival by Edward Newton, 102, the oldest surviving pupil of the Foundling Hospital. Based on site of The Foundling Hospital in London, Coram has been helping vulnerable children since it gained the Royal Charter in 1739. London Fashion Week 2018: Stylish Queen Elizabeth II Makes First Visit.
Watch the video here:
During the visit, the Queen inaugurated The Queen Elizabeth II Centre, a national centre of excellence for children named after her to honour her. The Queen also added a decoration to Coram's Christmas tree and helped eight-year-old Shylah Gordon-Clarke who struggled to add her own decoration to the tree. Meanwhile, the Queen's bright turquoise dress coat on a floral dress with velvet lapels seems to have impressed the fashion police. She completed her look with the typical hat to match her outfit and a silver brooch.